Dolphin Cove Jamaica
Adventure awaits!
Business View Caribbean interviews Marilyn Burrowes, VP of Marketing and Co-Founder of Dolphin Cove Jamaica, for our focus on Jamaican Tourism.
Fancy a swim in the company of a smiling dolphin? It's top of the bucket list for more people than you might imagine. Now imagine that wish coming true in the warm Caribbean Sea waters of beautiful Jamaica. Well, stop dreaming, and start packing because the Dolphin Cove adventure awaits!
When Stafford and Marilyn Burrowes founded Dolphin Cove almost two decades ago, it was a true labor of love – combining their passion and concern for the amazing world of mammals and wildlife with a vision to share that memorable experience with people of all ages. Their first Dolphin Cove Park opened in 2001 in Ocho Rios, followed in 2003 by a facility at Half Moon Hotel, which is now closed because they are expanding their hotel – but not to worry, they will reopen. Then came Yaaman Adventure Park in 2004, situated on the former Prospect Plantation, an 18th century agricultural estate and a delightful natural destination. Dolphin Cove Montego Bay opened next, in Lucea, in 2010; a magnificent property situated on 23 acres of ocean frontage. And two more fantastic parks have recently opened at Puerto Seco Beach and Moon Palace's Jamaican location.
Three years ago, Dolphin Cove was listed on the Junior Stock Exchange and the majority of shares were sold to the Dolphin Discovery Group based in Mexico. Under the guidance of CEO, Mr. Eduardo Albor, the Group operates 22 other parks in the Caribbean. In total, Dolphin Cove Jamaica has about 350 employees, with its head office at the Ocho Rios location.
In broadest terms, Dolphin Cove Ocho Rios is a marine park. According to Marilyn Burrowes, "It's our first and biggest park, and offers people the opportunity for swimming with dolphins and sharks and stingrays. They are in different areas, so it's safe. That's the marine part of it. Then we have a nature walk where you can interact with animals, like rabbits, macaws, iguanas. And we have a beach, a water slide, kayaking – it's actually a family park for the day. Admission to the parks includes the nature trails, the bird aviary, the water slide, the beach, the kayaking – but you have to pay extra to swim with the dolphins or the sharks; any interacting program."
One of the most important aspects of the Dolphin Cove brand is that all the parks are in the ocean – the dolphins are in their natural habitat. As part of the Dolphin Group, Dolphin Cove offers an Environmental Education Program as part of its curriculum to all who visit the parks, including a vast number of school children. The Program teaches various topics, such as Animal Care, Recycling, Care of the Oceans, and the impact that humans have on the welfare of the planet.
Burrowes explains, "Visitors see firsthand the habitat of our mammals; the bond, love, respect, and care of our mammals and our environment. To date, we have had more than 36,000 children and 160,000 guests benefit from our ongoing education program. Our Reproduction Program called 'Miracle' has been catalogued as one of the most successful in the world. Our veterinarians and specialists in marine mammals are trained in reproduction, gestation, childbirth, and lactation to be able to accompany the mother and the calf throughout this process. More than 150 marine mammals have been born in our family."
The Dolphin Group also has a group called "Rescue Team" that assists the authorities in rescuing stranded mammals and returning them into the wild. All this is possible because of the knowledge and training acquired by the Marine Mammal Specialists. The Group has certification from a variety of international organizations: ALLIANCE, AMPA; IMATA, IAAPA, ASTA, S.R.E., AZA, AMERICAN HUMANE, AMHMAR, ensuring the highest standard of care for all the mammals and animals.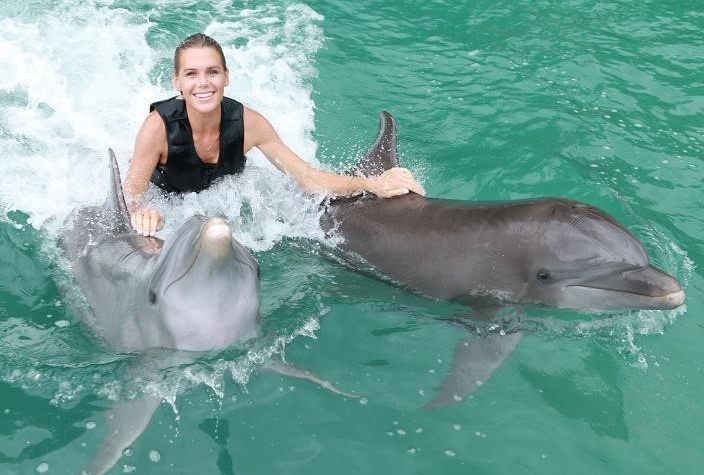 Marketing is based on good relationships in the tourism industry. Dolphin Cove Jamaica sells destination packages through tour operators, and the parent company in Mexico also sells them online on its corporate website. "We have a lot of support from all the hotels," says Burrowes, "and we work closely with the tour operators and the Ministry of Tourism. Our technology is always expanding. We are open year-round, and we do a lot of business with the cruise ship industry, so that's our biggest time. But in summer we try to promote to our residents and school children. They go home with memories and stories to tell." Dolphin Cove is a great community partner. They have adopted a school and sponsor school children, as well as giving to the police force, the Autistic Society, and the Cancer Society.
Not surprisingly, Dolphin Cove has won numerous awards as the Top Attraction in Jamaica. When it first opened in Ocho Rios, the location was targeted by activists who were against the mammals being held in captivity. But after a visit to the park, they learned that things were not as they imagined. As Burrowes reports, "We have had activists come in and they have seen our facility and they recognize that the dolphins are free to come and go. They are in the ocean. Dolphins can jump great heights. We have some stones there, but it's more for weather than to keep the dolphins in. All our Dolphin Cove parks in Jamaica are in the ocean, and if the dolphins weren't happy they would not reproduce as often as they do. In 2017, we had five babies and we continue to have babies."
The trainers stay with the pregnant dolphins and when there is a baby, they're on 24-hour watch in the nursery. But who gets to the little ones? "We all do," laughs Burrowes. "But maybe we should have a competition. It's very exciting to have the babies. We have our own vets and our own lab. All the dolphins are cared for as well as we are, ourselves. They get medical checks and have regular blood tests. And we're heavily monitored by the National Environment Agency in Jamaica to make sure our standards are maintained." In the event of a storm, the dolphins are always taken into swimming pools on higher ground, where the trainers stay with them. But Burrowes is certain that if they did leave their area, they would come back. "They're like your dog, they are accustomed to being fed; they're not looking for work. They're quite happy to be fed three or four times a day. They're not going anywhere."
With recent acquisitions, including Dolphin Connection in the Florida Keys, Aquarium Mar del Plata in Argentina, Aquafelix and Acquajoss in Italy, and Marineland Florida in Saint Augustine, parent company Dolphin Discovery Group continues its expansion, taking its vision to structures that become part of the big family, not only in the field of entertainment, but also encompassing care for the environment, the welfare of marine species, and sustainability. And, of course, making certain that the guest experience in these marine mammal habitats and the parks is unique and unforgettable.
"Every time you come to a Dolphin Cove park you always see something new," says Burrowes. "At Ocho Rios, we have put in a swimming pool; great food areas – snack bars, restaurants. We are continually upgrading our parks. We never stop. We want to bring more people here because swimming with a dolphin is an experience of a lifetime. It's a memory you will never forget. And we want everyone to know that our dolphins are loved and taken care of. They love to interact with people. They are very friendly and lovable animals. And they are always smiling – and free.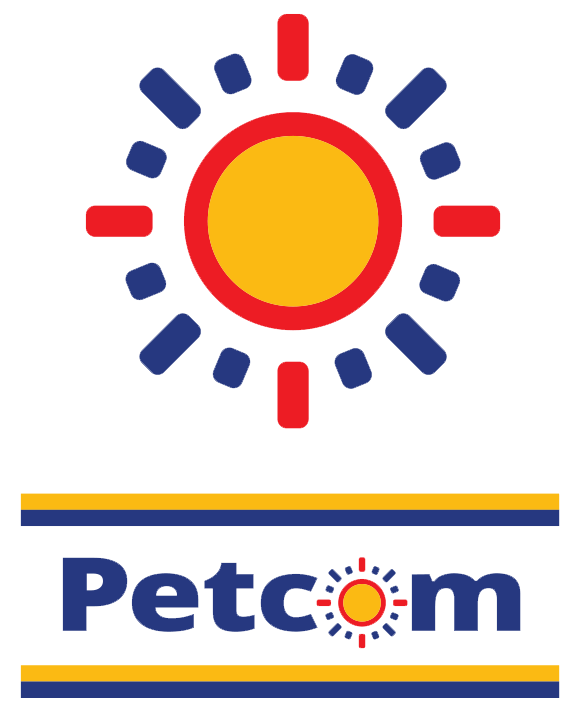 Petroleum Company of Jamaica – instagram.com/petcomjamaica
Petroleum Company of Jamaica (PETCOM) incorporated in 1973, currently supplies Jamaica with land fuel, liquid petroleum gas (LPG) and lubricants for day-to-day machinery and vehicle operations. Our aim is to continue providing quality products and services to all our customers such as Dolphin Cove who has been with us since 2001. Additionally, our impeccable customer service allows us to be a cut above the rest and has allowed us to continue being the King of Jamaican Kitchens!