Peake Technologies Limited
Trust Us to Keep You Cool!
Business View Caribbean interviews Daniel Peake, Director & Project Manager at Peake Technologies Ltd, for our focus on Best Practices in Construction
Peake Technologies Limited, an independent subsidiary of Thomas Peake and Company Limited, is a premier provider of the leading international brands of high performance air conditioning equipment, cooling technologies, and related parts and services. Operating out of Trinidad and Tobago, Peake Technologies delivers complete solutions with robust after-sales support. The company's continued success over the past six decades in fiercely competitive residential and commercial air conditioning services markets, can be credited to an unfailing commitment to quality, competence, consistent performance, and service excellence.
The Peake brand had its beginnings in 1948, as Thomas Peake & Co, a hardware store with a small air conditioning division that later developed into two separate companies – Peake Industries and Peake Technologies. Peake Industries Ltd. was an AC Manufacturing company that has since closed due to the economic slow down in 2007 and cheaper units coming out of China affecting sales. Peake Technologies Ltd, formed in 2003, assumed the sales, service, engineering, and contracting portfolio from parent company Thomas Peake & Co Ltd.  Since 2003, Peake Technologies Ltd. has expanded across Trinidad with six retail outlets including a head office which houses the firm's service and engineering departments.
Since its inception, Thomas Peake & Company Limited has built strong foundations which have spurred their steady development from retail hardware, through air conditioning contracting and manufacturing, gas stations /convenient stores on to the commercial and leisure marine industries. Daniel Peake, Director and Project Manager of Peake Technologies Ltd. reports, "We're still a family business with a very diverse group of companies, including a marina (and are closely involved with the Power Boating Association). We service all brands and ranges of air conditioning products from small residential units to heavily engineered systems inclusive of design, build and commissioning. We have worked on a multitude of projects in our islands of Trinidad & Tobago, Guyana, St. Lucia and other islands in the Caribbean."
The Contracting and Engineering Department of Peake Technologies handles design, sales and installation of commercial HVAC solutions, while the Room Air Conditioning Sales Department handles the supply and installation of residential and light commercial air conditioning equipment. The diverse Service Division functions as after-sales support providing preventative maintenance contracts, as well as facilitating new requests for repairs and preventative maintenance services for all types of AC equipment available on the local market. The Air Conditioning Parts Division and conveniently located branches support internal departments, as well as meeting public demand.
Peake Technologies also has a strong IT division that supports its services with up-to-date technologies. The Service Division uses the latest tools to help diagnose and repair equipment. The IT department is currently transitioning from standard 2D AUTOCAD to BIM workflows, which is quickly becoming the standard in the HVAC industry. Additionally, the duct fabrication shop has a plasma cutting table to reduce wastage and expedite the manufacture of duct fittings also reducing downtime and cost. Further IT solutions include software for Service Management, Inventory Control, and Accounting. Very recently, the company has been working on integration of a mobile platform with an online payment solution to allow customers to pay digitally for diagnostic services and eliminate cash transactions in the field.
As previously mentioned, the Peake Group of companies has been in existence for over 70 years and is still run by the Peake family. This has instilled a sense of family like comradery amongst the employees. All staff members are encouraged to provide quality products and services to their customers giving customers value for their money. The companies always conduct quality assurance and fairness in all aspects of their jobs. Along with its dedicated team of about 400 employees, Peake Technologies Limited works with a large complement of subcontractors, ranging from small contractors on the residential side, to chilled water piping and ducting contractors for the larger commercial installations.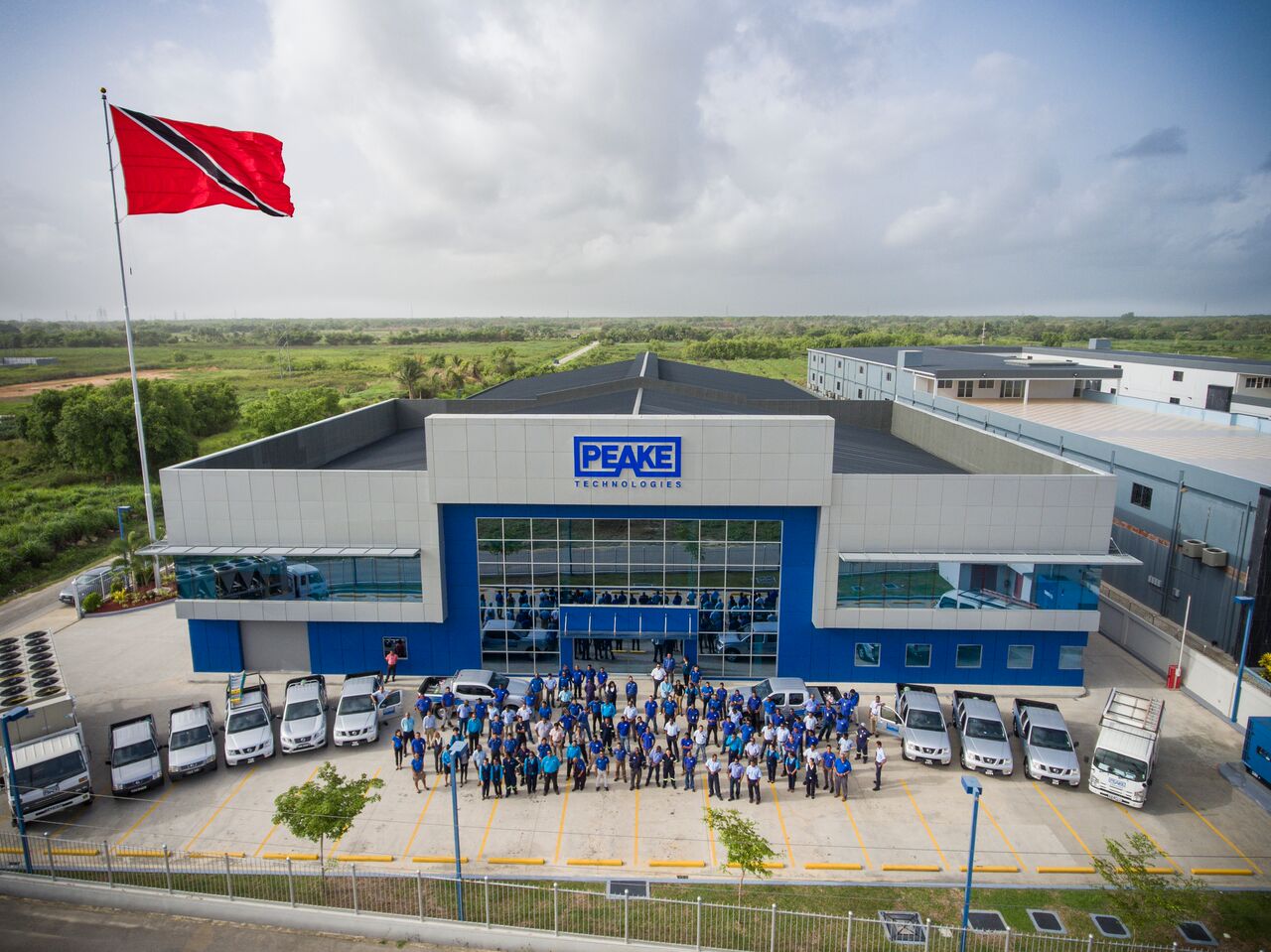 Most employees are long-standing, including the current Managing Director who started working at Peake Technologies as a service technician 30 years ago. "So, there is a lot of experience in the company and always room for growth," says Daniel. "We also try to recruit new technicians as we grow and to keep the pool fresh. The culture at Peake is unique, like family unity including everyone in everything. Our primary investment is in training our employees to be on the leading edge of HVAC technologies and today's best practices. We continue to invest in technology such as the latest diagnostic tools to make our technicians more efficient in their jobs. We constantly conduct training sessions throughout the year to ensure our staff is up to date on new technology."
The company's headquarters in Aranguez is impressive with a spacious, modern design in a convenient location. It was built five years ago, and operations were moved there when the Company outgrew its space in Port-of-Spain. Daniel notes, "We've had a huge upgrade in our storage facility and our service and engineering side of things, with brand-new offices to spread out into. It's really been a big help to have the space. We now have the head office and five other branches: one in Tobago and the others are spread across the country. So, we do not need to have our technicians returning only to the head office for parts. We also transact sales to other air conditioning companies, as well as facilitate our own service side of things."
The impact of COVID-19 has affected businesses around the globe and Peake Technologies is no exception. Trinidad & Tobago was fully locked down for two months in early 2020, when the first cases started developing. The company shut down most of its operations and kept just the necessary services open to deal with the health centers and other essential services to keep them operational. The company also assisted through donation of equipment to essential services and installed fresh air systems for new COVID facilities, Ultraviolet lights, and other related equipment – helping the healthcare sector in the country any way they could.
Daniel recalls, "There was a period when it was very slow, but then once everybody started to come back out from lockdown, the government had a lot of work from home initiatives going on in Trinidad and people were saying: 'I have a home office, so I need to buy an AC now.' So we got a lot of sales from that but, because of the pandemic, shipping costs from China have skyrocketed and there's a container shortage. So there are a lot of issues that we are faced with now because of the COVID situation."
Being one of the biggest parts suppliers in the country, Peake Technologies always maintains a substantial inventory. So according to Daniel, "We're pretty well stocked for this year."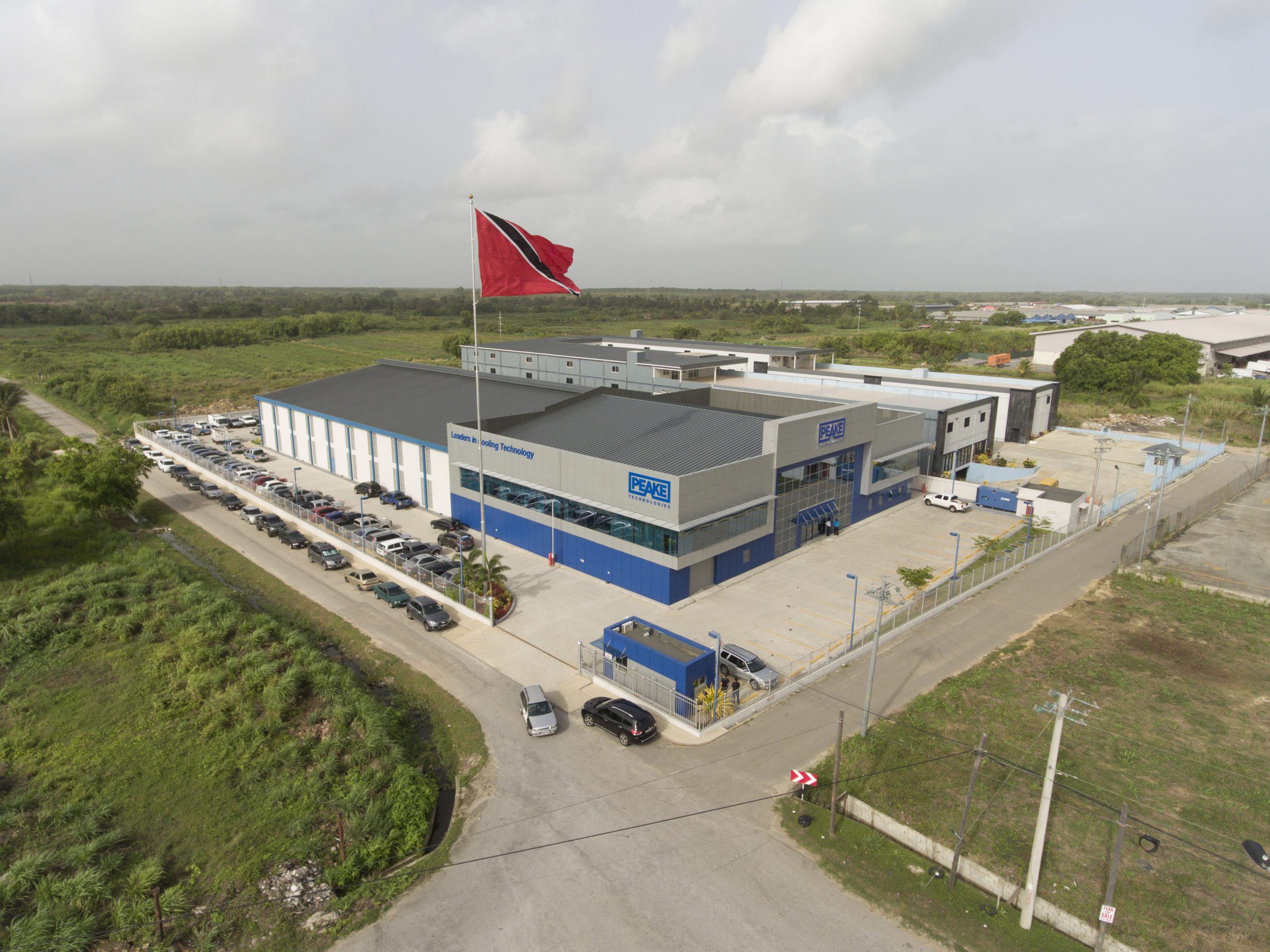 The company values their partnerships with industry leaders such as Daikin, Lennox, Midea, Greenheck, and many others. Daniel explains, "These partners support us with their ability for build-to-order shipments. They have great technical teams that assist with specific engineered designs for the specialized equipment we require for certain jobs."
Peake Technologies is constantly innovating to provide green solutions for protecting the environment.  They sell environmentally-friendly refrigerants, while using their skilled technicians in efforts to recover harmful refrigerants that have been discontinued. The majority of their AC equipment is supplied with R-410a which has become the industry standard. The company has been pushing VRF (Variable Refrigerant Flow) Systems that use inverter compressors to reduce electrical costs and cool as efficiently as possible. They are also working with ARIA and the Ministry of Planning & Environment to bring Hydrocarbon refrigerants into the mainstream.
The industry is very competitive in Trinidad but Peake Technologies has many great advantages. They market themselves as the leaders in the industry, utilizing quality products and providing exceptional service. They advertise their environmentally-friendly refrigerants and market-leading equipment. The company's service is second to none in the country and provides every one of their customers with the comfort and recourse should anything happen during warranty periods. They also promote the benefits of their highly trained staff and their ability to find quick solutions for clients.
While the future is always uncertain, growth is definitely a high priority. As Daniel shares, "We intend to expand into the emerging market of Guyana. We have already had numerous completed projects in Guyana by our Engineering team and we hope to expand into this new market, while continuing to provide impeccable service to our existing markets. We also plan to continuously innovate while keeping up with industry standards and new technologies."
AT A GLANCE
Peake Technologies Limited
What: Leaders in cooling technologies in the Caribbean
Where: Aranguez, Trinidad
Website: www.peaketec.com

Lennox – www.lennoxglobal.com
In 2020, Lennox celebrated its 125-year anniversary. A challenging year but their strong core values (Integrity, Respect & Excellence) joined by their loyal distributor network has made Lennox continue to succeed and gain this great milestone that not many companies achieve.
As part of the celebration, Lennox has proudly recognized their distributor partners across the region with several events, stating: "They consistently represent the Lennox brand and are the best of the best in their markets." This time, in Trinidad & Tobago the recognition went to one of our partners that has been working with us for over 20 years – Peake Technologies. Peake is the largest and most prominent mechanical contractor in Trinidad & Tobago, with 50 years in the market. They have executed large mechanical projects in the Caribbean and Latin-America, becoming an integral key account for Lennox in the region. We look forward to continuing to work with Peake as a Lennox partner; further advancing the HVAC industry together in Trinidad and the Caribbean.
Lennox International is a leading provider of climate control solutions for heating, air conditioning and refrigeration markets around the world. We have built our business on a heritage of integrity and innovation dating back to 1895. Our employees are dedicated to providing trusted brands, innovative products, unsurpassed quality and responsive service.