Van der Valk Plaza Beach & Dive Resort
Sun, sand and adventure
Business View Caribbean interviews Hagen Wegerer, Operations Manager of Van der Valk Plaza Beach & Dive Resort, for our focus on Best Practices in Tourism
Just imagine taking a dive into crystal clear waters, exploring untouched coral reefs, strolling along on pearly white sand… all this and more awaits discerning visitors at Van der Valk Plaza Beach & Dive Resort. Beautifully situated on the west coast of the Island of Bonaire, this outstanding resort gives guests a myriad of opportunities ranging from adventure travel to complete relaxation.
The family-friendly, all-inclusive, all-suite resort offers the island's largest swimming pool, private sand beach, stunning views of the ocean, a wellness centre with full spa services (2022), a beach volleyball court, and a variety of water sports including boat rentals, snorkeling, paddleboards, kayaking, and tube riding. Venturing further afield, you can also book tours to explore the island. "There are mangrove systems  on the island's east coast that you can kayak through and find complete peace and solitude amongst the egrets and the herons," says Hagen Wegerer, Van der Valk Plaza Beach & Dive Resort Operations Manager. "It is absolutely fantastic."
And of course, there is scuba diving. Known as the Pearl of the Caribbean, Bonaire is renowned as a scuba divers' paradise due to its 1,000 years of history, lush coral fringing reefs, and even a few shipwrecks. Plaza Beach & Dive Resort is home to Toucan Diving, a PADI five-star dive center that offers diving trips and lessons for all skill levels. Toucan presently runs three dive boats capable of taking 12 divers on boat dives. The resort is also home to its own marina, where guests can moor their boats, hire a boat to take out on their own, or book a sailing trip along the island's tranquil west coast and around Klein Bonaire.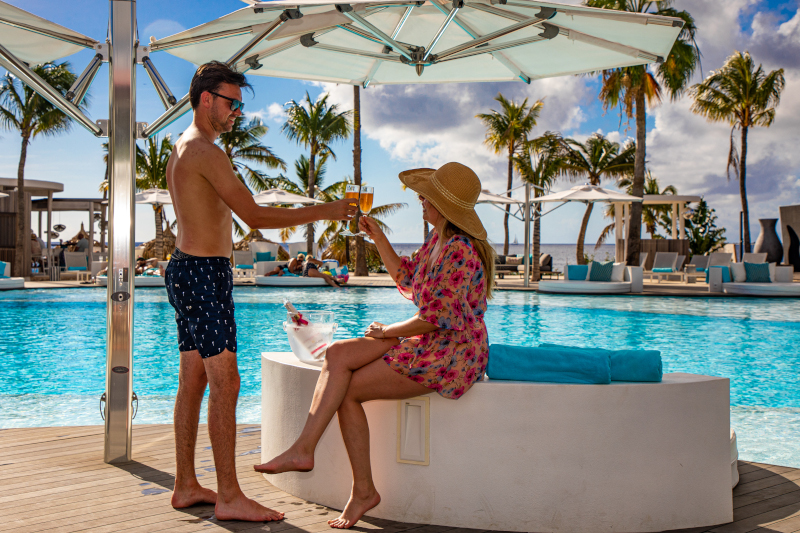 The resort is also just a 15-minute walk from the downtown area of Bonaire's main town of Kralendijk, where there are even more opportunities for exploration. "It is a picturesque oceanfront town," says Wegerer. "We are located within walking distance of the downtown area where you'll find lots of restaurants and bars, as well as nice boutique shops." Back at the resort, you'll find the Coral Casino Bonaire in the resort's lobby, which offers Black Jack, American Roulette, Three-Card Poker with a progressive jackpot, and Texas Hold'em.
Eco-friendly initiatives are top of mind at Plaza Beach & Dive Resort. Besides generating power with their own solar field, the resort offers guests refillable water bottles upon arrival. The bottles can be refilled at water stations across the resort with water filtered through reverse-osmosis at their very own water plant. "And the water stations don't just have water, they have it flavoured with mint or cucumber or lime," says Wegerer. "So, that gives a more refreshing taste, which is nice for customers."
Other environmentally-friendly initiatives include using only paper straws throughout the resort, and cloth instead of plastic bags offered to shoppers in the dive shop. The resort has also partnered with Lita's Natural Insect Repellant, to offer an eco-friendly option to guests. Wegerer shares, "Lita's is a really great product that's also environmentally friendly. I've lived on this island now for 20 years and I've tried lots of different products and some work ok, some don't work at all – but this one works. And it's also good for the skin and has this wonderful aroma."
The resort is currently undergoing a $40-million renovation that will expand the property's amenities, making it even more attractive to travellers. Wegerer explains, "The owners of the resort – a Dutch family – are investing heavily in the property at the moment. It's totally, totally amazing. They have looked at the land they have and are now putting in place a brand-new front lobby that will include a shopping mall. There will be boutique shops for ladies and men, as well as a full-service spa and fitness center. There will also be a standalone building for the new casino."
Plans are also underway for a cocktail bar and second ocean-front restaurant in the new main building. When all is said and done, they will have five restaurants on site. Wegerer adds, "We already have an open-air oceanfront buffet-style restaurant that will be completely revamped into an upscale à la carte oceanfront restaurant that will likely be enclosed with glass, so you can look straight out into the ocean, but in air conditioned comfort."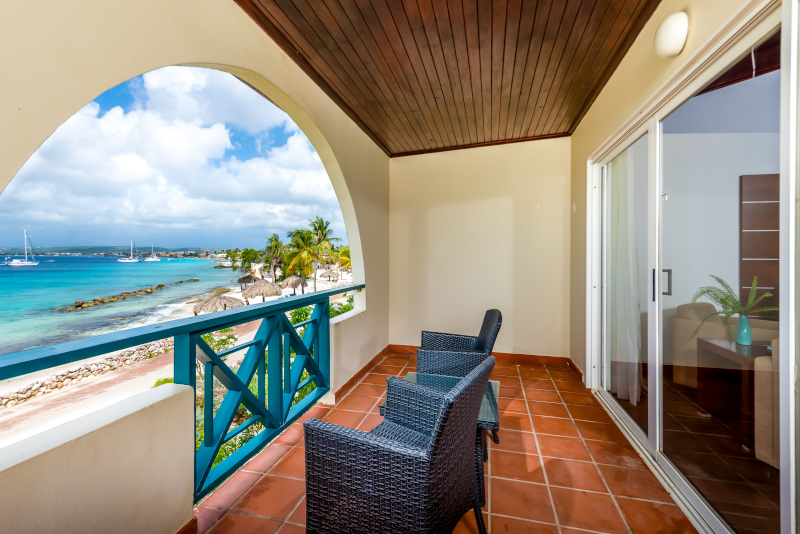 There are also plans to include state-of-the-art conference facilities and meeting rooms, for those who will be mixing business with pleasure. "We are very conscious of the appeal of destination travel for business conferences and incentive trips, especially after more than a year of COVID restrictions," Wegerer says. "We're building the facilities that groups need to maximize productivity while enjoying their time in the tropics. We're also investing heavily in technology so guests can seamlessly conduct business as needed, because we understand they are enjoying a vacation, but also still have business responsibilities while they're on the island."
In addition to the resort's current 126 suites with gorgeous views of the marina, the ocean, or lushly landscaped pool area, the renovations will add an additional 12 three-story villas that will offer two-bedroom apartments and three-bedroom penthouses. According to Wegerer, "Villa guests will have the luxury of being part of the resort, but in a secluded area. They will be on their own little island within our marina complex, and will be connected via a bridge to the resort. They have their own swimming pool and their own property management team. They are basically self-contained units, but they will also have access to all-inclusive resort amenities."
The villas will be available for short-term vacation bookings, or as part-ownership. Wegerer notes, "Part-owners will be able to purchase two-month or three-month stays. They aren't timeshares, they can actually own the villa and then come down for a six-week, two, or three month period, and just relax, snorkel or dive." All current renovations and construction are scheduled to be completed by spring 2022.
With everything they have on the horizon, the future is looking bright for Van der Valk Plaza Beach & Dive Resort. This is a welcome change from the past year, as the facility was not immune to the effects of the COVID-19 pandemic and saw a drastic drop in bookings. "It heavily impacted us," Wegerer says. "Bonaire survives on tourism. And because of COVID, flights were restricted, so we were actually island bound for that time – we had no air traffic at all to the island from March 2020 to June 2020."
Occupancy typically runs at around 85 percent during normal times, but when COVID-19 hit, the resort's occupancy dropped down as low as five percent at times. As a result, they had to temporarily cut their staff of 130 back to about 45 percent. "Presently we have 13 percent occupancy," says Wegerer. "Obviously, it's not easy. We work in the hospitality industry, which means we love to be connected with people. We love to hug people, we love to shake their hands, we like to joke and laugh and we want to serve our guests. That gives us pleasure, so not having those customers has definitely affected morale."
To help keep spirits high for employees, Wegerer says they have made a point of engaging in team-building activities. He shares, "We have done department outings on the dive boats, keeping social distancing in mind. We go to Klein Bonaire, which is a neighbouring island and we do a few games to try and just have a little bit of fun and keep the morale going." They have also done staff cooking classes and bar mixology classes, and have allowed members from different departments to cross-train and learn what other departments are all about. "There's a bit of a mix and match going on," says Wegerer.
Now, they are eagerly awaiting the return of guests. And that is slowly starting to happen. Flights are beginning to come in from Europe, and American travellers have found unconventional ways to make it to the island. "It's possible for tourists from the United States to fly through Curacao, do a 24-hour antigen test and then get an island plane across and receive the test results in time to come into Bonaire," Wegerer explains. "It's a little bit of an additional step, but we have had American customers come down that way and they've found it very efficient, very flawless."
Despite the additional measures, Wegerer says clients are ready to come back to Bonaire.
"I maintain contact with our regularly returning dive shops and group leaders and to friends in the United States and they are so desperate to come down to the island just to go diving again and meet their friends that they have built up over the years," he says. "We have a huge repeat clientele that comes to Bonaire and that's the nicest thing about this island. We're very much looking forward to welcoming everyone back to paradise."
AT A GLANCE
Van der Valk Plaza Beach & Dive Resort
What: An all-inclusive destination offering first-class diving and family-friendly activities
Where: The Island of Bonaire, 60 kilometres north of Venezuela
Website: www.plazaresortbonaire.com