Tile City & Home Centre
Where design dreams come true
Business View Caribbean interviews Jaleel Handal, Manager of Special Projects/ Business Development at Tile City & Home Centre, Jamaica
Ever since its beginning as a modest start-up venture in 1999, Tile City & Home Centre has been inspiring Jamaicans to create their dream home. This proud family operation offers the highest quality products from the world's top brands, with an added bonus. Tile City's exclusive showrooms give customers the ability to explore and interact with the latest styles and innovations in ceramic tiles, plumbing, connected home technology, and much more.
Jaleel Handal, Manager of Special Projects and Business Development, explains, "We are a family business incorporated as Tile City & Home Centre in 1999 by my parents, so we're currently in the second generation. They started with one small location – actually a 20 ft. container – and now we have a showroom about 10 minutes down the road that incorporates a variety of products in a facility that is 18,000 sq. ft. It's interesting to be so close to where it all began."
From the start, the plan was to offer top quality products to the local market – and that hasn't changed. Handal admits, "Our region and our type of market tends to be very price sensitive and conscious about inexpensive goods as opposed to quality, and we've always seen our goal as being part of the shift towards buying a good quality product once, instead of a low quality product three or four times. Even today, there is a big focus on sales of mass-produced items of lower quality and we're trying to offer the Jamaican market a product that they want. We often hear people say that they didn't know they could get these types of fine products here. They thought they had to go outside of Jamaica."
The company has been building its customer base each day, with a large contingent of customers who have been shopping at the family's stores for many years. Having built those relationships and loyalty over such a lengthy period of time has helped Tile City become one of the more long-standing businesses in the industry in Jamaica.
Based on the partnerships and the brands they represent, Tile City operates retail and wholesale divisions, as well as being heavily involved in development projects, such as international hotels that are building in Jamaica resorts, or development of villas for rentals. "That area is really our strong suit," says Handal. "It's a very diverse business model. In the next few years, our aim is to further develop the wholesale and the distribution network into areas of the country that we aren't currently in because we do focus on our premium products, but we also offer mid-range products at a wide variety of price points."
In Tile City's industry sector, the business relationship is done almost entirely through designers and architects, but in Jamaica, the client can also be directly involved. So the company tries to balance both. However, given that the products they sell can get quite technical – the plumbing, the suitability of a certain tile for an application, etc. – they encourage people towards working with industry professionals.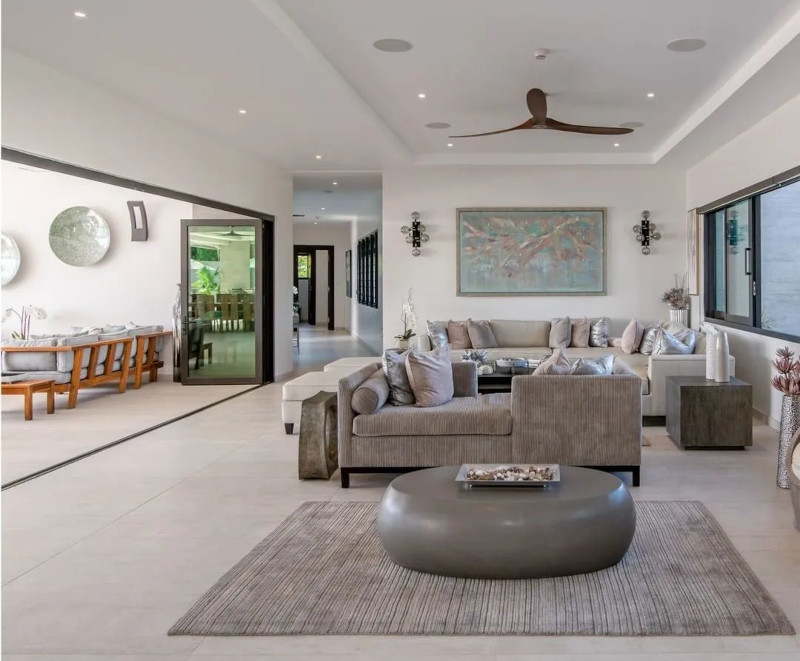 One major project on tap this year is a huge redesign of the Tile City & Home Centre's main showroom. The basis of that decision, made inhouse, was an attempt to offer industry professionals such as architects, and designers a space where they would be able to work comfortably. The showroom area is laid out in a way that is more conducive to industry professional shopping than retail clients. The benefit of the company's location is that they have such a large space. It is well suited to have hardware and home centre departments, as well as the showroom, which allows them to keep their current business model and not reduce the focus on the retail clients.
On the same compound, is a standalone Kohler showroom that is one of the biggest in the region. Handal reports, "In addition to the revamp of our main tile and home centre showroom, we will also be renovating our Kohler showroom in the next couple of years to be what's called a Kohler Signature Store. We will be one of only two of those in our market. Being a Kohler Signature Store allows us greater support from the main Kohler distributor in the U.S. – giving our customers quicker access to new products as they become available in other regions. It's basically an elevated shopping experience that allows customers to interact more with the products in a manner that they would actually use them within their spaces."
Industries across the board are experiencing supply chain disruptions, and maintaining inventory is particularly challenging. Fortunately, Tile City has a second location that houses the company's main warehouse, which is quite large, so that has helped to offset some of the concerns and issues with the supply chain. Handal notes, "In addition to that, with Kohler and some of the other brands that we've represented over our 23-year history, we've been able to develop really good relationships with our partners. So whether it be a supplier that we deal with directly, or our freight forwarders or our shipping companies, we've had additional help to alleviate those stresses and we're able to get that little extra push from our partners. A lot of these issues are outside of any individual's control, so it's really a team effort to stick to the timelines as best as possible to keep our supply chain going. Based on those partnerships and relationships we've seen everyone come together to work with us on managing the situation, whether it be prioritizing our shipments, or offering preferential pricing so we can stock larger quantities with payment terms available. All our partners have been willing to work with us in that regard."
On the project development side of the business, hospitality and tourism was drastically affected by COVID. When the pandemic started, Tile City was in the middle of many projects in the hotel sector, at different stages, and 90 percent of them completely stopped and were put on hold until near the end of 2021. The good news is that many of them are now starting to pick back up. "Travel restrictions are being removed and we see that area of the business bouncing back in a big way right now," says Handal. "It was tough for the last two years but we're optimistic going forward."
As for technology, like many businesses in Jamaica, Tile City entered into ecommerce a little faster than they had planned. Jamaica as a whole was pushed toward online shopping and websites were quickly updated to accommodate people shopping from home due to COVID restrictions. According to Handal, "It's one of those silver linings in a bad situation, where now everyone has put this effort into investing in online infrastructure. We launched our website in November of 2021, and we've had very good feedback. We have a full ecommerce website – you can shop online, get your item delivered anywhere in Jamaica – and we're seeing more people each day who are willing to make purchases on the website. And we also see other people who maybe aren't comfortable purchasing on the website but they do their browsing online and it brings a lot of attention to our products in areas where we may not have a showroom at the moment."
The exciting outcome is that over 90 percent of Tile City's online purchases are coming from regions of Jamaica where they have no showroom or representation. When it comes to delivery, the company has a few of its own vehicles they use – depending on the size of the order and the schedule of their fleet. They also have several partners they work with in different regions based on the volume of orders. This includes a couple of main delivery partners that Tile City depends on, especially for website sales from across the island.
Speaking to their growing success, Handal shares, "Most of what we've been able to accomplish is from finding the right people to partner with, such as Kohler and Porcelanosa Tiles and Big Ass Fans. We offer manufacturer warranties on all our products, and stock all the service parts, as well as offering technical support, when necessary, especially for larger projects. Because each of our products is unique, that support from our partners has been a huge benefit for us and our clients."
Looking ahead three to five years, Tile City & Home Centre has a lot of positive momentum on the horizon. Handal says, "I'm very proud of the investment that we're making into Jamaica. We're making a huge investment in revamping our Kohler showroom with beautiful room settings to offer that elevated experience that's not offered in Jamaica at the present time. And also pursuing our corporate social responsibility efforts in terms of education and programs for low-income housing. Those are two avenues that we're moving forward in and we're pretty excited about it!
AT A GLANCE
Tile City & Home Centre
What: Retail and wholesale distributor of quality tiles and home goods
Where: Kingston, Jamaica
Website: www.tilecityja.com