St. Maarten Ministry of Tourism, Economic Affairs, Traffic, and Telecommunication
A very good year
Business View Caribbean interviews the Hon. Stuart A. Johnson, Minister of Tourism, Economic Affairs, Traffic & Telecommunication, for our focus on St. Maarten.
With memories of Hurricane Irma fading into the distance, the forecast calls for sunny skies and positive growth ahead for the idyllic island of Sint Maarten. Vital work is being done to boost the tourism product and make it more sustainable, and each milestone is being highlighted to show the strength and commitment to the country's revitalization as a must-go Caribbean destination. Business View Caribbean recently spoke with the Honorable Stuart A. Johnson, Minister of St. Maarten Tourism, Economic Affairs, Traffic, and Telecommunication (TEATT) about the challenges facing his Ministry during this historic time of renewal in his country. The following is an edited transcript of that conversation.
BVC: Congratulations on your first few months as Minister. What personal experience do you bring to the role?
Minister Johnson: "I took the oath of office on June 25, 2018 and it has been a very good year. Before coming into the Ministry, I was the youngest public education school principal in St. Maarten. Having been in a leadership role, in terms of dealing with students and adults, and managing, I brought that experience, first-off, into the organization. Along with my outreach that I've always had into the community, in terms of volunteering, giving back, being part of very diverse organizations – from environmental, to youth, to cultural. I'm a Rotarian, as well. So, basically a well-rounded background, besides my formal education, has allowed me to really put those experiences to work. Of course, every job has a learning curve, but I see it as a unique opportunity to serve my country and my people in this role. It has been really an awesome experience so far."
BVC: Your Ministry has a broad scope. Can you give us an overview of the facilities and services under your purview?
Minister Johnson: "The TEATT Ministry is a shareholder representative of the SXM Airport, and Port St. Maarten, and is in charge of regulating all the Telecommunications providers on the island. I'm also in charge of Transportation, which involves taxi drivers, toll operators, and the entire public transport network; Economic Affairs, which covers granting of licenses, including licenses for operating businesses; and Maritime and Aviation, including the ship registry, and dealing with aviation matters, such as the recent issue with the 737 MAX 8 and 9 aircraft that I had to restrict from our air space. The Meteorological department falls under my authority as well. There are several facets to this Ministry that I'm in charge of – including control of the calibration department, where we check the weights and scales of different establishments to make sure they are in line with our laws and our ordinances for best practices, so consumers are not being ripped off. The Tourist Bureau also falls directly under my authority. It's a wide and diverse portfolio and comes with a lot of responsibility."
BVC: It seems that much of your portfolio connects to tourism. Is that true?
Minister Johnson: "Correct. The Tourist Office falls directly under the Ministry. Basically, I am the decision maker. I make all financial decisions, which trade shows we're going to attend, work travel, everything for all those Ministry facets falls under my direction. The last few months since I came in office, we've been able to support several initiatives including a gospel concert, and the three-day Heineken Regatta. This year will be its 40th anniversary. We contributed heavily to Carnival celebrations – a three-week cultural manifestation. We also supported the SXM Festival of electronic music, dubbed as an anti-Fire Festival. Everything the Fire Festival should have been, you can experience here. It's an awesome opportunity for the destination of St. Maarten and a new market we're catering for. That went well.
"Coming up, we're sponsoring the PAMAC (Platinum Associate Membership Advisory Council) Cruise Summit event for cruise executives. We're hosting a Gaming Control Board forum to regulate the gaming industry on St. Maarten, and there is an Air and Boat Show in June. What we have done is push the tourist season, which would generally be done right after Carnival celebrations in March and April, into the end of June. This year's season has gone right from December to June, due to all the extra attractions and conferences and events we've added."
BVC: How would you describe St. Maarten's state of recovery after the 2017 hurricanes, from your Ministry's perspective?
Minister Johnson: "It is a priority of our Ministry that U.S. pre-clearance comes to St. Maarten shores. We are committed to finalizing that. The economic benefit will be second to none, in my opinion. From flight allocation, flights arriving and back into the U.S., then would arrive at the domestic flight gates. It would open up many opportunities in terms of different markets and gateways in the U.S. for us. The U.S. pre-clearance facility is one of the overall plans for the Airport. In addition to that, we're very excited about new properties coming on board. Planet Hollywood is a name-brand hotel we're going to have soon. The Windham is also coming. And Roxxy Beach, a beachfront restaurant/lounge near the Simpson Bay area that is going to be a good add-on for the destination.
"More so, the government is looking at an USD$85 million improvement to our port facility. Part of that will include a permanent home-porting facility. We currently home-port smaller vessels – about 450 passengers come on a weekly/bi-weekly basis to St. Maarten – and we look forward to expanding on that with our port facility. Of course, St. Maarten has always been a unique place, having a Dutch side and a French side, and we have an MOU (memorandum of understanding) with the French side that we jointly market the destination. That is effective, and smart, and has propelled us to go throughout Europe, North America, South America, and Canada, where good progress has been made.
"Recently, we had the inaugural flight of Jet Blue out of Ft. Lauderdale. It's a daily service with very low prices. A round trip right now is about USD$250, and an American Airlines round trip for Miami is about the same. The cost of air travel for our local residents and visitors has been reduced because of healthy competition. We've also seen the return of Sunwing Airlines from the Canadian market. We've had feedback that all airlines are doing well, they're pleased with the destination, the friendliness of our people, as well as overall restoration work."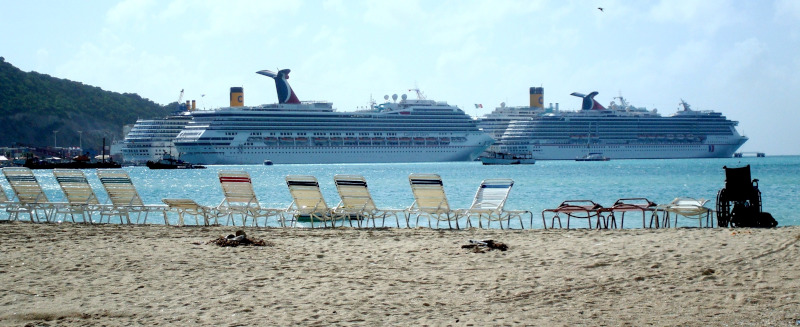 BVC: What are the biggest challenges?
Minister Johnson: "I am the youngest ever to take the oath of office as Minister on St. Maarten. I'm only 34, so making sure the public saw the confidence in me – that has definitely been achieved from the beginning. For me, the challenge is now the overwhelming expectation to continue to deliver even more. It's only been a few months, but we've been able to make great strides. I'm working 14-hour days, and there just aren't enough hours to get everything done. That is the number one challenge.
"I recently rewarded one of my employees in our Ministry for being an exceptional professional woman, committed to empowering women in the organization. I think it is important that we represent all creeds, walks of life, orientations – everybody should have a fair chance and be promoted in that. In terms of job creation, I look at it from the TEATT perspective in supporting small business because they are part of any growing and successful economy. We do provide assistance to a program called Credit, for small business start-ups. Recently, Alicia's Inn and Baker's Suites became Hospitality Assured Certified and we issued a press release on that to give them credit and recognition, as well as exposure."
BVC: Are you involved with environmental sustainability?  
Minister Johnson: "As part of this Ministry, agriculture also falls under my supervision. So environmental sustainability is important. Unfortunately, it's not as wide-scale as I'd like it to be, in terms of the agricultural aspect from this Ministry but it's in our governing programs. I've supported projects in that regard and reached out to the Nature Foundation with support for their environmental initiatives. In another respect, the sinking of artificial reefs required my approval and consent in seeing our coastal water is safe and unpolluted and that we create the marine life that has been lost due to storms in recent years."
BVC: What are your administration's key goals for the future?
Minister Johnson: "Part of the future plan is a permanent facility for our vendors; a permanent, beautified marketplace in the town where they will have all their work displayed in a safe, secure environment that is also conducive for visitors to sit down and relax. That is part of the plan for the Phillipsburg and Simpson Bay areas. I've had initial discussion with the vendors and they are elated in that regard. Another plan is the establishment of a Gaming Control Board to regulate the gaming industry. It will be a first for the island and a positive step, considering the number of gaming establishments, the casinos, we have.
"The third goal is promoting the island even further in the tourism industry. We're working with a PR firm in Canada; also going to expand in South America, because I want to see our economy branch into other areas. We depend heavily on the U.S. but we also have to expand as a destination and cater to different markets. We'll be ramping up the marketing to ensure people know St. Maarten is open for business.
"St. Maarten is truly paradise on earth; a blend of cultures, ethnicity, cuisine, with an attitude of resilience and strength, deeply rooted in our people. It's a place where all walks of life, regardless of background, are welcome and everyone is friendly."
AT A GLANCE
Who: St. Maarten Ministry of Tourism, Economic Affairs, Traffic & Telecommunication
What: A multi-faceted government portfolio
Where: Pond Island, Great Bay, St. Maarten