Rooftops Silicone Distributors Inc.
Quality workmanship and service
Business View Caribbean interviews Rodger Bressi, General Manager of Rooftops Silicone Distributors Inc., as part of our focus on best business practices.
Rooftops Silicone Distributors Inc. has been a roofing industry leader in the U.S. Virgin Islands for over 40 years, by building a solid reputation for excellent service, quality products, and the latest in roofing technologies, trends and solutions. "We opened our doors in St. Croix in 1970," says Managing Director, Rodger Bressi. "Back then, the name of the company was Silicone Distributors, Inc. In those days, we applied liquid silicone on roof decks and membranes on plywood, concrete, and other types of substrates."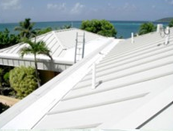 Bressi recounts that the company was started by his father and two partners, eventually selling to Joanna and Dick Isherwood, who then ran it for over 30 years. "During that time, they moved the operation to a larger facility, branching out, installing and sealing other types of roofing such as metal roofing, tile, flat roofs, pitched roofs for commercial and residential applications," Bressi says.
"In early 2013, I learned that the business was up for sale and that if a buyer wasn't found by the end of the year, the current owners were going to close it down," he continues. "With the economy failing in 2008 and a dying custom home market, which is what I was doing at the time, I took advantage of what I believed to be a great opportunity. I was always entrepreneurial – I started my first business at 24, and I was trying to figure out what I wanted to do, next. We ended up closing the deal that September. In 2018, we're still here and going stronger than ever!"
Today, Rooftops Silicone Distributors Inc. has over 35 employees and its marketing region covers St. Croix, St. Thomas, and St. John in the USVI. "Over the history of the company, we've worked as far as Guyana in South America; we've worked in the Turks and Caicos; and the British Virgins," Bressi adds. "Our headquarters are in St. Croix, and we've got an office in St. Thomas. I go back and forth from St. Croix to St. Thomas, dealing with field crews in St. Thomas and administrative duties in St. Croix. I have a staff which includes our technical director, Patrick Kodran, who has worked for the company since 1995. Along with his metal forming expertise, Pat introduced the first standing seam metal fabricating equipment to the islands in the '90s. I put him in a league by himself when it comes to the technical aspects of all types of roofing that we do in our region. We rely on him a lot."
Bressi stresses that the company has no "typical" clients, per se, and there are no "typical" types of jobs. "A typical client is anybody," he asserts. "It could be a $500 client; it could be a $5,000 client, a $50,000, or a $500,000. It doesn't matter. We service anybody that needs us and that we can get to – residential and commercial. We're currently working on a very large project at the moment called Limetree Bay Terminals – a local oil refinery. We've done movie theaters; we do residential, standing seam – that's really a very unique, symmetrical type of roof with no exposed fasteners and architecturally very pleasing. It's something we're very, very good at, modesty aside.
"We still do a lot of fluid-applied, coated and metal roofs. We're doing the University of Virgin Islands' Medical Classroom Building in St. Thomas, which is a commercial-type roof. We're Firestone-certified installers and this is a Firestone roof that's going on that building. We're also certified in certain coatings providing long-term warranties with KM Coatings, which is a company that makes both acrylic and silicone products that we use.
"We do a lot of gutter work. I think we're the only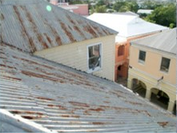 company in the U.S. territory that has a seamless commercial box gutter machine. People prefer a seamless gutter so they don't have leaks where the joints are, but mostly, when it comes to commercial gutters, everybody has ten foot or twenty foot long lengths from the manufacturer that have to be riveted together, which are prone to leaking over time. We offer a seamless box gutter for better looks and no leaking.
"We also do "SPF" urethane roof spray foam that can be applied on wood, concrete, metal and other substrates– it works with a spray rig and two 55-gallon drums of Part A and Part B urethane foam that's put down on a roof for insulation purposes and crack mitigation. It's usually put down an inch and a half thick and silicone gets applied on top, either by spraying with special equipment or hand rolling. It's a very cost-effective way of repairing a rotten metal roof or a concrete roof that has cracks in it. These roof systems can be warrantied for up to 20 years by Rooftops and our manufacturers who work very closely with us.
"So, we do a lot of different things. In the States, usually you'll have a commercial flat roofing contractor; you'll have a metal-type contractor that installs metal roofs; you'll have a cement tile or concrete tile or clay tile installer. There are guys out there that do structural steel and metal roofs; there are guys that do coating; but I don't think there is anybody in our area that does as much as we do and has the multitude of equipment that we do, or has the technical background as broad as ours, or the people that are as well-versed as we are. Because the demographics are so small in our region, we have different skill sets that do different types of roofs within our organization. So we do it all. You have to be a jack of all trades, and we do pretty much any kind of roofing."
Taking a cue from Rooftops Silicone Distributors Inc.'s previous owners, Bressi says that he too has tried to grow its operations. "We've put a lot of the company's profits back into the company for the purpose of growth and expansion," he states. "When I took over, we had ten people. Now, we're 35 going on 40, and constantly adding and looking for new talent. Expansion-wise, we've always worked in St. Thomas, but we've never had 'boots on the ground,' so to speak. So, in 2015, we expanded our service area over there by hiring an office manager and also local St. Thomian field personnel. It's a good thing when you expand your business to new territories and are able to hire locally in that jurisdiction instead of importing talent from the outside," Bressi adds. "That market is growing, especially because of the recent hurricanes. St. Thomas got hit really hard, and we're doing our part to help rebuild. We're here to help people; to see the work through the best we can. We're here to provide value, great service, and a great product."
Bressi is proud of the fact that Rooftops provides employment supporting workers and their families. "We're also here to be part of the community. We're here to provide jobs for people," he declares. "We have great benefits in the company – a retirement plan, health benefits, paid vacations. I don't think there are many companies in the territory in the line of work that we do that offer those benefits. If you're looking for a place to plant yourself, Rooftops Silicone Distributors is a home. Work hard and the rewards will be there. I'm proud of that."
Check out this handpicked feature on National Properties Limited in St. Vincent and the Grenadines.
AT A GLANCE
WHO: Rooftops Silicone Distributors Inc.
WHAT: A roofing company and contractor
WHERE: St. Croix, U.S. Virgin Islands
WEBSITE: www.rooftopsusvi.com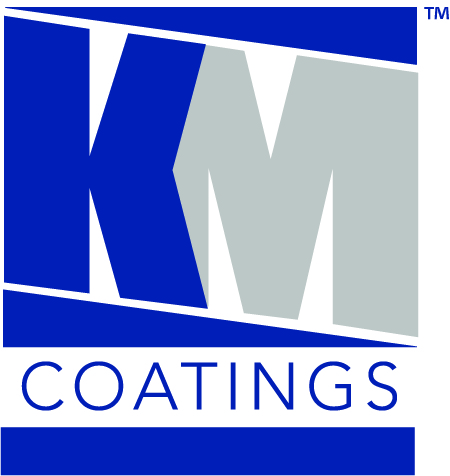 KM Coatings – KM Coatings has been manufacturing liquid-applied membranes for over 30 years and joined the Polyglass U.S.A., Inc. family in 2014. KM Coatings offers a complete selection of acrylic and silicone elastomeric roof coatings in a variety of colors.  When applied over an entire roof, KM Coatings roof systems cure to form a seamless membrane and can extend the service life of an existing roof by 5-20 years.  For more information visit kmcoatings.us