Business View Caribbean interviews Patrick Jones, President of BAC Universal Electric Ltd., as part of our focus on best business practices in Bermuda.
BAC Universal Electric Ltd. – Bermuda's no. 1 electrical contractor
BAC Universal Electric Ltd. is Bermuda's longest serving electrical contracting company. "Universal Electric came into existence in 1965, as a result of local businesses partnering with a large Canadian contractor to install all of the systems for the new hospital that was being built at that time," explains Company President, Patrick Jones. "The company grew in response to local needs throughout the late '60s and '70s, as the island experienced an explosion of various hotel projects, which drove much of the larger and more complex projects we grew to become known for. We went on to build some other landmark buildings – the Southampton Princess Hotel, the new courthouse, the new waterfront complex, HSBC corporate headquarters, Tuckers Point Hotel, Seon Place, and many, many others. We have our skill sets and the resources to build and construct the more complex projects, ranging from high-end residences to high-end commercial, institutional, and industrial. That's the niche that we've managed to carve out for ourselves."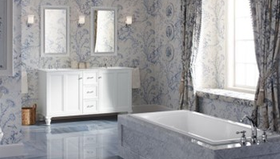 Jones adds that Universal Electric became the "undisputed, go-to entity when the job needed to be done right, by recruiting, training, and retaining talented leaders, managers, and tradesmen. It never fails to surprise me," he reveals, "how many clients, after having experienced someone else, who either walked away from a job, or totally botched it, or simply performed it in a substandard manner, come to us to clean it up and to get it fixed, properly."
In 2015, Jones, who had previously owned all of Universal Electric, decided to join forces with the BAC Group of Companies, which then became a 55 percent shareholder of the firm. Other companies in the BAC Group include: Bermuda Air Conditioning, Bermuda Insulation Ltd., Bermuda Alternate Energy, Energy Management Systems, and the BAC Showroom for plumbing supplies.
Today, BAC Universal Electric has four major divisions. Its retail store sells the broadest range of electrical supplies and fixtures in Bermuda. Its design and construction group is the largest electrical contractor on the island, capable of working on jobs of any complexity, including medium voltage projects, which Jones says is rare for a contractor on an island as small as of Bermuda. The company's third division is its maintenance and service group – it has 24-hour, on-call services, plus guaranteed maintenance contracts to make sure that its installed systems are working correctly. "We provide thermal scans to ensure there are no hotspots at various power points to ensure that each system is working as efficiently as it's meant to and won't cause fires," he states. The fourth division is its systems group that deals with fire alarm systems, data systems, back-up power, generators, UPS (uninterruptible power supply) systems, and video surveillance systems. The company has approximately 70 employees, and when things are busy, it has employed as many as 160.
In those boom construction times, Jones says that Universal Electric is mostly in demand as an electrical contractor for major projects such as office buildings and hotels, and when demand is low, it relies on its maintenance contracts to stay afloat. "The island went through a long economic downturn between 2009 and 2015," he recounts, "and it was essentially our retail operation and our service and maintenance group that kept us going."
What also helps Universal Electric to keep going is a combination of Bermuda's relative isolation and its designation as home to a wide collection of high profile businesses. "The island is miles out in the ocean," Jones says. "The next, nearest land mass is North Carolina – just under 800 miles away. However, we cater to a fairly robust business environment. We're home to many Fortune 500 companies, so we have a very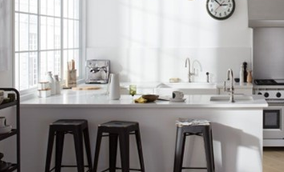 sophisticated infrastructure on such a small island of 60,000 people. With that said, our expertise is in areas like data centers and business-critical systems and our clients cannot wait to get a response from North America or from other jurisdictions. We maintain a highly-trained workforce on the island that can respond to any situation that might occur."
Going forward, Jones reports that business in Bermuda is on the uptick due to the recent hurricanes that swept through much of the Caribbean region. "We've seen a lot more interest in our island," he avers. "We were spared some of the damage, so we're seeing an influx of high net worth individuals looking to buy high-end homes, as well as high-end hotel properties. Right now, we're involved with a Ritz Reserve project, of which there are only two or three in the world. The Ritz-Carlton Reserve is a very high-end project and we're seeing interest from other major hotel players. We're hopeful that that trend continues, and, if it does, we expect to be very busy for the upcoming near to mid-term future."
In the longer term, Jones says that the company will strive to remain responsive to its clients' needs, while being on the lookout for new opportunities. "We're seeing a lot of interest in electric vehicles," he muses, "and that's a space that we're looking at. Potentially, we can provide charging stations at various spots around the island, combined with our solar capabilities. We're mindful of the need to be green, and, we think that, over time, that's going to be the way to go. We want to keep our eyes open and be responsive to whatever might come."
Meanwhile, Universal Electric will continue to be the go-to electrical services company on Bermuda. "When you want to have comfort that the job has been done right, Universal is the company that you want to do business with," he declares. "We're going to be fair; we're going to be honest; and we're going to back up what we do."
AT A GLANCE
WHO: BAC Universal Electric Ltd
WHAT: Bermuda's longest serving electrical contracting company
WHERE: Pembroke, Bermuda
WEBSITE: www.bac.bm/universal-electric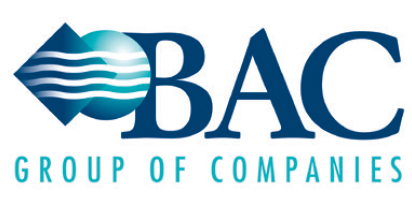 Bermuda Air Conditioning Ltd. – Bermuda Air Conditioning Ltd. (BAC) is the local leader in the analysis, design, and construction of better indoor environments, offering a full line of products and services that cater to any size commercial or residential project. BAC has installed air conditioning systems in the majority of the commercial buildings throughout Hamilton and around the island. With systems from York and Trane, the company's commercial sales division offers complete service from conceptual design, cost estimating, installation and project management, no matter how large or small the project may be. Its residential division offers a wide selection of cooling and heating solutions from brand names like Panasonic, Carrier, Keeprite, Comfortaire and Freidrich. – www.bac.bm