RHS Marketing Limited
"Bringing flavours of the Caribbean closer to you!"
Business View Caribbean interviews Ravi Sankar, Managing Director of RHS Marketing Limited, for our focus on Caribbean Food & Beverage Manufacturers
Almost as enticing as its picture-perfect beaches, the culinary landscape of Trinidad and Tobago reflects a diverse gastronomy, one replete with savory seafood dishes, sumptuous stews, and an all-embracing approach to seasoning blends and spices. From hot pepper sauces to chadon beni (a must-have condiment with "bake and shark", Trinbago's iconic street food item), the local cuisine mirrors the diasporic experience of its migrant identity – a fascinating mixture of flavours originating from faraway lands like Africa, India, and China.
Riding on the backs of these rich, cross-cultural influences, RHS Marketing Limited, out of Caroni County in the west central part of Trinidad, is leading the pack in terms of self-driving food product development, manufacturing processes, and distribution for the twin islands' condiment and beverage industries. In 2019, RHS received the prestigious award of Most Successful Market Entrant (Small/Medium category) from the Trinidad and Tobago Manufacturers' Association. Now, the company is teeing up to open a new manufacturing facility as part of its five-year plan to expand operations.
"We're hoping to acquire some land close by, still within the Frederick Settlement Industrial Park, where we could start getting our factory together," says Managing Director and Owner, Ravi Sankar. "We really need to expand now because we've been growing steadily for some time. I think there's a lot in store for us in the future."
With a 25-year history, Sankar's company has one of the longest and most successful track records in the Caribbean food and beverage manufacturing space. They also process and distribute a slew of household-name products sold throughout the national grocery chains, independent shops, hotels, and restaurants, including Benjo's Seamoss Drink (from the Dominican Republic), Lam's Chow Mein Noodles (from Guyana), and several of their own private labels.
"The company was established in 1995 when I launched my brand, Karibbean Flavours," Sankar explains. "I started simply, with pepper sauces, browning essences, and green seasoning. That was my initial product range – those, and a little bit of jams and jellies. From there, we've built several more brands in different product categories. We have a brand called Herrera's, which offers a range of non-alcoholic essences and confections. We've also just launched a brand called Rajapuri, for spices and curries."
Karibbean Flavours began as a one-man operation, with Sankar developing all the recipes himself. "I wouldn't say that I'm a seasoned cook, but I can put flavours together based on how I would want them to taste, and what I think others would like," Sankar says. "I put a lot of work into pairing flavours and exploring new flavour combinations." Today, the company has approximately 100 employees, and recipe development is overseen by a dedicated department. "We've hired a recipe developer, but I still play an important role in steering that process," Sankar says. "I describe to them the basic product that I need and they prepare it and do all the samples for me."
From the outset and still to this day, Sankar has concentrated his marketing efforts on in-store events and promotions; meeting his customers face to face and collecting feedback on new product samples. Along the way, the company has also branched out into television and billboard advertising, and gone heavy on social media. "We promote our business on two platforms: Instagram and Facebook," says Sankar. "We've also recently employed a brand ambassador, Natasha Laggan of Trini Cooking With Natasha, who's well-known in the Western diaspora for creating dishes, Trinidad-style. She's built a healthy following – maybe a million plus just over Facebook – and we've had a really good response on that."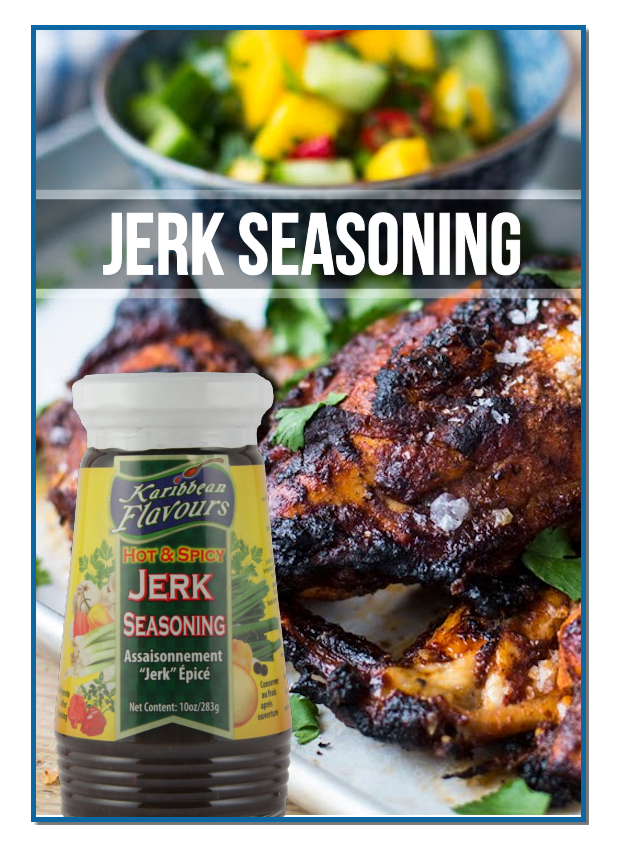 Laggan's mouth-watering recipes include Trini BBQ Chicken, 9 Spice Curried Duck, and Lamb Pastelle – a traditional Caribbean Christmas dish consisting of a cornmeal pie stuffed with minced lamb, raisins, olives, capers, and steamed inside a banana leaf. Each of these recipes, which are accessible on her YouTube channel, features one or more of Karibbean Flavours' delicious offerings, from barbecue seasoning salt and jerk sauce to 9-spice curry powder and all-purpose seasoning. With all that advertising firepower, they're now in 26 markets, both regionally and internationally. "That's across the U.S., the Caribbean islands, Canada, and the United Kingdom," Sankar says. "A lot of those customers sought our products out for distribution. I also met a couple of them at trade shows in the U.S., Canada, and the U.K."
Sankar discloses that prior to the COVID-19 pandemic, he'd relied on trade shows to market Karibbean Flavours outside of Trinidad, but with the health crisis shutting down borders and expediting the decline of the convention tourism/live events industry, he's had to shift the corporate mentality to doing things a little differently. "We've had to keep up because competition is really tough out there," the owner explains. "There's been a lot of new, small manufacturers popping up, so we try to stay ahead of the game. That's true even of our larger competitors. We tend to find them following us as we create and launch products that we think the market will want to buy. We've had to become market leaders and changers."
That's essentially what brought Laggan on board as a brand ambassador; as the pandemic raged on, and people were asked to avoid public places like restaurants, many of them turned to YouTube channels like Trini Cooking With Natasha for tips on how to make food, from scratch, at home. "She promoted a lot of our products on her channel, so I continued to get a lot of movement in the supermarkets," Sankar says. "I didn't really have to do any promotions; social media took care of our marketing during that period. And I'd say, lucky for us, we did well during COVID."
According to Sankar, the pandemic itself has been a recipe for changing people's cooking habits and tastes. "People are all looking for specialty ingredients because they happened to find a recipe on Facebook, on Pinterest, on Instagram that they wanted to try," he says. "Based on our portfolio, we have spices from everywhere: India, Egypt, Turkey, China. A lot of different spices. We've found that there's been an increase in the overall amount of ingredients being purchased by our customers. And people have been much more open to trying new things that they wouldn't normally eat or drink."
Another aspect of RHS that's seen massive changes has been the level of technology applied in their food processing techniques. "We started out very manual, then later upgraded to semi-automated lines," Sankar says. "Now, over the last five years, we've implemented more automated systems – filling systems, capping, labeling. We still aren't fully automated, but I'd say we're about 90% there." Looking to the future, the company's goals are to progressively automate and streamline more of their repetitive processes, to focus on developing their long-term business relationships with partners like CaribPlus and Hyline Label Company, and to continue to invest in employee engagement as a driver of business growth.
"We've recently celebrated our employees who've been with us for over 10 years," Sankar says. "Some have even been with us 15 years. I have a lot of employees who like working here. I've tried to create an organization where I trust in, and look for, employee feedback on any issue. I encourage open communication between and within individual departments." In line with the company's core values and beliefs, Sankar says he promotes an open-door policy, where employs are free to come and talk to him, and to see issues dealt with immediately. "With that type of environment, I get a lot of openness from my employees," Sankar shares.
RHS hopes to increase the company's community outreach, encourage further team building, and offer more in the way of training initiatives in the areas of safety and customer service in the short-term. "In the food industry, training is essential," Sankar says. "You need training all the time to keep up with the standards. We'll be FSSC certified pretty soon—within the next six months—and that requires a lot of preparation on both the production and the administrative sides."
With a focus on promoting the unique and wonderful tastes of the Caribbean, there is no doubt that Ravi Sankar and his team will continue to succeed for a long time to come.
AT A GLANCE
RHS Marketing Limited
What: Manufacturer/exporter of premium quality seasonings, spices and related food products
Where: Caroni, Trinidad
Website: www.karibbeanflavours.com