Quality Incorporations VII Ltd.
A culture of caring
Business View Caribbean interviews Krishna Vaswani, Managing Director of Quality Incorporations VII Ltd., for our focus on The Best of the Best in the Caribbean
Since 2004, people throughout the Caribbean have been relying on Quality Incorporations VII Ltd. for that most necessary of household products – toilet paper. From the Kingston facility that houses the company's manufacturing, distribution, and administrative offices, some 75 employees are involved in producing Quality toilet tissue that is sold to retail, wholesale, and government offices throughout Jamaica and beyond. This vital and respected family business is well known, not only for its products, but the culture of caring the company shows to its staff and the communities it serves.
Business View Caribbean recently spoke with Managing Director of Quality Incorporations VII Ltd., Krishna Vaswani, for an overview of the company's operations, achievements, and secrets for success. The following is an edited transcript of the conversation.
BVC: How is the business climate in Jamaica… is your company experiencing growth?
Vaswani: "Jamaica has been on an upward trajectory. Major infrastructure investments and private sector investments have spurred a level of growth. We have been fitting into that because we have made some investments for a higher sustainable footprint in our overall growth perspective. Currently, 70 percent of our production is recycled paper and 100 percent of our inputs are FSC certified. We've basically altered the way we grow and invest.
"We are very integrated in our distribution approach. We have both local and regional distributors and do our own inhouse distributing. Delivery is all contracted, we're in the manufacturing business not the trucking business. We have grown in Jamaica about 10 to 15 percent in the last couple years and our export footprint has grown, as well. We've gotten into more consistent markets such as Barbados, Belize, and the Bahamas."
BVC: What are the biggest challenges for your manufacturing sector?
Vaswani: "Jamaica is a place where we have B2B2B, so you're catering directly, or indirectly, to smaller customers and large $100,000 customers. We used to be fairly big in the hospitality market but we've found, with some of the chains, negative competition has been taking place and people who are not directly involved in the day-to-day production of tissue are importing, selling, and costing these products at a negative rate, which is not attractive for us. To stay in business we have to supply good business. So, we don't take anything on unless the terms are mutually agreeable.
"The thing about Jamaica, we are in a floating currency. Where you have negative swings of 10 or 11 percent at any given time, the business just doesn't add up. So, we are very thoughtful of that. To be honest, there is no need for the spikes in the devaluation of the currency. I think Jamaica has to deploy more fiscal management from a finance perspective to guarantee some level of consistency for the manufacturing sector,  which may be the largest sector employer in Jamaica.
"Manufacturing is never easy – it's not a sexy job, as I like to say. We have both internal and external challenges, being on an island. However, if we had a mutually formed framework on behalf of the public and private sector… the private sector pushes for this daily. We have a very big lobby group and we're very vocal. We do not relax, we do not rest, because we push for the greater good of the country. So, I think the Jamaican government has to take that into consideration – there's a sacrifice that the private sector makes. There's a lot of hard work and dedication behind it and a lot of risk involved."
BVC: What investments are you making to grow the business?
Vaswani: Jamaica has made significant investment in all sectors; manufacturing, tourism, agriculture, business process outsourcing. The Statistics Institute recorded 100,000 new jobs in Jamaica in 2018. In our company, we've grown from 55 to 75 full-time employees in the last two years. We've made investments in new equipment, launched two new products and, hopefully, in the next few months, we'll be launching two more. With this investment we made, we're also expanding our lines and we have more investment geared towards our customer needs and demands.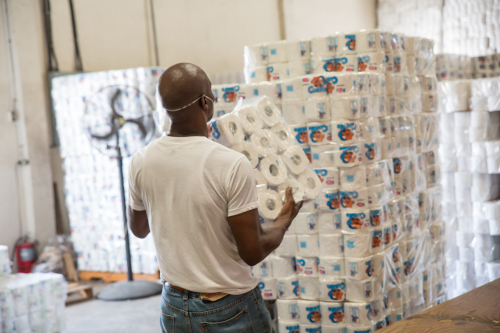 "The technology of making paper products doesn't really change, drastically. It's like saying, "Do you really want an Uber driver driving a Rolls Royce?" I don't think that's appropriate. Therefore, we have been focused more on "appropriate" technology for manufacturing. We have made some administrative adjustments, as well. Data drives a lot of business so, from an administrative perspective, we've created more linkages with technology and our people and our resources. Because 50 percent of business is inside the plant and 50 percent is outside, we've been working on bringing the two of them onto one common ground.
"We don't do online promotion, no website, no trade shows. We dig in, we fly to different countries, approach different territories with an open mind. With 50 percent of our staff on the road, that's a big presence. We don't rely on the internet, we rely on face to face, and it's always better in that regard. Trade shows can be costly, and we are often short staffed to do that."
BVC: Are 'green' regulations more prevalent on the island now?
Vaswani: "Jamaica has banned single-use plastic bags and Styrofoam containers. On the whole, the country has been going more sustainable, and eco-friendly. We had intentions of investing in a paper bag manufacturing facility, but I don't think that will take place until later in the year. Quality Incorporations VII is 90 to 95 percent eco-friendly in all our input and we work very closely with suppliers to fulfill our mandate, as well as our earth's mandate. We support local industry for our packaging needs, working with local partners in that regard.
"The work of the Jamaica Manufacturers and Exporters Association (JMEA) goes a very long way. The Association has done fantastic work. They continue to foster and instill relationships and be creative in the ways they bring private sector issues to government and government entities to understand the struggle we face on a day-to-day basis. They are a great advocate. Recently, the Exporters' Association and the Manufacturers' Association merged, so a lot has come under one roof, which has helped a lot."
BVC: How is the spirit of giving expressed in your company culture?
Vaswani: "I get up every day and think – how can you help someone? Because it's not about helping yourself or having more for yourself. That's the principle I try to live by. It's important to focus on building relationships; emphasizing with my staff to love one another and foster these relationships because you never know where life is going to take you. I get it from the elder generation, my father and his brother have always been givers. Recently, for my dad's 66th birthday, he ordered a giant cake and cut it with the staff and gave them treats. In August, we do back to school for all of our staff. At Easter in Jamaica, we give out buns and cheese, which is a standard thing for many companies, here. At Christmas, we give out presents to everyone at the factory. And throughout the year we continue to do good. Every Christmas, we give a gift and treats to each of 500 kids in a less fortunate neighborhood of Kingston.
"A lot of our staff weren't raised in a family home, and we have an incentive program that tries to encourage them to save towards that. The government has a very good social housing project in Jamaica, and we have been the intermediary, where we put our staff together with the housing agency to see how we can best secure a home for them. So far, 11 of our staff have got their first home.
"Success has a lot to do with relationships – with customers, suppliers, staff, the private sector, and the community. I would like to encourage people to be patriotic to manufacturing and local products, recognize value, respect one another, and build relationships – build bridges, don't burn them."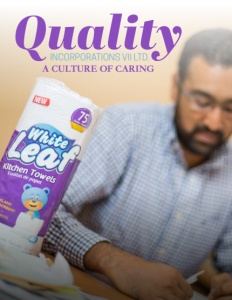 AT A GLANCE
WHO: Quality Incorporations VII Ltd.
WHAT: Manufacturer of paper products
WHERE: Kingston, Jamaica
WEBSITE: sales@qualityincs.com