Chatak Food Products Limited
Keeping it all in the family
Business View Caribbean interviews Siddhi Sankar, General Manager of Chatak Food Products Limited, for our focus on Best Practices in Manufacturing
A lot has changed since 1980, when Chatak Food Products Limited was founded in the home of Mrs. Dularie Sankar and Mr. Sankar Ramnarine – but three things will always stay the same. "Family-oriented, quality and exceptional taste," says Siddhi Sankar, Chatak's General Manager.
Chatak Food Products was born out of necessity, as a way for Siddhi Sankar's grandparents to make ends meet, but has since grown into a well-established manufacturer of Indigenous Caribbean spice blends, condiments and more, selling products across the Caribbean, U.S. and Canada from its Caroni, Trinidad headquarters.
"My grandmother began roasting her own spices and creating her own spice blends to sell at our home shop, known as 'Little Store'," says Siddhi. "Little Store Limited is an enterprise of its own, but Chatak Food Production was really born out of the Little Store Limited after demand for my grandmother's recipes increased. And so did the scale of our production. Over the years we have invested time and energy into creating new products and of course, employing new staff members, mostly from our community."
In 1991, Chatak established its first factory and has since grown to employ more than 150 people, manufacturing and selling over 200 products, including ground spices, rice products, cooking pastes, seasonings, crunchy snacks, condiments and more. Products can be found in all leading supermarkets nationwide, with a customer base of over 400 stores. Sixty percent of products are manufactured locally with materials coming from the crops of Trinidadian farmers. "Some of those raw materials include hot peppers, pimento peppers and a lot of green seasonings, so parsley, celery, definitely mangoes and elephant apple," says Siddhi . "And of course, all of those are blended in our homemade recipes."
Dularie's recipes are still in use today, but Chatak has also been expanding its range to offer more and more items to meet the needs of its customers. Siddhi notes, "We are at the point of new product development, where we acknowledge what she has contributed but now I take the torch up with regards to new product development. My dad is working on it as well – developing new recipes, new blends, new mixtures in condiments."
Any new product being developed is done with the customer in mind. "We have been developing because a lot of people have been asking for new products," Siddhi adds. "They are looking for something they can just eat on the go, more convenience products. Even if a simple thing has changed – your product size or your product packaging – just to make it better for the consumer."
Continuing to make things easier and better for the consumer, the company website offers tried and true recipes that are created using a variety of items in their extensive product line. One bright light that came from the COVID-19 pandemic is that it gave Siddhi time to reflect and ultimately develop a lot of new recipes, as well as full video footage tutorials and photos. She explains, "The test kitchen is my home kitchen. I do most of the recipe development, and then we have some recipes from our brand ambassadors and restauranteurs that use our products. That's the direction we want to go in, to begin to share recipes that aren't mine."
The company is still entirely family run, with its four main managers being Siddhi, her father, her mother and her brother. Dularie passed away in 2019, but her passion for the business has inspired her family to go on. "On her passing, it kind of reinvigorated our spirits to keep the company going," Sankar says. "It was a new opportunity for change. There was a time to reflect as well, but it was an inspiration in its own way. We have something to carry forward now. A new legacy, a new generation."
It hasn't always been easy for Siddhi since stepping into her grandmother's shoes, but she's doing everything she can to make it work and make Chatak the best it can be. She shares, "I think with every problem a creative solution can be generated and we have been undergoing a purging process. I have only been in the business for about three years, and it has been a struggle. It has been a period of change because there was adapting, and the second year it was coming up with ideas and last year we initiated that change and really got it done."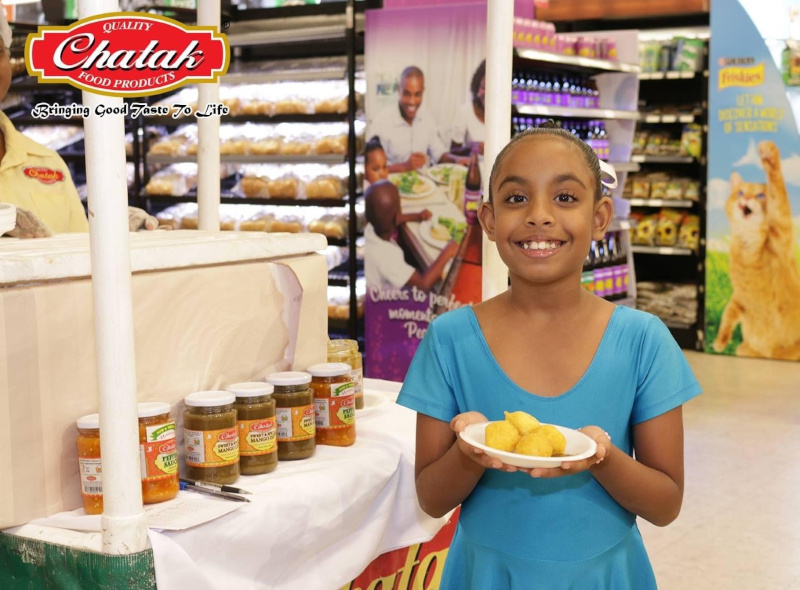 One of the biggest challenges right now is making sure the business is keeping up with the times. Siddhi admits, "Changes happen so fast and we are moving into a global marketplace. We already are a global marketplace – anything you can buy, you can buy online. And because change is happening so fast, it's definitely something that I think is limiting us to some extent, but it's also allowing us to push our boundaries. And I definitely want to pick up that challenge."
Some of the changes Chatak has implemented include moving a significant portion of the marketing onto social media, upgrading their processing to become semi-automatic and purging old machines. The latter inspired the company to enact some eco-friendly initiatives that came with added cost savings. "We underwent a recycling program with all of the machine parts that we weren't using and we sold it to scrap just to get back whatever we could for the worth of that material," says Siddhi.
All of the product waste now goes to a composting project. The company has made greener choices, including selling the oil that they use to people who recyclable oil for other bioprocesses. They have also done a lot of donation, as well, with regards to cardboard and plastic waste. Chatak has customers who use that material in their processing, so the company finds savings in that way. It's all part of a conscientious effort to be creative in keeping the costs down and minimizing expenses.
It's also a priority for Chatak Food Products to be involved in the community through donations and volunteering. Siddhi acknowledges, "We hold our religious events very close to our heart. The family business and the family orientation is part of the Hindu community and, in doing so, we find ourselves volunteering more on that side. But beyond that, we do give back in churches and mosques. We find ourselves more aligned with religion because of that family aspect, because we find ourselves close to each other and our God-fearing nature."
Looking to the future, Siddhi hopes to see even more growth for Chatak, including expanding their facilities, warehouse space, line capabilities and even the markets they export to. "We want to be able to break into new markets," she says. "We are looking into Europe or the UK. We already have our feet in the water with regards to the U.S. and Canada. We are definitely looking into South America, as well. Of course, those territories come with their natural barriers of language and culture, but if you really want to be there you have to find a way."
Even though there are big changes on the horizon for Chatak, Dularie's legacy lives on. "We try not to lose those traditions and values that my grandmother and grandfather had started," Sankar explains. "I guess it's ingrained in us. I wish we don't lose it anytime soon, even with this expansion. It's a livewire for our business and I don't want it to be forgotten. Even the little things they would have done – where they would have hired people from within the community, and helped people who didn't have jobs and found potential within those in need… we try to do that as well. We hold our family legacy very highly, it's something that we don't want to lose."
AT A GLANCE
Chatak Food Products Limited
What: Proud, family-owned manufacturer of Indigenous Caribbean spice blends, condiments etc.
Where: Caroni, Trinidad
Website: www.chatakfoods.com