Ministry of Economic Development Curacao
Promoting strength, growth & resilience
Business View Caribbean interviews Minister Ruisandro Cijntje, Ministry of Economic Development Curacao for our focus on Economic Growth & Sustainability
The Ministry of Economic Development gives direction to sustainable economic development in Curacao. Its main goal is to promote a high and prosperous quality of life for the people of Curacao by anticipating social and international developments, providing optimal service, and developing a thorough strategy. The Ministry is responsible for sustaining local negotiations, and allowing and sustaining international contacts to attract investors for more jobs.
The Curacao Tourism Development Foundation (CTDF) is known as the Curacao Tourism Board (CTB) and is responsible for the commercial task of promoting the tourism sector. The Curacao Innovation & Technology Institute (CITI) is responsible for stimulating innovation and enlarging the application of technology, particularly enterprising local medium and small businesses.
Business View Caribbean spoke with the minister for Economic Development Ruisandro Cijntje about the current state of the island's economy, and initiatives and strategies that are underway to ensure a promising future for the people of Curacao.
BVC: How would you describe Curacao from an economic perspective, today?
Minister Cijntje: "Curacao is trying to recover from the pandemic and our economy has had some difficulty due to the fact that our oil refinery that was the number one economic pillar is not operating right now. A lot of small businesses have closed their doors. But now the tourism industry has picked up and has become the number one pillar that is sustaining our economy.
"So we are trying to get more out of the tourism sector; to take advantage of the low hanging fruit and try to diversify our tourism industry. Still, it is very clear to me that we have to look in other sectors. Exporting services is going to be one of the sectors that have my attention, so we can get more income coming to the island.
"The other economic pillar that we are focusing on is the oil industry and we are trying to reopen the oil refinery again. There are discussions ongoing in that regard. When it re-opens, it will bring many jobs, as well as benefits to other companies like our shipyard. That will be a very positive thing when the oil refinery is operating again.
"We are also looking into how we can make Curacao more attractive for people to invest here by buying houses and working from Curacao. We have a special program for digital nomads who can work remotely from our island while also enjoying everything we have to offer. That's the structure we are using to recover our economy."
BVC: Can you share some examples of the type of services that you're interested in exporting?
Minister Cijntje: "In our national export strategy, we identified 6 priority areas. One of them is the financial service sector.
"Let's say, for instance, in the financial services, we have a lot of companies now that are already providing banking services. They are developing software that is helping other banks in the Caribbean region and providing service on that particular issue. We are very developed in that area and we have skilled people that can perform and give assistance to other big companies and investors abroad in the financial sector. So I want to promote that more and more. In the past, we were the leaders in offshore business in Curacao. Right now, we are not doing that anymore, so we are continuing through the financial sector to keep giving service to companies abroad."
BVC: How are you reaching out to promote your export services?
Minister Cijntje: "We have a National Export Strategy that is being implemented in 2022 with the assistance of the ITC (International Trade Centre), as we are currently working on acquiring our membership to the World Trade Organization (WTO). So they are helping us to implement the Export Strategy in terms of trade to make it more feasible for us. Right now we are in that process, so we have indicated those areas that we are going to explore in the sense of exporting. Financial services is one, along with education and IT. Those are the sectors that we are currently promoting abroad to export our expertise on."
BVC: Do you have skills training programs available for workforce development?
Minister Cijntje: "In my Ministry, we organize a lot of training programs, moving forward  I am trying to develop a shared service – it's a type of incubator but it's mainly focused on how to help the MSMEs (micro, small, and medium sized enterprises) to perform well. That's something I am introducing to help our business entrepreneurs to stay afloat during these difficult times. So yes, we have programs. Yes, we constantly train and educate our entrepreneurs and our people on the island to be more business minded and to perform better in their companies
"When it comes to technology and innovation, our education lab is one of the best in the region. So we have very well prepared youth. I also have to say that, mainly due to the fact that there is a lack of opportunity here, many of them have travelled to Holland to seek other opportunities there. We are part of the Dutch Kingdom, so it is easy for us to move to Holland to pursue work and education. But I think if we can encourage people to invest in Curacao, then we can attract them to come back to the island."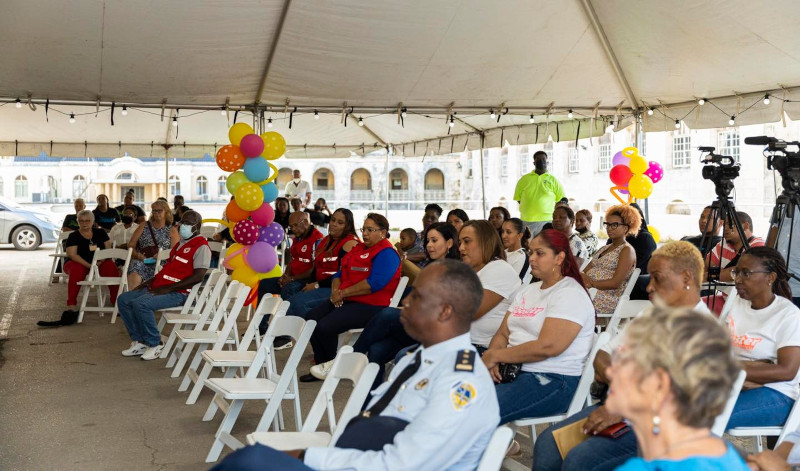 BVC: Is your construction and housing sector doing well?
Minister Cijntje: "Definitely, our construction sector is booming. There are many hotels and high-end apartments being built along the coast, so it is very obvious that there is a lot of construction going on here on the island. I think that availability for housing is going up right now in Curacao. There is a great deal of interest from people from abroad to buy houses, to buy buildings, in both areas of our downtown. They like our culture and our history in those areas and there is a lot of potential there. So in that sense, Curacao offers a great opportunity for buying a house or building a house or a business.
"As Minister, I am also responsible for the Curacao Tourism Board. With the comparison of 2019, I would have to say that tourism was growing then and today we are almost at 98 percent of the numbers in 2019. It is on a trend to keep growing and we have now entered the tourism market in the U.S., Canada, Brazil, and Colombia. Currently, our biggest market is in Europe, mainly from Holland and a bit from Germany and we want to maintain that, but, still, with the beautiful brand-new Sandals resort hotel in Curacao, we want to develop the Curacao tourism industry in the States, Canada, Brazil, and Colombia markets."
BVC: What would you like to achieve with regard to economic development in Curacao over the next three to five years?
Minister Cijntje: "Right now, we are aware of the climate change that is going on in the world. We are trying to be more resilient and improve in the area of renewable energy. I also want to see that, as an island, we are more developed in the tourism industry, and the innovation sector, and in agriculture. I believe that is the way to go, to seek new economic pillars on the island."