Business View Caribbean interviews Ben Toppin, CEO of Kensington Oval Inc., as part of our series focusing on the Best of Barbados.
Kensington Oval – Make it memorable
Barbados' oldest and much beloved cricket venue – Kensington Oval – sits on the outskirts of Bridgetown, within walking distance of the beach, and close enough to the seaport that cruise ships are visible from most parts of the compound. Government-owned, Kensington Oval Management Inc. oversees operations at the Oval, including all facets of its incarnation as a popular sports and entertainment complex.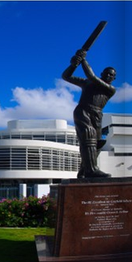 In 1882, Pickwick Cricket Club leased 4 acres of pasture land from Kensington Plantation and developed it as Kensington Oval – basically, a cricket ground with a clubhouse. Later, in 1914, the Barbados Cricket Committee, forerunner of today's Barbados Cricket Association (BCA), bought the Oval, but Pickwick continued to lease the ground until 2004. The BCA made significant investments over the years and, by 2004, the property had grown to just over seven acres.
Ben Toppin, CEO of Kensington Oval Management, Inc. explains, "In 2007, Kensington Oval was transformed to meet international cricket and safety standards for the finals of the Cricket World Cup (ICC CWC 2007). The government thought it best to expand the Kensington facility rather than building new because it wanted to keep the heritage and name association of Kensington Oval, itself."
The Government of Barbados became a shareholder in the Oval by acquiring additional surrounding land for expansion, and providing resources for the construction. Kensington Oval now occupies just over 12.5 acres, with a playing field of 3.5 acres (140 yards in diameter). The outfield is comprised of 2.5 feet of graded layers of stone; gravel and sand planted with a hybrid Bermuda grass that allows the field to drain rapidly, even after torrential rain. Water is captured in perforated pipes and led to the perimeter of the field where it is stored in 280 plastic cells. Six central cricket pitches are similarly designed, with an eight-inch top layer of specially selected clay planted with Bermuda Princess grass.
"Along with the new field construction came additional challenges with maintenance," Toppin notes. "Even though it can withstand more than the traditional dirt field, the curation of it is more technical. The design has a great catchment and drainage system, but you still have to guard against issues with the specialty grass and pests, and it is susceptible like any other field to wear and tear from overuse."
Transportation to and from the Oval is convenient, thanks to its location at a major intersection of roads leading into Bridgetown. One artery takes you from the seaport to the airport. Another, running from the airport to the northern part of the island, comes off at the Spring Garden area and terminates at Kensington Oval. With the 2007 expansion, onsite parking was reduced. But spaces are available offsite, and a shuttle is provided when necessary for large crowds. A plethora of nearby seaside hotels and resorts provide accommodations for every taste – from business travelers, to family vacationers, to sports fans, to luxury getaways for couples.
Toppin shares, "A large hotel chain in the Caribbean, the Hennessy Artistry, holds their major corporate events here. On the perimeter of the field, we have areas for large-scale entertainment shows. We've hosted a Rihanna concert, pro football, etc. We're really the only facility on the island right now that can host shows of that magnitude, plus provide VIPs with indoor hospitality suites that a lot of people prefer."
Kensington Oval Management Inc. has 25 full-time employees, supplemented with casual labor for major events. The current capacity of the Oval is 11,000 spectators, boosted to 27,000 for ICC CWC 2007, with the addition of two, partly-covered, temporary stands on the eastern side of the ground. One was the largest such structure ever built at a sporting event. Toppin adds, "If we have something like a Rihanna show, where the audience is out on the field, we can accommodate 25-30,000. For cricket, it's generally 15-16,000."
The Oval also features a Media Center with six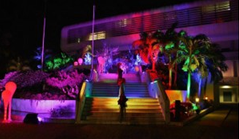 commentary booths and 85 press desks, a players' pavilion for up to 50 players, a 148-seat press conference room, 46 hospitality suites, two club terraces, six bars, and 18 concessions.
On the sports side, most visitors to the facility are British cricket lovers who have heard of Kensington Oval. In terms of entertainment, Kensington Oval Management caters to local promoters who bring regional and international acts to Barbados. The Oval has solid relationships with companies who do onsite branding. Major international brands are given the rights to brand a specific area that will be used as an alternate hospitality and entertainment offering. Clientele is primarily large management companies and promoters like Live Nation and the National Cultural Foundation, whose shows are among the biggest.
Events are scheduled year-round, whenever the schedule permits. February and March are the main months for cricket; top booking times for concerts and other entertainment are July, August, and December. Toppin says flexibility is key. "We try to keep the facility very busy. We can run a cricket match and entertainment event simultaneously, provided the other event doesn't entail using part of the field. We pride ourselves on being able to quickly switch from one type of event to another. So, if we have a cricket match end on one day, the next day we can roll a portable mechanical stage onto the field, deploy it, have an event at night, and by the next morning it's ready to play cricket again. We take great pride in the way we handle our logistics to accommodate various types of events."
The Kensington Oval has long been important to the Barbados economy. Guests coming from the U.K., the U.S., Canada, and other Caribbean islands play an integral part in the tourism effort. Many people arriving at the seaport from overseas don't know about cricket, but their curiosity is aroused by the elaborate structure in the distance. Designed by Dipesh Patel of Arup Associates of United Kingdom, with the support of local consultants, Kensington Oval's 3Ws stand was part of the portfolio which won Arup Associates the prestigious Building Design 2007 Architect of the Year Award in the Leisure/Sport category. The project took 20 months to complete at a cost of $135 million.
"In the near future, we are looking to move away from the grid," says Toppin. "Looking to install a photovoltaic system, because we have a lot of air conditioners that run 24-7 without relief. We're changing the technology of the a/c system to the inverter type, so they're more energy efficient. We're also planning some additional construction on the perimeter to provide better conference facilities. We just upgraded our surveillance systems to make the place safer and more secure. And we want to use smart tech to expand automation to other parts of the compound, so we can set timers, and not be dependent on manpower to turn lights, etc. off and on."
Five years down the road, sustainability tops the agenda. The facility has already cut down on electrical consumption, and plans to reduce it further. They've also been able to control the amount of potable water used, by reclaiming captured well water and rainwater, and using it to flush toilets and water the field. That project is being monitored to see if more water can be captured.
Toppin suggests that everyone who's interested in sports should take a keen look at Kensington Oval. "We are a small company with scarce resources, but we've been able to take a cricket stadium and turn it into a multi-purpose facility for almost any team sport or type of entertainment. People with some technical knowledge will appreciate what we've done. And sports enthusiasts will be impressed, as well. Shortly, we'll be implementing augmented reality tours, with a device telling you where you are on the property, and the history of that part. Because every stand is named after a couple of famous cricketers.
"Our one-year plan is to have an outdoor museum putting national sporting icons – not just cricket – along all the perimeter walls, leading from the main gate and extending into the local community. If everything goes to my plan, it would help to revitalize the whole area."
AT A GLANCE
WHO: Kensington Oval
WHAT: Renowned cricket ground; sports and entertainment venue
WHERE: Bridgetown, Barbados
WEBSITE: www.kensingtonoval.org