Business View Caribbean interviews Sarah Ann Showell, GM at Green Turtle Club Resort & Marina as VP of Operations in the Bahamas.
Casual, yet sophisticated. Unashamedly exotic. The Green Turtle Club Resort & Marina takes pride of place, surrounded by spectacular beaches and breathtaking ocean waterscapes.  Nestled on the tiny Great Abaco Out Island of Green Turtle Cay in the Bahamas Family Islands, this decadent slice of paradise measures a mere three miles in length, and can only be reached by boat.
Green Turtle Cay was settled in the 1770s by British Loyalists and named after the green sea turtles that once nested there. Not surprisingly, today, tourism fuels the economy. Downtown Green Turtle Cay, New Plymouth, has a distinct New England flavor with colorful clapboard homes, artisanal shops, and restaurants serving homemade food with island flair.
The Green Turtle Club was created in 1964 by English biologist and inventor Allan Charlesworth, after he visited the island on his yacht, fell in love with its beauty, and bought the property where the Club now exists. One building already there at the time was a boathouse that Charlesworth turned into a bar. Today, it's a famous Club landmark that still feels like you're stepping into a boathouse when you go in to order a drink – though its walls are covered in signed dollar bills, and the ceiling is festooned with burgees. (More about that, read on…)
In 2004, Adam Lockhart Showell, Sr. purchased the Green Turtle Club from Charlesworth's family. Showell's daughter, Sarah Ann, is now VP of Development, and shares the ins and outs of this fabulous Abacos resort: "It's an interesting story. My father had been to Green Turtle Cay before; he was out on the water one stormy November night in 1994, managed to get his vessel ashore, and walked into the Tipsy Turtle Bar, where he ordered a rum punch from Miss Debbie – who's still our bartender there, today. Ten years later, dad flew down and bought the property from the second-generation owners."
Adam Showell, Sr. is a second-generation hotelier, himself, in Ocean City, Maryland. Sarah Ann notes, "We have two properties there, the main one is Castle in the Sand. Hospitality has always been our family business, but we've never been out of Ocean City. So, this was really a purchase of passion for my dad. I handle everything here, since he still lives in Maryland. When he comes to the Club, he's on vacation!"
The Green Turtle Club offers an eclectic collection of 34 rooms for rent – all villas, all gorgeous – spread out across the property. Some facing the pool, some looking out at the harbor, others have private decks. Add to that a 42-slip marina, and it makes operating this hotel more like a 76-room resort.
Most guests come from Florida. As Sarah Ann explains it, "They treat the Abacos like Martha's Vineyard, coming over on weekend trips, and a few weeks at a time for holiday vacations. Green Turtle Cay is on the same latitude line as Palm Beach, but has a more temperate climate; 10 degrees warmer in winter, 10 degrees cooler in summer. It's a one-hour flight from Florida, but you feel like you went somewhere completely exotic."
The Green Turtle Club has 44 year-round employees; 50 percent of them live on the property. The resort closes from the end of August through the end of October every year. First, because it's hurricane season. Second, because extensive maintenance repairs are done during that time to keep the property at its best. It also gives employees a well-deserved vacation after 10 months of hard work.
Sarah Ann focuses her marketing efforts on promoting Green Turtle Cay, itself, as a destination: "Because even if they're staying in the houses or another resort on the island, they're going to be patronizing us. We're a small resort, so when we fill the whole island, everybody succeeds. I'm competing with other islands throughout the Bahamas and the Abacos; trying to educate my customers staying on the mainland to take that extra taxi or ferry ride over here because we have more to offer than the bigger islands. We're more secluded, elite, luxurious – but it takes some hand holding to get them here."
The other resort on the island is Bluff House, located across the harbor from the Green Turtle Club. "It's another wonderful offering on the harbor, with a casual and fun atmosphere. We all have lots to offer, so my focus is always attracting people to Green Turtle Cay no matter where they stay."
The last three years have been so successful, it enabled the Club to do a total overhaul of the property. All the villas have been renovated, with special attention paid to luxe bathrooms. Indoor and outdoor dining, the Chandlery, Grog Shop, and Gift Shop have been redone. The channel was dredged so boats can come in on any tide, with a seven foot mean low tide, which has made a huge difference to marina traffic. More deep water piers and finger piers were added. The marina can fit everything from yachts up to 140 ft.-to-center consoles. Most come from Florida; the second biggest market is Texas; others come from the northeast and Canada.
Sarah Ann acknowledges, "I definitely see an opportunity for an increase in villas and rooms over the next five to ten years. Our property is 14 acres, and cuts the island in half. We have a sea to sea property, one side called Cocoa Bay has the beach, the other side our Marina. So, what my dad and I discuss over a glass of wine at dinner is pretty endless about where we want to develop the Club."
Silver Airways has been a valuable partner for six years. The Green Turtle Club combines discounted Silver Airways flights with Club room packages to offer Floridians a very competitive price when they're vetting vacations elsewhere. The Club has also formed a unique partnership with John Watling's Distillery in Nassau. Their large selection of rum and Vodka is featured on the menu, and they do onsite events, where the Club chef pairs delicious courses with signature drinks.
"Abaco Buzz is a new collaboration," adds Sarah Ann. "A friend of mine from New York started it as a marketing website for the Abacos, from the Spanish Cay down to Hope Town and, of course, Green Turtle Cay. It's a great collective marketing space for these islands, where organization is usually difficult to manage. But, our longest business relationship is with our next-door neighbor, Brendal's Dive Center. Brendal grew up on Green Turtle Cay and has certified thousands of divers. We have people who stay with us specifically because they want to dive with him."
The Yacht Club Pub, aka the Dollar Bar, is a destination all its own. The walls are plastered with bills bearing countless names and memories. Former U.S. President Jimmy Carter is among many celebrities and politicians who have visited, and a special place has been set aside for his autographed dollar bill. Sarah Ann relates, "It started as a tradition when the Bahamas was still under British rule. RAF pilots would come in, put a pound note on the wall and say, "If I don't come back, buy everybody a round." That's led to a total wallpapering of this bar. Along with burgees on the ceiling. A burgee is a flag that hangs at the top of a boat. Many people have a custom one made for their vessel, we have our own with a turtle on it. People take the burgee off their boat, sign it, and hang it in our bar. The ceiling is covered with these beautiful, brightly-coloured, dangling flags."
The Green Turtle Club restaurant never fails to surprise with its amazing cuisine. Often, dining choices in the Caribbean are limited because so much of the food needs to be flown in, but Sarah Ann says they are surpassing expectations with leadership from their Executive Chef, Michael Howell. "It's really hard to have a high-end restaurant on a three-mile island, but we do it remarkably well. We offer creative cuisine that has a world/island fusion – all things from the ocean. It might be a Thai dish with a local grouper or hand-rolled ravioli stuffed with lobster. Exceptional dining, with a vast wine list that we cellar."
In case you need one more reason to book your vacay, the Green Turtle Club specialty "Tipsy Turtle Rum Punch" was chosen by Esquire Magazine as the best rum punch in all the Caribbean. Cheers!
AT A GLANCE
WHO: Green Turtle Club Resort & Marina
WHAT: Sophisticated island resort & marina complex
WHERE: Green Turtle Cay on the Out Islands of Great Abaco, Bahamas
WEBSITE: www.greenturtleclub.com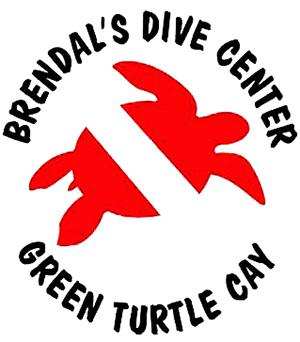 Brendal's Dive Center – Founded in 1985, Brendal's Dive Center is a full service dive center and retail store that provides SCUBA diving and snorkeling instruction, equipment, and activities in and around Green Turtle Cay. The Center also offers turtle and wild dolphin eco tours, sunset sailing cruises and private charters, and kayak and paddle board tours and rentals. – www.brendal.com