Windward Roads Infrastructure
Let's build happiness
Business View Caribbean interviews Pierre Montesant, Director of Windward Roads Infrastructure, for our focus on the Resilience and Growth of St. Maarten
Windward Roads Infrastructure is a well-known construction company on St. Maarten, and an active participant in the rebuild and revitalization of the island following the Sept. 2017 hurricanes. As part of Janssen de Jong Caribbean, Windward Roads plays an important role in the development and implementation of integrated projects on the Windward Islands; specializing in infrastructure, including civil works, design and build, general construction, harbor and marine construction, maintenance and management and asphalt production. Founded in 1986, Windward Roads has grown to over 60 employees and operates on the Islands of St. Maarten, Saba, Sint Eustatius, and Anguilla. It was the first of its kind on St. Maarten to obtain the ISO 9001 certificate.
Pierre Montesant, Director of Windward Roads Infrastructure, speaks to the background of the parent company. "Janssen de Jong is a Dutch company that came to the Caribbean in the early 1960s to execute an asphalt runway at the airport on Curacao. They've been operating almost 60 years in the Caribbean and just kept expanding. We have road and construction companies on Curacao, Aruba, Bonaire, St. Maarten, St. Martin, Saba, St. Eustatius and Anguilla. The first project on St. Maarten was the construction of the main road from the town of Phillipsburg to Princess Juliana Airport."
While road construction is a primary focus, Windward Roads has expanded into maritime and civil concrete construction, housing, and utilities. They also do project development, raw material extraction, and production of aggregates for construction. Montesant reports, "We have our own mines on Curacao for our concrete and asphalt plants, and strategically, on all the seven islands I mentioned. We also use local mining companies from St. Maarten. On Curacao, 90 percent of the aggregates we use in the concrete and asphalt come from our own mine."
Full spectrum of customers
Windward Roads has a full spectrum of customers including airports, marine, local governments, the hotel industry, homeowners, and sport federations – installing artificial grass, and asphalt or concrete basketball courts. Whether the client wants a parking lot, a road, or a house with a pool, Windward Roads will build it. In St. Maarten, they have diversified into residential construction on a small but effective scale. They also did some projects for the European Union on the islands. When it comes to highly-specialized engineering construction, such as marine breakwaters and piers, Windward Roads uses local and international construction consultant companies.
Maintenance is another part of their portfolio. Windward builds the sewage infrastructure and maintains it for the government of St. Maarten. And the company specializes in building runways – most recently on Saba. It was one of the smallest runways in the Caribbean. The project was especially challenging because it was a concrete runway built within 8 weeks; generally, the runways are made from asphalt.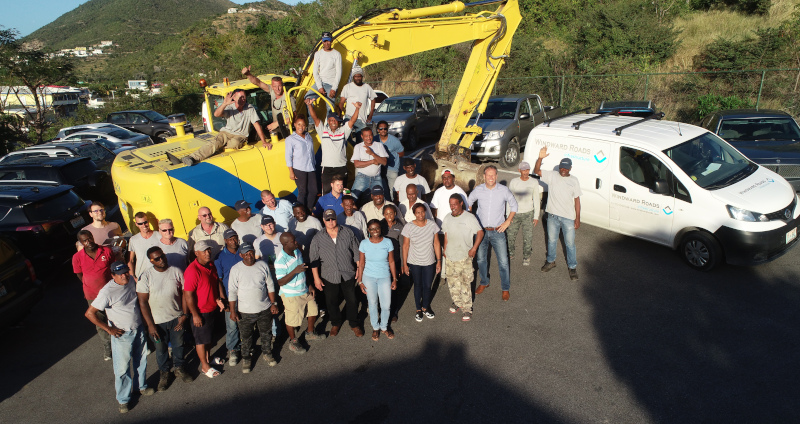 Hurricane Irma
Montesant studied Civil Engineering in Holland and has worked with Janssen de Jong for the last 12 years and became Director of Windward Roads in early 2019. He recalls, "I wasn't living in St. Maarten during the 2017 hurricanes, I was residing on Curacao. But my first impression… after seeing what they've rebuilt in the 18 months after Irma, one word comes to my mind – Resilience. They are a resilient community devoted to rebuilding. As their slogan says: Building Back Better. Making St. Maarten strong again. I see the entrepreneurs; people believing in the island and moving forward after the devastation. You still see daily the traces of damages around you. Some buildings cannot be recovered; a lot of destruction has passed.
I admire this resilience very much… it's an honor for me to become a part for the rebuilding of Sint Maarten."
Colleagues in the company started work on the clean-up process on St. Maarten, soon after the hurricane hit. Windward Roads had some minor damage, but their facilities are Category 4 built, and heavy equipment is made to endure, so they were able to start back almost immediately. Currently, road construction is a bit on the slow side, waiting for funds from the World Bank to proceed, but some small projects are in motion and moving forward. Safety has become an important priority. Once a month, Windward Roads holds safety toolbox meetings and workplace check inspections. From a company perspective, wearing safety shoes, safety gear, cleaning, etc. are important parts of every job.
Montesant notes that the Dutch Government, through World Bank, along with the Government of St. Maarten, are putting in a lot of effort to come with tenders to repair and rebuild St. Maarten stronger. He admits, "To build a better nation takes time. Now, some tenders are out, such as the repair of 250 houses. We are also seeing movement in the harbor, the airport, and some minor road construction. And there are private companies that want to build a new pavilion. We have contacts in project development that are coming with new ideas. So, there is a lot of movement on the island. It takes time because of what happened here with Irma, it was a national disaster and we must take that into account. It's a lot we have to clean up, then we can start building back for a better future. And they're doing it very well. I hear a lot of complaints that it's moving slowly but if you want to do something of quality it takes time, investments, perseverance. The local and international governments want to help, but they also want to make sure that the funds are being used correctly."
In its 30 years on St. Maarten, Windward Roads has been involved with a lot of worthy causes. K1 Britannia was one of the first responders after Irma, bringing in water and ultimately assisting young people to get new jobs. Windward Roads helped K1 get a much-needed vehicle and monetary donations. "We also donated to the local Rotary Club," says Montesant. "And we are looking into how to help one of the many schools with a courtyard. So, we are giving back to the local community."
Always deliver quality
As for competition, Montesant asserts, "If you deliver the product on time and the quality is good, and you can back up the promises you make and be responsible afterwards, you will always win. The biggest challenge is not finding skilled labor, but understanding that we must help each other as a team. I use the three 'C's. We have to communicate much better, connect better, and therefore collaborate better. If we have unskilled personnel, it is our task as leaders and managers to take care for better education. So, investment is important for long-term goals and getting better quality. That's what we are doing – investing in ongoing education for our employees, even the Directors have training. Our slogan is "Treat your colleague as if she or he is your best client." And when a client comes, you have the skills on how to communicate with them in a proper manner and to listen and look for what the client requires from us, and not only tell them how good we are. The products we bring onsite are going to state how good we are."
Organizational Excellence
"One of the reasons I'm here is that the company had some integrity issues, and it's very important that this doesn't repeat again. As a contractor in the community, building your house or your road, the client trusts that you'll give them the best service, best price, and the best quality. To build the trust is crucial for us. Integrity has to be anchored in our core values; such as the quality and safety."
In a message to his colleagues, when he took the job a few months ago, Montesant expressed his personal thoughts for moving forward. The note said: "Because I'm very new on St. Maarten, it's very important for me to understand the past transgressions, invigorate the present, and visualize a better future in which we can achieve organizational excellence. Our motto of the company and Janssen de Jong is organizational excellence – to improve every time you self, give better service, better product, better pricing, and be a positive moving force within the community. Let's build happiness. That's our company goal."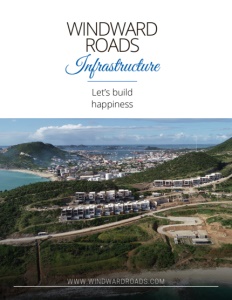 AT A GLANCE
Who: Windward Roads Infrastructure
What: Long-established construction company; division of Janssen de Jong Caribbean
Where: HQ in Phillipsburg, St. Maarten
Website: www.windwardroads.com