Juici Patties takes "nowhere is impossible" approach to global growth.
It's surprising enough when a small-scale Jamaican business grows into both a domestic powerhouse and a thriving international operation. But what's even more surprising is when that same entity can trace its roots all the way back to the work ethic of an enterprising 16-year-old.
Improbable or not, though, that was the precise recipe for success for Juici Patties.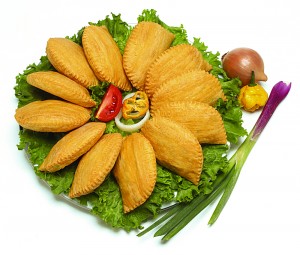 Now a Jamaican food-service institution with 16 company-owned locations and 45 more franchised restaurants across the island, the company began in much humbler surroundings thanks to the visionary teen-aged efforts of its founder and current chief executive officer/chairman, Jukie Chin.
Chin was a helper at a Kingston restaurant run by his sister and brother-in-law that specialized in the seemingly far-flung pairing of Chinese food and patties – Jamaican pastries that contain myriad fillings and spices baked inside a flaky shell. Fillings can range from chicken to mixed vegetables and cheese, and the finished products are eaten as a full meal or in smaller portions called cocktail patties.
The budding entrepreneur was fascinated by the process of making the patties, and sensed an opportunity because the area needed for their preparation was far smaller than for other items on the menu, and only one employee was required compared to eight for the Chinese side of the restaurant.
Once those realities set in, the seed was planted.
"Immediately, he just knew he wanted to do that," said Chin's son, Daniel, who's now operations manager for the second-generation family business. "It take very long. He was there (at the restaurant) for maybe a month, and within that month, he really knew what he wanted to do."
Chin ultimately returned home to the fishing village of Rocky Point in Clarendon, where his parents operated a small community grocery store in the community. He began to make patties that he sold in their store, and continued doing so for nearly a year before he'd saved enough money to open his own restaurant in the town of May Pen, about 25 kilometers to the north.
He opened a small manufacturing facility to make patties and expanded the self-run restaurant operation to five locations in the parishes of Clarendon, Saint Catherine, Manchester and Saint Elizabeth, before building the franchise structure that made Juici Patties the first chain with locations in all 14 Jamaican parishes.
These days, patties are made at a 90,000 square-foot manufacturing plant, then shipped frozen to the 61 restaurants, where they are baked and served.
Patties are also exported to Caribbean region neighbors in the Cayman Islands, Dominica, Saint Lucia, Grenada, Saint Kitts, St. Vincent and Turks and Caicos, where they are served in locally-owned and operated restaurants or sold frozen for consumers in grocery and convenience stores. An additional manufacturing plant in Canada supplies patties to markets in Canada and the United States.
Roughly 800 employees are on the Juici Patties' payroll, though that number escalates to nearly 2,000 when the franchised restaurants are factored in. Restaurant locations vary in size, with the largest ones in the busiest areas coming in at around 10,000 square feet over two stories. The rest of the locations are roughly half that size and will have between 30 and 40 employees under their umbrella.
The majority of company revenue, Daniel Chin said, comes from franchised restaurant sales and from the export arrangements with the eight Caribbean countries.
"We've always been separating ourselves by being very serious about quality," he said.
"Wherever possible, we try to maintain control of our supplies. We're very selective when it comes to the beef and the quality of the beef, so we own and operate our own cattle farm so that we have control over the animals' diet and how humanely the animals are treated and slaughtered. Basically, from the animal farm to the supplier, we try to minimize the transit time from farm to fork. People have noticed our quality, and that's how we're able to have a competitive price."
Manufacturing output capacity has been scaled up to about 40 million patties per year and the production line is fully automated, including custom patty-making machines, dough mixers, steam-jacketed kettles, blast and spiral freezers, revolving ovens, conveyors, pumps and lifters.
It's a far cry from the early days, when each part of the process involved manual labor.
"That has changed the game completely," Daniel Chin said.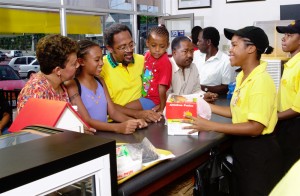 "And this was all made possible due to collaboration between Jamaican and international machine companies. The technological advances happened at a perfect time, because they allowed the company to increase the efficiency very quickly and the general improvements in the technology allowed the patty price to stay low, while other food prices were rising due to inflation. That's what really got the traction which allowed the company to grow."
The commitment to quality will remain as the company progresses through the next five years, as will a continued push for state-of-the-art technology to keep processes efficient and prices low.
Sustainability and environmental stewardship is also a priority, as evidenced by an increasing emphasis on powering stores via wind and solar means, and a partnership with the Scientific Research Council that's resulted in the installation of bio-digesters at restaurants to convert waste water and food to methane that's then used to provide heat for the stoves.
"We have been saving electricity by recently using power factor correction units," he said, "built by a Jamaican company, FennTech."
Another objective is to get into new and different foreign markets, where the company can take advantage of the positive vibe that seems to emanate from a lot of Jamaican products worldwide.
"Nowhere is impossible," Daniel Chin said. "Jamaica is a very cool country. People in other countries have an impression of Jamaicans that they are very relaxed and laid back, and people like that. It's definitely helped a lot. There's a lot of truth to it, too. The culture down here is definitely different."
AT A GLANCE
WHO: Juici Patties
WHAT: Restaurant chain with 61 locations in Jamaica and export relationships with eight countries in the Caribbean region
WHERE: Corporate headquarters in Clarendon Park, Jamaica
WEBSITE: www.JuiciPatties.com