Carlisle Bay Resort
Five-star escape in Antigua
Business View Caribbean interviews Camilla Sukamaran, General Manager of Carlisle Bay Resort, for our focus on Best of Caribbean Tourism / Antigua & Barbuda.
White sand, turquoise water, emerald green rainforest – when the temptations of the Caribbean beckon, Antigua's Carlisle Bay Resort is the vacay destination of choice. A five-star, luxurious beach and spa escape tucked into the southern shore of paradise, Carlisle Bay mingles seclusion and relaxation with the serenity of Blue Spa and a wide array of activities and facilities. Spacious, all-suite accommodations with ocean views and separate family areas allow guests to savor every minute. Contemporary yet elegant décor and meticulous attention to detail are hallmarks of the experience. Culinary offerings range from casual, on-the-beach dining to more formal settings. Bespoke weddings, celebrations, and honeymoons are a Carlisle Bay specialty – where romance meets excitement in a laidback atmosphere that has patrons returning year after year.
Camilla Sukamaran started working at Carlisle Bay Resort in the summer of 2018 as Assistant Manager and has excelled as Acting General Manager since March 2019. According to Sukamaran, "Carlisle Bay Resort is owned by  Harcourt Developments, a family company out of Ireland. The Chairman, Patrick Doherty, bought the resort in Dec. 2003 and runs the business with his five sons and one daughter. Harcourt has about 120 other companies – shopping centers, residential developments, hotels, and visitor attractions – in Ireland and the U.K."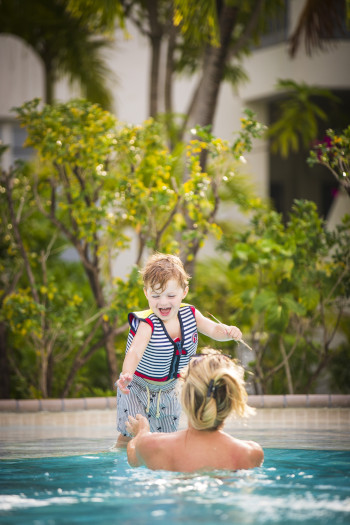 The Carlisle Bay Resort's popular Jessie Grill restaurant at the end of the beach was expanded and refurbished last year with a bigger kitchen, enlarged dining area, stylish new furnishings, and the creation of a better bar space. "We're a very sporting resort," says Sukamaran. "We have a lot of buildings and we do a huge amount of annual repairs and maintenance, so much to paint. You never seem to finish; you get to one end and start all over again. It's madness; especially, if the building is on the beach because of the weather. It's a constant labor of love to keep it looking top-notch."
When Hurricane Irma tore through in Sept. 2016, Antigua was extremely lucky to miss the brunt of the storm, while sister island Barbuda was absolutely wiped out. Adding to the emotional and economic dismay, tourist numbers dropped considerably throughout the entire region. While tourism is increasing again, now, Sukamaran cautions, "Whether it is actually improving, depends, because there is always something else to factor in. In 2018, the hotels and resorts here benefitted from business coming to us because many resorts in places like BVI had to close. So there was a little bump last year in occupancy from that but now, on top of worrying about hurricanes every year, we have an increasingly unstable European market with Brexit. So, I think most hotels in Antigua this year had a quiet summer."
Currently, Carlisle Bay's visitors are 50 percent U.K. and 50 percent U.S., with Canada representing a large untapped opportunity. As for marketing, they have "a toe in every pond." U.S.-based representatives work major tour operators in the U.S.; the Carlisle Bay Resort also works with online travel agents, who are a huge source of business. This year, they're going to revisit the Carlisle Bay product with companies such as American Airlines Vacations, Jet Blue Vacations, and Costco Travel that has been handling much more five-star product in the Caribbean. Air Canada Vacations is another focus. Their representative was on the island in June for Antigua Showcase that brought together all the large tour operators. Air Canada is doing a large drive with the Antigua and Barbuda Tourist Authority in November, where they're flooding Antigua with hundreds of Canadian travellers, and all the hotels are taking part. It's a great opportunity for Carlisle Bay to expand its reach in both Canada and the U.S.
Speaking about its target market, Sukamaran explains, "If you look traditionally at the Caribbean, all the high-end boutique hotels have always essentially been Bed & Breakfasts, and they have beautiful restaurants, as well. Looking at the growth of large companies such as Sandals and Royalton, they are luxury, all-inclusive hotels that are incredibly successful providing a very competitive, all-inclusive product. So, we do both. We are aggressively changing the U.S., Canadian, and U.K. all-inclusive product – we have our room rate, and then we put an all-inclusive supplement on top, which is very value-led. We package that up for the tour operators, so we have both an all-inclusive product and a Bed & Breakfast product. But I do believe that all-inclusive is the way forward."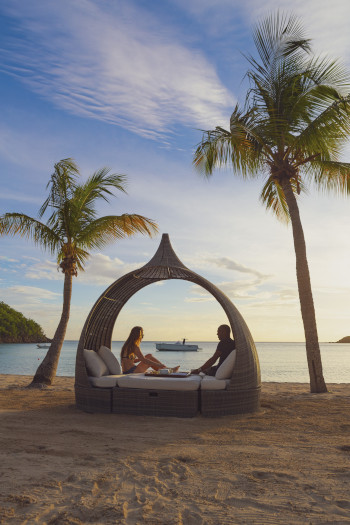 A large influx of families arrive in Antigua for the U.K. school holiday, as well as the U.S. spring break. The resort is also building its corporate group business. With a Sales Manager who works, specifically, in the States, Carlisle Bay's group business is now 25 percent of its U.S. revenue. A corporate group of up to 200 people can have a buyout of the entire property; because the resort is small, they can have it exclusively. Usually, a corporate stay is for a period of four to five nights.
Sukamaran reports, "Our U.S. Sales Manager hands over the group business to our Events Manager, who exclusively looks after all the groups coming in, as well as any local corporate business that we can drive on the ground in Antigua by networking with local companies. We have a really beautiful conference room here. The Events Manager also goes after the local wedding market, and is in charge of local marketing of our other facilities, such as our beautiful motor yacht, our spa, and our restaurants. In that regard, I'd like to give a broad shout-out to all our local suppliers – people who come in and provide entertainment, as well as our tourist attractions, because we get 100 amazing percent feedback on what they do but they're often overlooked as suppliers since they're not delivering milk or eggs. They are a crucial part of the tourist product."
On the "green" front, Antigua banned plastic bags some years before other Caribbean countries and they are going to be banning Styrofoam. Carlisle Bay doesn't use Styrofoam in the resort, it does use paper straws on request, and if you want a take-out coffee or to take a dish from the restaurant down to the beach, the hotel has biodegradable containers. In addition, Sukamaran is currently researching water bottling systems. She acknowledges, "We are still using bottled water and we realize that has to change. So, I'm planning, in 2020, on bringing in our own water bottling system, whereby we filter the water we have naturally here in Antigua and put it in glass bottles for our guests, which then get reused here. I've used this system in other hotels, so I know how it operates and it's extremely good. There are two excellent companies we're looking at; I was just researching the cost implications. Generally, it saves a lot of money when you don't have to buy bottled water. But at the same time it has to be responsibly operated and managed. You have to make sure you have all your boxes ticked in that sense, as well."
The Carlisle Bay Resort is also looking at swapping out the chlorine system in the swimming pool for a salt water system. Again, economically, it makes sense, plus no chemicals are going into the groundwater. Rainwater collection is another consideration. Carlisle Bay already has a reverse osmosis plant that produces enough water to operate about 45 percent occupancy. The balance comes from government water systems, which are also reverse osmosis.
"I will be putting together a Green Council here at the resort," says Sukamaran, "that will be individual department heads coming up with ideas on how we can use less plastic. I am in correspondence with a company in Singapore that produces eco-friendly packaging for room amenities – shampoos, etc. – and they do beautifully branded, five-star products in plant-based-plastic containers, which is essential. We're also installing solar panels, this year, to some of our beach suites, which will really assist us in using less electricity. So we're at a tipping point as far as our sustainability and environmental awareness. It's so important going forward. From a business point of view, guests now expect resorts to be very environmentally aware. No one likes to see single use plastic, anywhere.
"We want our guests to appreciate where we're coming from in terms of our green values. Also, economics dictate that it's much better to not use disposable items. We're all aware of what's happening to the planet and that what we're doing is not sustainable. So each one of us has to do our bit. It's a huge passion of mine. I'm a mother, so I have to think of my children and what they're inheriting, as well. But again, from a business point of view it just makes sense to move in that direction as fast as possible. I have great support from my parent company to really get going on this, so that's crucial."
In conclusion, Sukamaran describes the many attributes of Carlisle Bay Resort: "We have a  jaw-dropping location. Our vistas are world class; we are on the most stunning bay in the Caribbean. But our warm, friendly service is what brings people back. My team of 260 staff are all amazing. They provide the five-star experience that, as a business, is so vital. We promise that when you come here, you will be looked after really well. Antigua is a very beautiful, very small, not overly-developed island and that is it's charm. It has the friendliest people and it is picture post-card Caribbean."
AT A GLANCE
WHO: Carlisle Bay Resort
WHAT: Luxury hotel and spa in Antigua
WHERE: St. John's, Carlisle Bay, Antigua & Barbuda
WEBSITE: www.carlisle-bay.com