Jamaica Plumbing Supplies Limited
Here for the people
Business View Caribbean interviews Winston Neil, General Manager of Jamaica Plumbing Supplies Limited, for our focus on Business Excellence in Jamaica
Mr. Winston Neil is a proud and successful business person, and a man who is passionate about bettering the lives of the Jamaican people. As General Manager of Jamaica Plumbing Supplies Limited, Winston Neil harkened back to his early background as a plumber when developing a plumbing supplies source with the trades in mind. His vision was to help contractors efficiently manage their time by having all the products they needed at a one-stop shop.
Today, Jamaica Plumbing Supplies is known as the go-to location for all things plumbing. And not just for plumbers and construction contractors, but for homeowners and DIYers of all skill levels. The firm's original location on Molynes Road in Kingston is now complemented by a huge new superstore in Naggo Head Portmore, serving the Parish of St. Catherine and beyond.
From these two popular outlets, Jamaica Plumbing Supplies forges ahead under its founding mission of supplying the best and widest selection of plumbing items at affordable prices. Stock includes PVC & copper pipes and fittings, toilets, basins, bath tubs, whirlpools, shower systems, vanities, valves, bolts, screws, among a myriad of other supplies. This "plumbing power-house" has a robust customer base and continues to improve in service delivery. Understanding that people don't want to run from one place to the next to get the plumbing supplies they need, the company places product variety and availability high on the agenda. With customer service topping the priority list.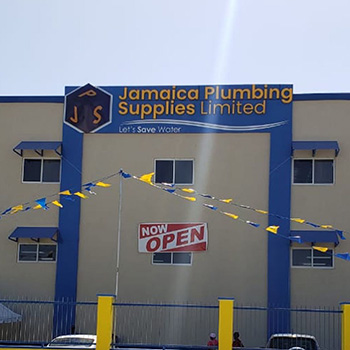 Since it was founded in 2007, Jamaica Plumbing Supplies has evolved into one of Jamaica's premier plumbing supplies outlets. The Molynes Road location features a spacious showroom, ample parking space, an air-conditioned sales area and efficient delivery area. In November 2016, the company opened a branch in Portmore Sovereign Village – a newly built shopping mall to better serve customers in Portmore. But it soon became clear that storage space was limited for this growing business, so plans were made to relocate.
Fast forward to January 2020. Jamaica Plumbing Supplies opened its newest and largest location. The branch in Portmore Sovereign Village closed its doors and operations were moved to a beautiful and spacious standalone building in Naggo Head, Portmore. The staff complement has increased to 33 members, overall, at both locations.
Winston Neil describes the reasons behind his creating Jamaica Plumbing Supplies. He recalls, "At the age of 16, I left school and went straight into learning plumbing and continued until age 18 plus, working for my brother. I discovered when I went out on my own, and even when I was a Supervisor in my brother's business, that one of the biggest obstacles was obtaining materials to do our daily chores. So after working for a couple years on my own in an unregistered company, I decided to approach one of my big customers and tell them I would like to open a business and ask them to credit me some materials. Their first question was, "how are you going to pay it back?" Because I didn't have a business plan. I said, "When I sell it." So they gave me three faucets, and each time I paid them back for one, they gave me two more. And that's how I continued to expand. At this time I did not have a business space or a business office – I was basically operating out of home."
Over time, more business was coming in and the supply side of the business was growing – to the point where, four or five years later, the company was employing 20 people and had two vehicles. Neil reports, "So I rented a location and had a secretary, and my wife was at my side. We were getting somewhere. But notwithstanding the problem of getting material. For example, on Monday morning I would go to a store to get material for two or three jobs and it might take me half a day, because there was no one-stop plumbing place in Jamaica that had everything to do the simplest job. You had to go to several different locations. And nobody would pay you for the time it took to find those goods. So you had to find a way to cover that cost."
So in 1988, Neil registered Jamaica Plumbing Supplies and continued to work and grow the business alongside his wife and family. Eventually, it came to the stage where it was time to open a store, which was a rented space in a shopping plaza. Neil explains, "But when the first container that we imported came in, we actually had to store 50 percent at home in my carport because the plaza store was just too small. That was good, because it forced us to buy our first place. We renovated it and converted it to commercial because it was in a semi-residential area. As we continued to grow, in 2007, we moved to another location on Molynes Road, where we are now. Immediately after we moved, we went from making around 800,000 to 1.2 million Jamaican dollars per month, to now making $4 million per month. And the sky's the limit."
By increasing their footprint and amount of inventory, the company has created a greater demand, and now sells to retail customers, general contractors, developers, and plumbers; to the government, the hospitality sector, and homeowners in the 14 parishes of Jamaica. The stores are open six days a week and customers are lined up every single day to pick up supplies.
Jamaica Plumbing Supplies has a two-pronged competitive advantage – a combination of good pricing and great service. "We go for quality," says Neil. "We even have the exclusive rights from some manufacturers. Ninety-five percent of our suppliers are international; U.S. is the biggest market, then China, then the U.K. We also have Ecuador and Trinidad, and we buy from Canada occasionally. Some of our retail prices match the wholesale price of our competitors, so rather than a hardware store, people are buying from us. I think our customer service is next to none. We respect people, we love people, and we care for people."
Last year at this time, the new Superstore at Portmore was under final construction, hoping to meet the deadline for completion. It is now open for business and doing extremely well, even during COVID-19. Neil admits, "We thought it was going to be a bad time but it turned out to be perfect. Our suppliers told us that customers who used to fly to Miami to pick up all their plumbing supplies now just get them from us here in Jamaica because flights are restricted and we have all the variety they need. Our sales, even at the new store, have increased significantly. And it can only get better because the preparation was perfect. In Portmore, we have a much bigger warehouse than we had at the plaza location, and the storeroom is much larger. And now customers across Jamaica are asking us, "When are you coming to Montego Bay?" "When are you bringing that store to Negril?" We haven't put a plan in place for that yet but we are looking in that direction very soon. We do sell to other areas in the Caribbean, but not regularly as I would love."
Jamaica Plumbing Supplies is definitely poised for growth in the years to come. For now, Winston Neil is very proud of how his company gives back. He shares, "We spend hundreds of thousands of dollars in import, so the impact we make on people's lives is not just the people who work at Jamaica Plumbing. It's every person who loads a container, every customer that picks up that container, every person that works in the plumbing trade in the country, we think we help make an impact in their life. And that's how we'll continue to serve."
AT A GLANCE
Jamaica Plumbing Supplies Limited
What: Leading provider of plumbing supplies
Where: Kingston, Jamaica