Mount Cinnamon Resort and Beach Club
"Happy crew, happy guests"
Business View Caribbean interviews Kevin Cooper, General Manager of Mount Cinnamon Resort Grenada, for our focus on Best Practices in Tourism
Mount Cinnamon Resort and Beach Club, owned by British entrepreneur Peter de Savary, is the ultimate luxury beach haven on the Island of Grenada. Ideally located in the popular Grand Anse area on the southwest corner of the island, this magical resort is just a 10-minute drive from Grenada (GND) airport. Guests of Mount Cinnamon are greeted with a friendly welcome that includes a glass of rum punch within minutes of landing. Direct flights from London, Toronto, New York, Atlanta and Charlotte, plus daily nonstop flights from Miami, add to the attractiveness of the resort as a vacation destination. With an abundance of pristine white sand beaches, clear blue water, and a wide variety of amenities, vacationers have access to everything they could desire in a dream getaway. Not surprisingly, during its 12 years of operation, Mount Cinnamon has become a favorite of new and frequent visitors and has been voted Best Hotel on Grand Anse on TripAdvisor.
The resort offers a choice of 37 spacious rooms, including modern hotel rooms known as "Cinnamon Suites". These airy and bright suites are decorated in subtle creams and whites with vibrant blue accents, mimicking the gorgeous beachfront views that are visible from the large furnished balconies. Guests can also stay in one of the stunning one-, two-, or three-bedroom villas on the property. Built into a hill overlooking the beach, these villas include a full kitchen for guests who want a home away from home. With fresh, light color schemes, these generously proportioned accommodations are a true delight. Kevin Cooper, Mount Cinnamon's General Manager describes the setting: "All of our villas have beautiful sea views across Grand Anse Bay. You can see right over to Port Louis Marina with it's super yachts, and beyond that you can see the parliament building up in the hills. It is a stunning view."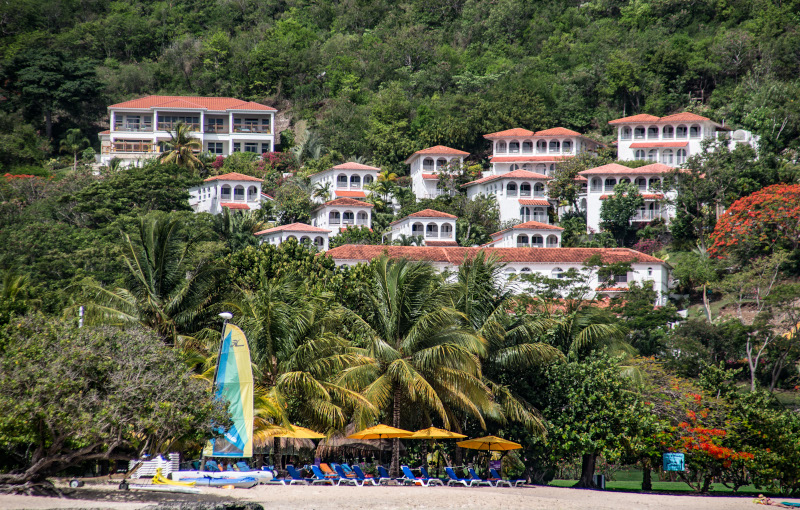 The award-winning Grand Anse Beach spans 3km and offers the tranquility of sparkling white sand and cerulean blue water. According to Cooper, "We have several acres of beautiful grounds and gardens with lots of space for our guests to enjoy. Down on the beach we have a beach cabana, with a restaurant and wonderful beach area for our guests to use during the day. We have volleyball courts, shuffleboard, large chess, table tennis and comfortable sun loungers. We also offer a variety of non-motorized watersports – kayaks, snorkels, and fins, hobie cats, and paddleboards. Many different activities for all the family. The beach area also offers a private outdoor spa, where visitors can relax and receive their customized treatment while listening to the calming sound of waves nearby.
Known as the Spice Island, Grenada harvests cinnamon, nutmeg and chocolate. Visitors at the resort can take a side tour to a spice garden or visit a chocolate factory or a rum distillery, afterwards enjoying one of the many restaurants in the Grand Anse area. "If you are a foodie, this island is a dream come true," shares Molly Osendorf, Director of Sales & Marketing for Mount Cinnamon. Guests can also enjoy a culinary experience in the resort's two on-site restaurants. Savvy's, located inside the hotel, features an array of West Indian and Caribbean dishes. The Beach Cabana, specializing in BBQ and snacks, is conveniently located directly on the beach. Cooper notes, "We use a lot of local produce, even some directly from our gardens on property. We also have a farm in the north of the island with about 40 acres where we get fruits and vegetables from. Our restaurants feature delicious local produce and fresh fish and meats directly from the island."
With a staff of over 70, Mount Cinnamon is a small employer in the region, but they pride themselves on the fact that more that 50 percent of their employees have worked at the resort for more than 10 years. Staff retention and a quality work environment are part of the culture at Mount Cinnamon. "You know, happy crew, happy guests," says Cooper. "Our staff are very loyal and very proud to be part of the Mount Cinnamon team. We do lots of family events for staff – barbecues on the beach and that sort of thing. Especially during the lockdown, we have really tried to keep in touch with our staff and make sure they are all doing okay. These guys and gals have not only been here for years, but they are like family. Grenadian people are very loyal and they work very hard. They are by far my biggest asset here at Mount Cinnamon."
Although they are not operating at full capacity during the pandemic, Mount Cinnamon is still open. And while they take care of the guests who are visiting, the resort is being prepared for when things get busy again; painting rooms and working to keep the grounds up to the high standard visitors expect. Grenada currently has zero cases of COVID-19 and the island is hard at work rolling out the AstraZeneca vaccine.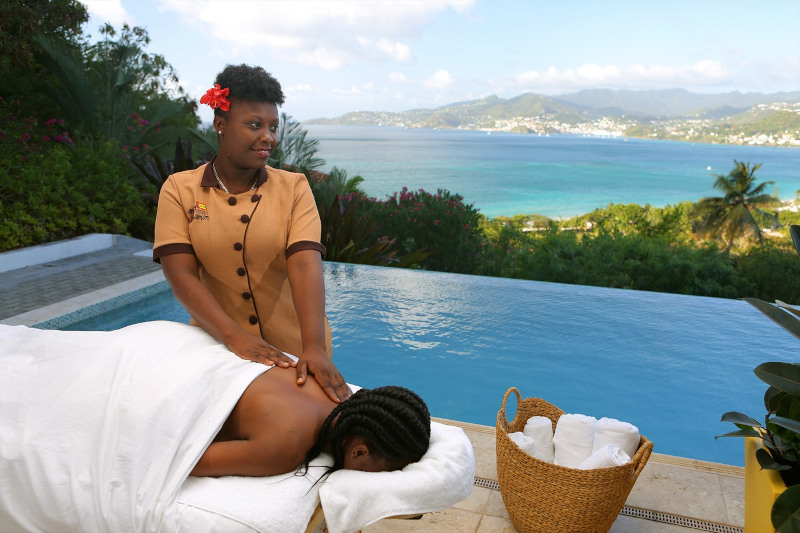 Cooper admits, "It has been a rollercoaster of ups and downs with the pandemic. We have always tried to put a positive message out there, and I think we succeeded at that. Our two largest markets are the U.S. and the U.K., and Canada is probably our third largest market. A lot of what's happened has been dependent on what's going on in those areas. There were a couple of weeks where we did sort of shut our doors, there were just no flights coming into the island. Thankfully, those airlift restrictions have been lifted. People are wanting to travel again, which is great. I think that's probably largely due to the vaccine being administered and people having a little bit more hope now and feeling more confident in the safety of travel and the protocols. It has been an interesting journey, but the whole time we have really tried to stay positive and optimistic."
Mount Cinnamon takes pride in their commitment to environmental sustainability. "We like to think of ourselves as sort of a niche resort in that regard," says Cooper. "We do a lot of work with the international certification of Green Globe; last year we were awarded the Gold Award for our staff and the concepts that we put in place at the resort. So, we are very eco-friendly in terms of non-use of plastic and recycling and all those kinds of things. We are very much an environmentally-friendly luxury resort and we are proud of that." Currently there is a project underway to capture rainwater during the rainy season for use during the drier months. According to Cooper, "We are working together with the local government in terms of schemes and grants to support us doing that, so that's going to be my project over the next few months. Because we're on a steep hill, we can capture the water and that is a big part of our Green Globe initiative."
More than half of the resort's guests are repeat visitors, who often refer to it as a "home away from home." With so much to explore in Grenada, they can take in the beauty of the island and return to the comforts of Mount Cinnamon to relax. "Grenada is quite unique in that it truly is an 'unspoiled' island," says Osendorf. "It is still very raw and fresh and pure. You will not find high rise hotels or Louis Vuitton or Chanel shopping, but you will encounter extraordinary water and beaches and all the recreation that goes along with that. Additionally, it's a mountainous island, so you've got hiking and river tubing and waterfalls and rain forests and monkeys. The recreational aspect of the island, the  beaches, the outstanding cuisine, the friendly locals, and the unspoiled beauty, all make this destination a true gem. I just hope that it stays that way!"
Mount Cinnamon offers a perfect escape for everyone who yearns for the tranquility of nature – warm sun, breathtaking views, delightful locally-sourced food – and a bevy of friendly faces, who are happy to make your stay an experience to remember.