P3 Paper Plastic Products
moving towards sustainability while offering top-quality products
With an eye to Global Distribution, P3 Paper Plastic Products focuses on providing environmentally friendly products for its valued customer base on a global level
P3 Paper Plastic Products is located in the beautiful British Virgin Islands and is a 100% Locally owned enterprise that specializes in wholesale disposables. These products include biodegradable packaging, Restaurant equipment, and more.
Sinclair Flemming, CEO of P3 Paper Plastic Products established the company while working at his family's grocery store in Long Bush, Tortola Virgin Islands.
Flemming wanted to start a business that wasn't involved in perishable items that could be scaled up. Also, with insights gained from working in the family store, Flemming knew there was a market for these items.
"Some of the customers around us really needed the service, and we started to provide it. This meant the company started to acquire clients," says Flemming.
Currently, the company employs between 20 to 25 employees, with some working remotely for P3 Paper Plastic Products full-time. Flemming's goal for the enterprise is to create an international footprint, which from a nation of 30,000 individuals may seem ambitious but isn't impossible with internet use.
The company's mandate is to deliver the service promised by its slogan, Good Prices, Better Service. This mandate means the company is moving at the same pace as the industry's technological developments, and where they can offer a biodegradable option, they do.
While the technology is not there yet, P3 Paper Plastic Products wants to move towards delivering 100% biodegradable products as soon as possible, which won't be a problem as the company is all about being an early adopter of technological solutions.
The company utilizes a software solution for multiple facets of the company's operations, including internal and external communications, human resources, CRM, A.I solutions, Ecommerce platforms, and many more.
Firmly positioning itself as a business that communicates and promotes itself via social media by utilizing these software solutions, at the core of its communication plan is the focus on the company being service and customer-centric.
"Our niche is customer service. We focus on helping our customers to receive the service they want, ensuring they are satisfied," says Flemming.
P3 Paper Plastic Products inventory includes eight segments, namely: Food service Take away Packaging, General household, Dispensers and Facilities equipment, office supplies, personal care, medical supplies, and Restaurant Equipment offerings.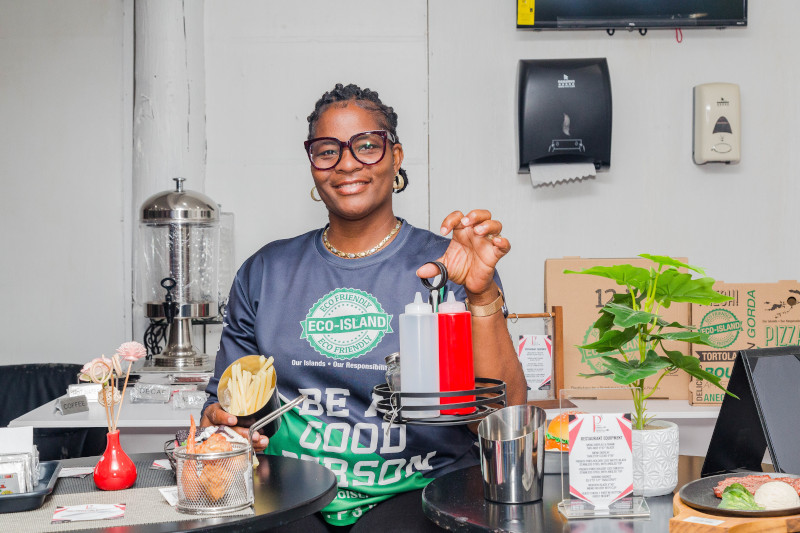 This selection of products has grown over the years and evolved to meet every client's needs. Each of these segments has also had to evolve with their customers' needs.
Within the food services segment, the company has had to expand its operation to accommodate more than they were initially selling, and it now encompasses Mobile Food Trucks and refrigeration items.
The need to assist clients has meant that the company has evolved a lot. But this being said, P3 still stays within its lane of selling disposable paper and plastic items while exploring new avenues.
COVID-19 restrictions were tough on business, but the company was able to stay afloat and retain all of its employees due to decisions made three years before the pandemic.
"Three years before COVID-19, P3 Paper Plastic Products was able to secure manufacturing deals and produce our own products/SKUs. This allowed us to stabilize the price and minimize any supply chain issues – which meant growth within the company," says Flemming.
Flemming outlines employee approach ensures that its staff morale is high, and employee culture matters to its senior management. He points out that staff is the most important resource the company has access to. Without them, the company could not operate, and P3 knows everyone must have access to the tools they need to complete their job.
Culturally, the company is a safe and loving environment where employees think of each other as family. If there are disputes between staff members (as all families have) , these are resolved quickly and in open dialogue, as the company wants to take on the world with a united front.
Retention rates at P3 Paper Plastic Products are around 75%, and this high percentage is attributed to the use of technological tools such as automated tasks and quotas with reminders
which helps to cut down on micromanaging, while increasing overall staff productivity.
While most of North America is experiencing a staff shortage, seeing retention rates as high as 75% would make any business owner very pleased. But that being said, finding new staff members to fill new roles at the company has been tricky.
"P3, Paper Plastic Products is expanding into a new country (our neighboring island), but it's a challenge as we need staff drive and focus and the talent pool in our country is small" says Flemming.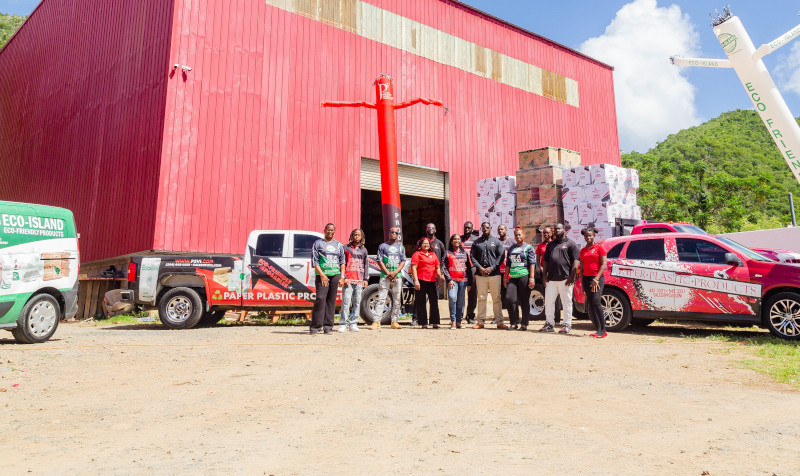 Operating any business requires building robust and reliable partners. One such partnership is Continental & Global Services Inc. in Miami, which assist with cross selling and logistics.
One of the early supporters of the company was Puerto Rican bank Banco Popular, which was willing to invest in the potential of P3 from the start. Another bank that helped Flemming achieve his dream is the Development Bank of the British Virgin Islands.
Clients matter to P3, Paper Plastic Products, and Flemming has a few to name:
"Alison and Randy of Captain Mulligans have been fantastic to us. Another notable person to mention is Judith Gumbs from the international marine company, Moorings. There are many boating companies on the island, but that's not a surprise, as the British Virgin Islands is the world's sailing capital. Another terrific Early adopter of ours is Panche and Dario's Jerk, as well as BVI Investment Club.
"These guys gave us the opportunity to work with them when we were new, even though there were other options, so to them, Thank You," says Flemming.
Giving back to the community and partnering with different organizations are also top on the business agenda for the company. Working collaboratively with green companies that assist with making operations as clean as possible remains a special focus as well.
Wherever possible green alternatives are used and sold by the company, including sustainable disposables that can be composted at home. P3 is also trying to push the government for more machines that can do more recycling, which would be able to turn waste back into products, such as cardboard boxes, and cooking oil.
Moving forward, the company's goal is to increase the reusability of the products they produce and their recyclability. This is communicated through P3's social media channels, which educate users on how to dispose of their products using best environmental practices.
Recently, P3, Paper Plastic Products has expanded its facilities by erecting three warehouses, and they are currently building three additional with 300,000+ ft3. This aggressive expansion is due to the goal of extending its reach to new territories.
"We want our home base to serve our country as well as a second country if they require it," says Flemming.
With manufacturing taking place on the island, containers are constantly being filled and shipped out. P3 recently finished two multi-story buildings, with plans to build an additional one when construction is complete.
The company will look at streamlining all its policies and procedures in the future. P3 wants to be able to create programs that employees will be able understand and implement on onboarding with little face to face training.
With the company running at a high-capacity level in the next three to four years, they want to grow a presence in three to four countries and increase its Ecommerce presence in North America.
Another project, about 60% completed, is the buildout for P3 Paper Plastic Products to sell products on Amazon and Walmart. They also want to attract the attention of other e-commerce sites like Shopee and Lazada [which are based in Asia].
To conclude, Flemming wants to touch upon mental health and gratitude, "Where I'm from, a lot of people that look like me but aren't in the same position economically speaking, do not have the chance or opportunity to grow. So, I'm grateful every day to have the opportunity to wake up and do what I do, with the mindset and values that I hold dear.
I try to push the limits and boundaries of what Caribbean people can do, and one day I will own a company that operates in Asia and, eventually, the world." We hope to one day supply cruise liners like Virgin Voyages, TUI and be featured in global hotel and restaurant chains.
AT A GLANCE
P3 Paper Plastic Products
What: A leading supplier of products and services geared towards sustainability and top customer service
Where: Johnston Ghut, British Virgin Islands
Website: https://www.p3vi.com/