Steel-Framed Engineered Solutions Ltd.
A strong drive to succeed
Business View Caribbean interviews Jesse Scott, Manager of Steel-Framed Engineered Solutions, for our focus on Best Practices in Manufacturing
When Anthony and Germaine Scott started their door-to-door sales company 53 years ago, it was a two-person operation selling adhesive products out of a van. Named after Anthony, AP Scott Ltd has grown into a successful marketing and distribution company, with Germaine taking the lead when Anthony died 30 years ago. Today, their granddaughter, Jesse Scott, has taken on the sales and marketing of Steel-Framed Engineered Solutions Ltd. – one of eight successful divisions of AP Scott Ltd.
With property spanning several acres, Steel-Framed Engineered Solutions is constantly expanding their production space as the company continues to grow. Specializing in the manufacturing of light-gauge steel framing systems, which are fabricated using cold formed steel sections, the product has many applications in both commercial and residential situations, including load bearing exterior walls, interior walls, floor joists, facades, roofing solutions, and total structures.
The company has been in operation for eight years but saw a dramatic increase in sales three years ago when they acquired a new state-of-the-art machine. This machine allows production of wide spans using 12-inch X 2mm sections, a niche product which only Steel-Framed Engineered Solutions can produce in the Caribbean. Currently, the company fulfills jobs on an order-to-order basis, but Scott says that there are plans to get into supplying standard lengths, which would allow for consistent sales and supply.
With customers in Guyana, Grenada, Saint Lucia, Saint Vincent, Antigua, and Barbados, Scott notes that an increase in export business has contributed to recent growth. She reports, "Before 2020, we never exported, and for 2021 export accounts are over 50% of our sales. We also benefit from CARICOM concessions, so if you buy from us in the Caribbean, you don't pay duty." Export sales have increased significantly despite supply issues that have resulted in the costs of raw materials going up by 70%. With very strict specifications to follow, finding raw materials during the pandemic has posed a challenge for the company at times.
According to Scott, "We have  specific specifications of our code for our steel. It has to be Galvalume protected, so that's a G 90 anti-corrosion coating on it with specific tensile and yield strength attributes. So, we put that out, and wherever we can get the material at the best price, we get it. No matter what the price, it has to be to the specification. We don't settle for less than that. It's a mandatory requirement. We are very strict on the quality of our steel."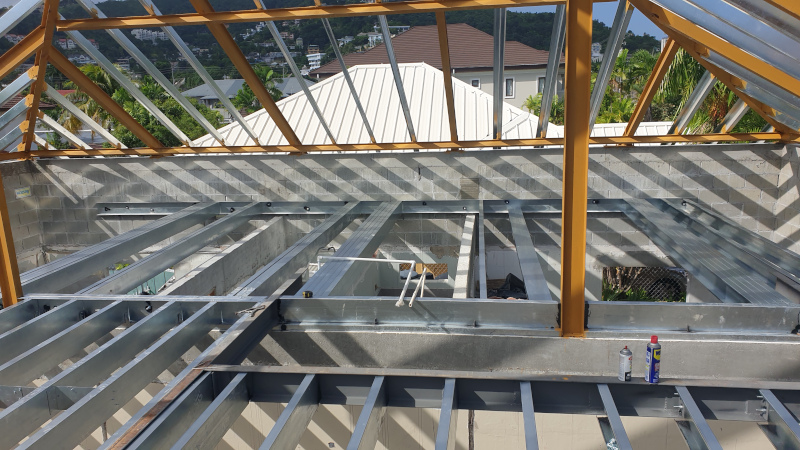 Between contract workers and permanent positions, Steel-Framed employs close to 30 people, many of whom have been with the company for years. The work environment is rewarding, and as Scott explains, "You will never have a dull day, you never do the same thing. Every day comes with exciting adventures." With a very open door policy, no one who works for Steel-Framed has an office. The entire operation exists in a big open space. The company also invests a lot of time and money in training, offering virtual learning opportunities during the pandemic when the facility was shut down for three months. During this time no employees were let go, and the design team was able to complete jobs that had been brought in prior to the shut down.
When it comes to technology enhancements, Steel-Framed Engineered Solutions is always moving forward. "We pull the trigger," says Scott. "We're thinking it and then we're doing it. Our setup is very people oriented, from 1960s production to Amazon today is really where we're trying to go right now. The ultimate thing is to enhance our customer experience, and that is where we start and finish in our drive for technology."
As a division of AP Scott Ltd., there has been a big investment to be fully back-end integrated. Scott notes, "Our software that we use now is CAM. We are a fully automated process already, but that's the design part. With the raw materials, we are implementing a manufacturing module, and we are going to be completely back-end integrated in all aspects, our business is going to be digitized and automated, we are going to use very little paper." With this automation, Steel-Framed does not intend to reduce employees, but instead to enhance the customer experience, making things more efficient on all sides. The company also provides an eco-friendly product, using steel that is 60% recycled and creating very little waste.
Steel-Framed Engineering Solutions has been working with customers virtually throughout the pandemic. As restrictions ease, Scott shares that the company intends to start reaching out to their large network in person, both locally and on the other islands, over the next few months. The company's potential customers range from investors and developers to hardware contractors and end users. Steel-Framed is also part of trade organizations such as the Cold Form Steel Engineers Institute (CFSEI) and the American Steel Standard, which allows Steel-Framed employees to take part in training opportunities and other benefits. As for marketing, Scott reports, "We are on Facebook and Instagram; we get 99% of our business from digital marketing from social media." There are also plans to launch an ecommerce website in the near future.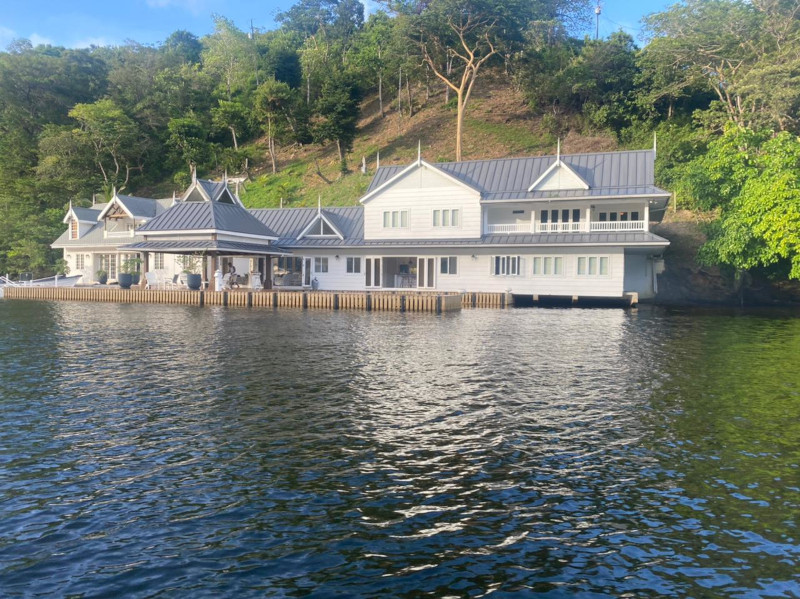 With a variety of product offerings, Steel-Framed showcases the capabilities of their products in model homes and in an onsite showroom. The company will work with custom designs, or customers are invited to look through a library of design options, saving the cost of hiring an architect. Although steel-framed buildings are more costly, Scott states, "It ultimately works out to be a cost savings. We are at least 60% quicker than traditional building because of precision. Everything is lined up. It is engineered to have specific connection details for hurricanes and earthquakes. When you have traditional building, you have to cut into the walls for plumbing and electrical, but our service holes are pre-punched, so when you run your electrical and plumbing, it's very quick. The doors and window are one millimeter precise. So, aside from the cost, you really have to focus on the bottom line, because that's what where you see the most value."
She adds that one of the biggest challenges for the company has been convincing people that their system has many improvements over conventional construction. "The culture was very challenging," Scott recounts, "because it's a modern technology and a modern way of building and the Caribbean culture is not quick to change. They are always on the slower end of change. However, we no longer have to convince people that we have a good product. They come and they see what we have, and those questions are removed."
As Steel-Framed continues to progress, the next big plan is to expand and become the trusted supplier and innovator of the system. The goal, in Scott's vision, is: "When people think of steel-frame, prefabricated structures, and an engineered solution, they think of us." Looking over the last two years at how the company has managed to survive and thrive, she adds, "If you don't change your stroke, you'll slow down and eventually drown. You have to change the way you do business as the changes come. There is nothing called 'business as normal' ever again. You cannot be rigid; you have to be willing to adapt and change and shift, and you have to use the data. The data has all the answers."
Scott, who has a Master's degree in data science, emphasizes her commitment to always enhancing the experience of her customer. "Your people are your most important assets. I can't do everything on my own without my team. Without your customers and your people, you don't exist." At 27 years old, Jesse Scott is following in the footsteps of her grandmother, facing the challenges that come, and moving Steel-Framed Engineered Solutions forward to a prosperous and successful future.
AT A GLANCE
Steel-Framed Engineered Solutions, a division of AP Scott Ltd.
WHAT: Manufacturers of cold form steel framing systems.
WHERE: San Juan, Trinidad
WEBSITE: www.steel-framed.com