Incorporated Masterbuilders Association of Jamaica (IMAJ)
Building a better Jamaica, brick by brick
Business View Caribbean interviews Lenworth Kelly, President of the Incorporated Masterbuilders Association of Jamaica
The Incorporated Masterbuilders Association of Jamaica (IMAJ) is a strong and effective voice for the construction industry in Jamaica. IMAJ was incorporated in 1952 by Mr. T.A.D. Smith, who felt that the country's builders and construction contractors deserved a unified association to address their mutual concerns, negotiate the salaries of union workers industry-wide, and provide builders with education, professional recognition, and advocacy.
In the beginning, the mission was to promote good workmanship, integrity, and honorable practice in the trade or business of building and/or civil engineering contracting; to settle disputed points of practice; and to support the interests of those who are involved. Those tenets continue today. The Association employs a good amount of advocacy to promote its aims and objectives, and also conducts seminars and training for tradesmen, supervisors, engineers, managers, etc. From time to time, government asks for representatives to sit on various committees, so IMAJ makes certain members available to serve in that capacity. The creation of the Association has brought professionalism to members of the industry and provides a forum for the industry to speak in a unified voice. Since its inception, the Association has secured benefits and implemented policies in the best interest of its members.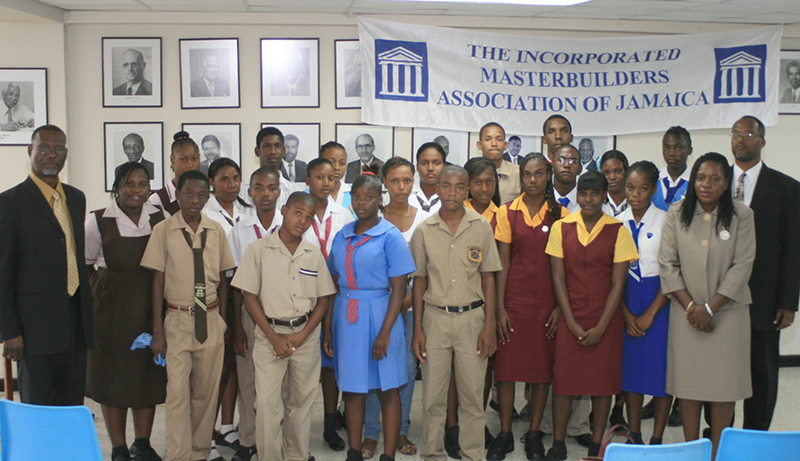 Originally, IMAJ had 13 founding members. Today, membership numbers have grown to about 150 in tiered categories – based on a company's capacity to undertake work and conforming to the government's National Contracts Commission that rates contractors. In addition to corporate members, there are also associate members, including electric contractors and suppliers of materials. Mr. Lenworth Kelly, President of the Incorporated Masterbuilders Association of Jamaica, relates, "We are a small island so contractors do everything – commercial, residential, public sector. You may be challenged, business-wise, if you restrict yourself to one area or another, so most people do a mix. At least three things, some will do residential, commercial, and also infrastructure work. And the ones who do infrastructure, are more likely to do all types, whether it be the ports, airport, roads, marine… they pretty much cover the range."
One of the biggest challenges facing the construction industry in Jamaica is financing, particularly for bonds. Kelly explains, "You can get financing from a bank facility, depending on the assets you have, and as you grow you can increase that. But access to financing for bonds is tricky. Let's say, for example, there's a $10 million U.S. job – the bond would be 10 percent. So the bank would tell you that you need to have that $1 million bond in assets or cash. Most people don't have that, so we have what we call a developed bond market, where you pay a premium just like insurance. But we don't have premium-based bonds available locally. Every bond you get, you have to collateralize it 100 percent. So that makes it very challenging for our contractors, especially when contractors who come from other places with larger resources, like China and Southeast Asia, are backed by their government when they are working overseas."
IMAJ continues to lobby and encourage the government to move on the issues, and the organization also acts as a resource entity because the documents they produce are used by government departments for tracking labor and making their projections – even the Statistical Institute of Jamaica uses them.
In keeping with the By-Laws of the Association, IMAJ has incorporated the Electrical Contractors Association of Jamaica, the Jamaica Air-conditioning Refrigeration & Ventilating Association, the Women's Construction Collective and the Association of Construction & Engineering Students as members of the Executive Council and they have a seat at the table. The overall industry is huge so the idea is to have an umbrella body where everybody can have a voice. A place where issues can be vented and advocacy can be assigned to those issues. Speaking to the diversity of the industry these days, Kelly acknowledges, "There is a good number of women in construction in Jamaica – at the supervisory level and as tradespeople. They do steel work, masonry, carpentry, painting, plaster work. It's a joy to watch them, they tend to be very focused."
IMAJ also offers a certification program in collaboration with HEART College of Construction Services (HCCS) that involves onsite evaluation of tradesmen who don't have a trade certificate. "In the industry, the vast majority of workers have not had formal training," says Kelly. "They apprentice on the job and learn the skills. In our partnership with HEART, our contractor members send them supervisors and then HEART will train those supervisors in how to evaluate the workers onsite because the workers already work under their supervision every day. So you assist them with their weaknesses and get the best ones certified first and then start working with the others. Then we communicate and make an application on their behalf with HEART, the trade training body. They will come in and assess the worker; if they pass the test, they get a skills certificate that acknowledges their qualifications to do a certain job. We do scholarships, too, for students in high schools and those in college who are in construction and engineering."
Respecting the importance of occupational safety training, IMAJ created a safety manual that was signed off by OSHA (Occupational Safety and Health Administration) and the unions for Jamaica's existing occupational health and safety laws. It's in a comic book format, so workers who can't read, see the pictures and know what it's about. Kelly notes, "When a worker comes onsite, you do a safety orientation with them and then they are issued a book. The management of the site signs that they will supply them with the safety gear, and the employee signs that they will abide by the safety rules. People buy our manual in batches of ten or up to the hundreds, so they have enough for each worker."
The Association communicates with members through email, as well as Instagram and Facebook and their website. The segment of membership that doesn't do social media are still kept well informed by email and they know to check the website for updates. IMAJ is activity driven, so they are presently running a series of webinars – one every two weeks. Most programs are heavily discounted for members, but the webinars are free and available to the public. Anyone can register and participate.
Another benefit of the Association, and something most people aren't aware of, is that IMAJ has an in-house consultant who will answer questions from the public about anything related to construction. The service is largely for householders who are doing small projects and need some guidance. They can call in and that resource is provided for free on Tuesdays and Thursdays.
Currently, the construction industry in Jamaica is experiencing a fair amount of activity. Kelly reports, "The private sector is doing quite a bit of building by way of housing apartments. For at least the past 20 years, we have been short on housing stock for a certain category of income. So there is a lot of potential in that area, if you can bring a two-bedroom, two-bath unit in for say 13 million Jamaican dollars, which is about $100,000 US. Then you will get ready purchasers because that segment of the market is largely unsatisfied and the demand is soaring. There are some builders who only operate in that sector, so they are always doing work. "At IMAJ, we encourage everybody in the industry to deliver on Time, Cost, and Quality (TCQ). Our training usually surrounds contracts and scheduling and such things that will help you to perform."
Kelly sums up the overall importance of the Association by saying, ""At IMAJ, we encourage everybody in the industry to deliver on Time, Cost, and Quality (TCQ). Our training usually surrounds contracts and scheduling and such things that will help you to perform. Most of the larger contractors on the island are members of IMAJ and we also have trade suppliers, so it's not just contractors. It's a lot of persons who are involved in the industry, whether they are providing a service, or goods, or equipment. We advocate on a range of issues and we are consulted by government on various issues, also. So we encourage everyone to join, to make the industry stronger, because it's important to serve our country in whatever capacity we can. We want people to build the best standards and help to train the young people. We pay school fees for children of construction workers and they don't have to be from a member company. Once you are a construction worker, your child will qualify. For colleges, we don't do the top performers, we give scholarships to the students who will perform better if they get help; the ones the school identifies as having potential but are struggling financially. We have a bunch of them in the industry who have come through that program and are doing well."
ods, or equipment. We advocate on a range of issues and we are consulted by government on various issues, also. So we encourage everyone to join, to make the industry stronger, because it's important to serve our country in whatever capacity we can. We want people to build the best standards and help to train the young people. We pay school fees for children of construction workers and they don't have to be from a member company. Once you are a construction worker, your child will qualify. For colleges, we don't do the top performers, we give scholarships to the students who will perform better if they get help; the ones the school identifies as having potential but are struggling financially. We have a bunch of them in the industry who have come through that program and are doing well."
AT A GLANCE
The Incorporated Masterbuilders Association of Jamaica (IMAJ)
What: Professional organization supporting the construction, engineering, and architectural industry
Where: Kingston, Jamaica
Email: imaj.org.jm