Jamaica Plumbing Supplies Co. Ltd.
Growing to meet demand
Business View Caribbean interviews Winston Neil, General Manager of Jamaica Plumbing Supplies Co. Ltd., for our focus on Business Excellence in Jamaica
Founded in 2007, Jamaica Plumbing Supplies Co. Ltd. is the best business of its kind on the island of Jamaica. Originally consisting of one location in the City of Kingston, the company grew to include a second showroom in Portmore in 2016. In 2020, that second branch was relocated to a much larger, standalone building in Naggo Head, Portmore, adding additional warehouse space and a fleet of delivery vehicles as the company has grown. It was managing director, Mr. Winston Neil, once a plumber himself, who first realized the need for a one-stop plumbing supply store on the island, and who has continued to grow the idea into the successful enterprise that it is today.
Opening a new location in the middle of a pandemic was, what Neil describes as, "perfect timing." He adds, "I say perfect because last year when we had the first lockdown in Jamaica, St. Catherine (the biggest Parish) was totally locked down for two weeks. To God be the glory we were able to pay our staff. It's only because we are doing so financially good. The warehouse does suit us." With 35 staff members, the company was again able to pay everyone their full salary during a second, 10-day lockdown – at a total of almost $2 million JMD per fortnight. "You pay them for every day that they work," says Neil, "I'm quite happy with that." Jamaica Plumbing has been able to keep all of their employees throughout the pandemic, adding two new people to the team in the process.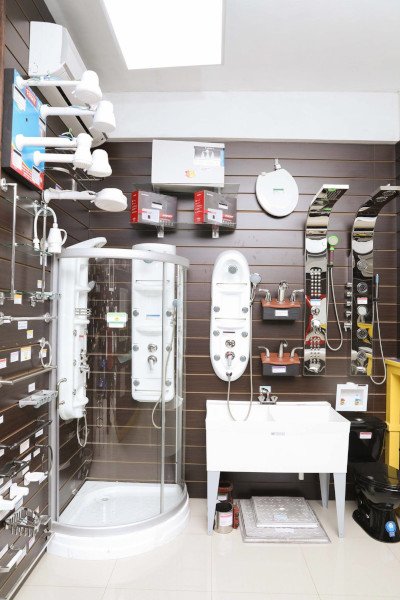 Reporting a 20 to 30% increase in sales since the move, Neil notes that part of this success is the fact that people are unable to fly freely to Miami to pick up supplies, leading them to Jamaica Plumbing instead. The other advantage is that the construction industry in Jamaica is booming. While supply shortages, and price increases are affecting them, Neil shares, "It's a good thing we do not put all of our eggs in one basket. We were probably taking, on average, two containers every six weeks out of Miami. Luckily for us we had the warehouse, so we were able to bring in quite a bit more stuff, not knowing what was coming."
Waiting for months to receive fast-moving items like PVC pipe fittings, the company is also facing higher freight charges. "For example," says Neil, "we used to pay three to four thousand dollars for freight from China. It's now eight to twelve thousand or more. So, we have to try to consolidate our containers with two different suppliers. If you bring in certain stuff, the freight is going to be so high that the price of it can't be recovered." With suppliers in the United Kingdom, Ecuador, and the United States, the company does bring in most of their best selling items from China, while acquiring some of the higher-end, more expensive products from other locations.
At their two showrooms – one in Kingston and the second in Portmore – Neil shares, "We restrict ourselves to just selling plumbing. I know we are number one in Jamaica, there's nobody bigger than us." The business has grown to include Winston's son, Brenton Neil, who is the operation manager of the company. With admin staff and a knowledgeable sales team in both locations, Jamaica Plumbing also employs delivery drivers who pick up items from the main warehouse and take them wherever they need to go on the island. Having the Jamaica Plumbing Supplies logo on the delivery vehicles also works as a marketing opportunity for the firm.
Although the company has their own fleet of vehicles, they sometimes contract the delivery out, or suggest that the purchaser pick it up, depending on the fragility of the item. Neil explains, "We would rather do it ourselves. Our people know how to care for the goods. If it's pipe and fittings, we call a truck from anywhere and we give them the job. I have one or two people that I call whenever we need them, but we mainly use our vehicles. The demand is high right now, and we want to put another truck in our budget for 2022."
Jamaica Plumbing has continued to increase its online presence, with upgrades to the website in 2021, including changes to the payment method, adding the option of a direct bank transfer instead of credit card payment. "In short, you should be able to go online, buy anything you want, and we can ship it to you anywhere you want. Hopefully in Jamaica, but then if you want it anywhere else, then we'll attempt to see how we can get that done in terms of freight," reports Neil.
With no trade shows for almost two years, suppliers are finding other ways to reach out to Jamaica Plumbing, introducing new products and innovations in the industry. Using the company website, suppliers are able to see what they can offer to the company, in both new and existing products. Although Neil looks forward to the days when he is travelling and meeting new people at the trade shows, he explains "People are finding us all over the world and introducing products to us. The world is becoming virtual."
Covering Jamaica from coast to coast, Jamaica Plumbing sells to homeowners and contractors, while supplying products for every sector of the country, including the hotel industry, the Ministry of Security and the Ministry of Health – all of whom are major customers. Neil recounts, "When I go into bathrooms anywhere, I usually see Jamaica Plumbing products." Making every effort to meet the plumbing needs of every customer, there are some products where the company is challenged with meeting the demand.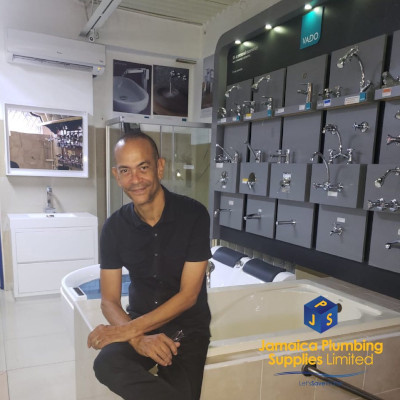 "Let me tell you an example," says Neil, "There is a particular brand of toilet that we have, we used to bring in 300 to 600 pieces for the year. One container will bring 300 pieces and that used to last us the entire year. We probably have brought 12 containers for this year (2021) already and right now we cannot find one piece in the shop. I tried everything to see if I can make sure I have an overlap so we don't run out and I cannot meet the demand." The specific toilet Neil speaks of is a lower-priced model, which he says is comparable in quality to many of the well-known name brands. Due to the exceptional price point and performance of this toilet, and the huge popularity, Jamaica Plumbing Supplies Company is considering branding it for themselves under the name Carleton.
To diversify and meet the needs of customers, the company has recently added a wider selection of tiles to their product offerings.  Although this new product line is doing fairly well, adding items with so many design options can be challenging. As Neil explains, "People don't know us for tile, even though they are saying they would love a one-stop shop, where they can just come in and buy the tile and the bathtub. We are trying to accommodate that. But I am not sure how big we are going to go into it. I know that we hold the number one place in Jamaica for plumbing, and we want to actually meet every demand. So once you walk in, I am disappointed if you walk out without everything you want."
While continuing to be the premier plumbing supply company in Jamaica, Neil has a few other things on his wish list for the next few years. The first is to owe less money to his bank, National Commercial Bank, who he considers a great partner to the business. The potential for future growth of the company is also top of mind for Neil, who adds, "My bigger wish list might derail that, because our customers from Montego Bay and Negril are making really hard demands on us for a store. We cannot afford to spend out of our pocket to put in a store anywhere else. I will not be able to that without owing the bank more money."
Suggesting that this growth is a likely possibility he adds, "Money is cheap these days. This is the best time in the history of my life to use bank money. I remember the days when we used to pay 40 or 50% for loan interest and now it's between 6 and 9%, at the most we are paying. So that's the easiest and fastest way to get new stores in Negril and Montego Bay."  This forward thinking approach shows potential for ongoing success, as Jamaica Plumbing Supplies Ltd. moves forward into a future of possibility.
AT A GLANCE
Jamaica Plumbing Supplies Co. Ltd.
What: Leading provider of plumbing supplies
Where: Kingston, Jamaica
Website: www.jamaicaplumbingsupplies.com

Sloan Valve Company – www.sloan.com
Sloan is the world's leading manufacturer of commercial plumbing systems. The company is at the forefront of the green building movement and provides smart, sustainable, and hygienic restroom solutions by manufacturing water-efficient products including flushometers, faucets, sink systems, soap dispensers and fixtures for commercial, industrial, and institutional markets worldwide.