Mosko Group spreads influence with opportunism.
The Mosko Group of Companies was established in 1925 by patriarch and master craftsman James Mosko, and has since evolved from a small family business into one of the largest, most experienced civil engineering and construction companies throughout the Bahamas.
Mosko had arrived in the Bahamas a year earlier from his native Greece, before changing his last name from Moskovakis and setting up business as a master carpenter. That business grew and his reputation spread to the point where he was involved in many significant projects, ultimately leading to the Bahamian government and Queen Elizabeth II to be included among his roster of clients.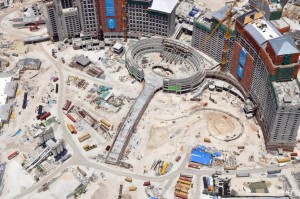 Mosko's son, George, founded Mosko's United Construction Co. Ltd. in 1958 and laid the groundwork for the subsequent expansion before welcoming his own sons, James, Milton and John, into the business in the 1970s. James Mosko is the group's incumbent president and – along with his two brothers and some other key members of the executive staff – now steers an enterprise that's evolved into a variety of functions including bulk materials, building supplies, general and specialized construction, marinas, rental properties and tourist facilities.
"My grandfather (James Sr.) was more of an artist, rather than a businessman, and a good friend of his said 'James, you really need to be in your own business,'" Mosko said. "My dad (George) was more of the business-driven person and he was dynamic in that respect.
"He was very conscious to take the business to the next level."
As it turned out, the evolution from the grandfather's operation to the one that exists today occurred incrementally. Where the business' first generation was in building and carpentry, the second branched off into concrete and the third worked in marine construction, which was followed by heavy earth moving and then by golf course building and other similarly connected endeavors.
Three years ago, that same need-filling mindset led to the formation of yet another outfit.
"We'd look around and think, 'Hell, if no one else around here is going to do it, we might as well do it ourselves," Mosko said. "We were having trouble with the air conditioning, so we started an air conditioning business. There has never been a master plan. When the family saw the opportunity to diversify slightly, into construction or supply or what have you, it was all opportunistic. I've been flying by the seat of my pants my whole life, and sometimes I crash, but most times I've landed OK."
And throughout the transitions, the familial vibe has remained.
"Most people that come don't leave until it's time to retire," he said. "And we've always made it a point to hire people and work with people who are much smarter than ourselves, which makes life a lot easier, too."
A workforce of between 400 and 500 spans the entire operation, Mosko said, and a 14-acre yard houses the marine equipment, concrete, construction and air conditioning operations. Separate locations include an island site development business, in addition to an equipment service company, an equipment rental operation and a steel company.
The headquarters are on the fourth floor of a 70,000-square-foot office building that the group owns and rents out, in addition to interests in local shopping centers, marinas and commercial properties.
"We've kind of spread it out a bit," he said.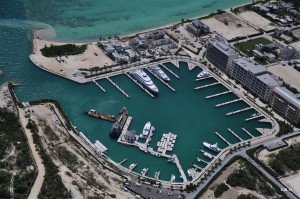 "The other thing that happens, too, you see it with family businesses and I've seen it with friends of mine, is that as the family grows and the business doesn't, you get more and more mouths trying to feed off the same business. We're trying to expand so that we can feed more mouths."
The vast majority of overall business is done in the Bahamas, though the occasional project or venture has taken operations to Jamaica, and Mosko Jr. said the company is looking to do some infrastructure work elsewhere in the Caribbean region. The Mosko's United Construction arm does $100 million in annual revenue, he said, while site development accounts for $70 million, marine construction is between $10 million and $15 million and concrete is between $4 million and $8 million.
And while the business is spread across many interests, its centralized operation pays dividends.
"We were competing for a project and they said 'Why should we give it to you?'" Mosko said. "And I told the guy, 'If you've got a problem, you call me up and you get an answer. If you deal with (a foreign competitor), he's got to go check with someone in England, who's got to check with someone in Scotland, and if you're lucky in two weeks you might get an answer. You call me, I speak to my brothers and you've got an answer in five minutes.'"
Close relationships with major investors in the country have yielded positive results, too.
"It's not like there's any one particular driver," Mosko said.
"There's not one dominant business. It's opportunistic. When work comes for one end of it, we take it on board. We get as close as we can to the people who are investing in the country, and we piggyback on the back of that and pick up as much work as we possibly can from the relationships with the major developers. Once we get our foot in the front door, it's hard to get rid of us."
The next big addition to the corporate roster is a venture into several restaurants, which include a bar, a bistro and a pub, though Mosko Jr. concedes to a smidge of trepidation with the idea.
"I'll have to admit that it scares me a little bit," he said. "The CFO thinks it's a great idea and that it'll be a great success. I hope he's right. If not, he'll be cutting a little bit into the grandkids' inheritance."
________________
AT A GLANCE
WHO: Mosko Group of Companies
WHAT: Bahamas-based group of building and construction companies whose services include general building contracting/development, construction project management, marine construction, supply of ready mixed concrete, bulk cement supply and aggregate supply
WHERE: Corporate headquarters in New Providence, Bahamas
WEBSITE: www.Mosko.com