Mining for Trinidad's future.
National Quarries Company Limited was established by the government of Trinidad and Tobago in 1979, for the purpose of managing and regulating the country's quarry industry. For many years before independence, and even for some time afterward, this important sector of Trinidad's extractive industries struggled for stability. While attempting to meet the country's on-again, off-again construction booms and their concomitant need for aggregate building materials, it also had to navigate the ups and downs of the island's uncertain economy. The result was an industry wracked with inefficiencies, intermittent shortages, and extreme price fluctuations for its products. In addition, it was plagued, from time to time, with random acts of vandalism, periodic bankruptcies, and illegal operations by some of its private mine owners.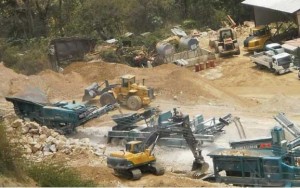 Bevon Cook is National Quarries current Chief Executive Officer. He explains the origin and purpose of the company: "National Quarries Limited is a state enterprise. During the late seventies, there was an oil boom and the consequence of that was increased construction and development of the infrastructure of Trinidad and Tobago. One of the key initiatives for all national quarries was to ensure that there was some agency that could guard against inflationary pressures. And one of our foremost mandates is to ensure that the price and cost of aggregates in the market is an affordable price for the average citizen."
Aggregates are inert granular materials such as sand, gravel, or crushed stone that, along with water and Portland cement, are an essential ingredient in concrete; concrete blocks are an essential ingredient for construction. Gravels constitute the majority of coarse aggregate used in concrete with crushed stone making up most of the remainder. Natural gravel and sand are usually dug or dredged from a pit, river, lake, or seabed. Crushed aggregate is produced by crushing quarry rock, boulders, cobbles, or large-size gravel.
Today, in Trinidad, there are about 100 registered quarries, about 90 percent of which are currently in operation. National Quarries is the only state-owned aggregate quarry; the rest are privately owned on either private or state lands. National Quarries has two operations: a 2,040-acre sand and gravel quarry at Guaico, Sangre Grande, and the 118-acre, Verdant Vale blue limestone quarry in Blanchisseuse. It has a total of eight active pits and four wash plants. The mined aggregate is transported by truck to the wash plants where it is washed, screened, sized, and processed. The company's employee base fluctuates between 150 and 250 workers.
All of National Quarries products are used domestically, as are all the aggregates from all of the country's other open-pit quarries. "Our customer base is wide-ranging and very diverse," says Cook, "from the average person who is just seeking to get a few yards of gravel to undertake repairs of their home to larger, established organizations and companies, such as block manufacturers and contractors. [We're also here] to satisfy large-scale projects, some of which may be government projects."
One of the biggest construction projects going on in Trinidad right now, and one which Cook suggests that "everything is going to," is the construction of the Solomon Hochoy Highway extension from San Fernando in south Trinidad to Point Fortin by way of the southern towns of Debe, Penal, Siparia, Fyzabad, and La Brea. This four-lane, 30-mile carriageway is the largest and most complex infrastructure development that has ever been carried out in Trinidad and Tobago. Cook concurs: "It's a massive undertaking – ten interchanges, five overpasses, six underpasses, ten bridges, 58 culverts, and one footbridge. It started in 2011 and is expected to be finished in 2016." In fact, the project is so extensive that the entire aggregate sector cannot meet its demands, meaning that some material has to be imported.
Even though National Quarries is state-owned, Cook explains that the business must operate with its own working capital and generate its own revenues. "We don't receive subsidies from the government," he says. So while the company may operate the largest quarry, and is the single biggest player in the sector, it still must compete with the many privately-owned enterprises throughout the island. That is one reason, explains Cook, why National Quarries recently became ISO certified in two standards – environmental and quality. But "the two key areas that allow us a competitive advantage," he says, "are affordability – because we are the low end of the market – and quality. And because of economies of scale we are able to position our prices at an affordable level."
In order to remain competitive as time goes on, National Quarries future business plans include the addition of another mine to its portfolio – a pale yellow limestone quarry whose material would be used for secondary and agricultural roads – and the acquisition of a large-capacity plant in partnership with a contractor, in order to increase its production volumes.
Of course, as a state-owned entity, National Quarries also must keep its prices affordable. Cook feels that this mandate is what helps keep the entire market stable – the constraint that National Quarries has on itself also acts to constrain its competitors. "If National Quarries were removed from the equation," he avers, "prices could become unstable. The industry is characterized by a lot of privately-owned quarries. We are the only state-owned quarry. Without us, there is nothing really to stop them from adjusting their price as they see fit."
National Quarries is also cognizant of its mission to help preserve Trinidad's environment. "When you have a mining license you're required by law to engage in the rehabilitation of exhausted areas," explains Cook. "In the past, once the resources were extracted, the quarry was simply abandoned without any type of care or attention paid. So we're trying to encourage and be in the forefront where this is concerned." The company has identified some of those exhausted areas at its sand and gravel location, and has begun rehabilitating the site by planting various crops, "such as watermelon, cucumber, pumpkin, peppers, and 3000 cocoa trees," Cook proudly states. "In doing so, we have created employment, supplemented the local food supply, and, hopefully, this business model can now be adopted by other quarry operators. It's a pilot project and so far, so good, and it may be expanded in the upcoming months."
After many years of fitful starts and stops, National Quarries is on tap to help lead Trinidad's aggregate quarry industry into a productive and profitable future.
________________
AT A GLANCE
WHO: National Quarries Company Limited WHAT: A state-owned mining company that is the nation's leading producer of aggregate for the construction industry. WHERE: Head office in Arouca, Republic of Trinidad & Tobago. WEBSITE: www.ngcl.co.tt