Medical Associates Hospital
offers top-tier medical services
With state of the art equipment and medical expertise, Medical Associates Hospital provides the best in healthcare
The medical industry in Trinidad and Tobago has been experiencing a surge of growth and innovation in recent years, with an increasing number of private institutions offering world-class healthcare services. One such institution that has played a pivotal role in shaping the industry's landscape is the prestigious Medical Associates Hospital, a leading private health institution in St. Joseph.
Founded in 1979 as a small six-bed obstetric hospital, Medical Associates Hospital has since evolved into a 40-bed, multifaceted tertiary institution with three operating theaters and one delivery room and employs over 250 dedicated professionals. Dr. Aroon Naraynsingh, the hospital's Medical Director, reflects on the hospital's journey: "It started with a small building and grew until it's where it is now, which is big in my imagination."
Today, the hospital offers various medical services, including neurosurgery, brain surgery, spine surgery, orthopedic surgeries, general and vascular surgeries, ENT procedures, and thoracic surgeries. The only surgical procedure not offered at the hospital is open-heart surgery. Dr. Lysha Selvarajah, Human Resources Administrator, proudly describes the institution as a "multifaceted, tertiary hospital that is highly functional and serves the entire population of Trinidad and Tobago, as well as international patients."
With a commitment to providing a full spectrum of medical services, Medical Associates Hospital has become a cornerstone of the vibrant medical industry in Trinidad and Tobago.
As the demand for healthcare services grows, Medical Associates Hospital has identified the importance of incorporating telehealth into its offerings.
Dr. Naraynsingh acknowledges the need for innovation in this area and explains that while the hospital has not yet implemented telehealth, they are developing satellite offices to expand their reach. These offices aim to facilitate consultations between patients and the hospital's doctors, who can then communicate with senior consultants to provide appropriate care and guidance.
Dr. Naraynsingh elaborates on the hospital's plans for these satellite offices: "Patients who are ill out in the distant [areas] won't have easy access to a hospital but can communicate with us through these satellite locations that we are in the process of building."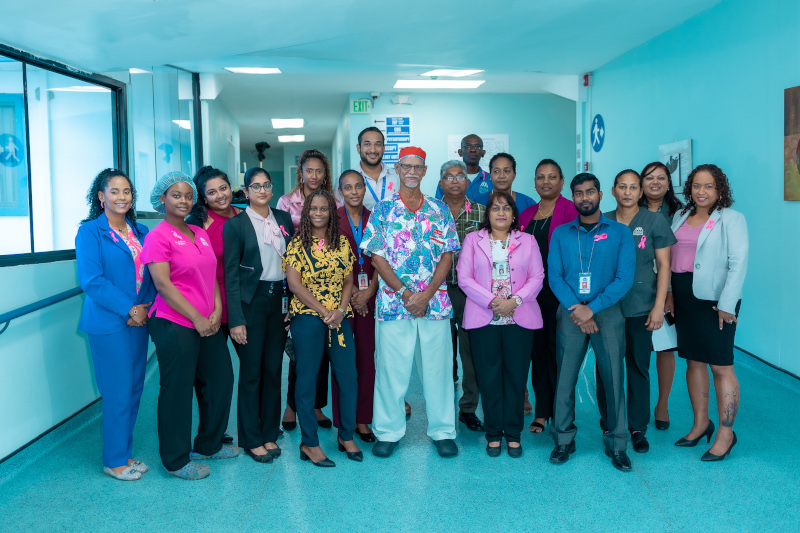 By leveraging technology and improving communication, Medical Associates Hospital aims to cater to the healthcare needs of residents and expats who may own secondary properties or travel to the islands frequently.
In addition to their focus on telehealth, the healthcare provider is committed to staying current with advancements in medical technology, ensuring that as technology continues to evolve, so will its capabilities, ensuring that it remains at the forefront of medical care in Trinidad and Tobago.
The COVID-19 pandemic has undeniably profoundly impacted the healthcare industry worldwide, and Medical Associates Hospital is no exception. Dr. Naraynsingh confirms that the pandemic expedited the move toward telehealth and changed how meetings are conducted:
"Our board doesn't get together to meet anymore. We meet by communicating through devices." The hospital also introduced stringent screening protocols for incoming patients, isolating those with suspected COVID-19 infections to prevent further spread.
Regarding human resources, Dr. Selvarajah explains that the hospital has not experienced significant difficulties recruiting and retaining physicians: "We have been quite steady with our physician flow. And over the last couple of years, it's increased. Our consultant base has increased with more and more specialists in their respective fields." This growth in the consultant base has allowed the hospital to widen its operating scope, offering patients a more diverse array of services.
As for nursing staff, Dr. Selvarajah admits there have been occasional shortages but asserts that these issues have been resolved. Medical Associates Hospital's hiring practices focus primarily on specialists and in-house physicians with accident and emergency medicine expertise. Dr. Selvarajah highlights the hospital's unique approach to patient care, marked by an integrated, round-the-clock service: "We have the opportunity to make sure there's a doctor available to [patients] at all times."
This commitment to providing continuous, high-quality care has set Medical Associates Hospital apart from other private healthcare institutions. By maintaining a strong and diverse team of medical professionals and embracing technology, the hospital is well-positioned to continue delivering top-notch care in the ever-changing medical industry landscape.
Community outreach and providing accessible medical care to residents are critical aspects of Medical Associates Hospital's mission. Dr. Naraynsingh highlights the hospital's ongoing efforts to engage with the local community: "We have programs where we go to areas and do some low-end medical education."
The hospital has identified specific areas of medicine as crucial priorities, recognizing the need for specialized care to treat urgent health conditions. Dr. Naraynsingh emphasizes the importance of addressing myocardial infarction (heart attack) and strokes.
"We are fully prepared to get you from one place to another, from one level to another, as regards treatment and how fast it's done." By closely monitoring treatment processes and timelines, Medical Associates Hospital is committed to maintaining first-world standards in patient care for these life-threatening conditions.
To support this priority, the hospital retains specialists in cardiology, as Dr. Naraynsingh confirms. This emphasis on specialized care for cardiovascular health further underscores the hospital's dedication to providing comprehensive, high-quality medical services for the residents of Trinidad and Tobago.
Medical Associates Hospital maintains strong relationships with medical practitioners and clinics throughout the islands. Dr. Naraynsingh explains, "We have medical practitioners all over who refer patients to us." In acute situations, like myocardial infarction or stroke, patients can go straight to the hospital's accident and emergency department, where quick action is crucial.
Transportation services play a vital role for patients in remote areas in ensuring they receive the care they need. While helicopters are rarely used within Trinidad, Dr. Naraynsingh clarifies that ambulance service is available, and the hospital also has its ambulance service for patient transport.
Dr. Selvarajah elaborates on the international patient service, which extends to those coming from other parts of the island or abroad: "If they can fly commercially, we will pick them up from the airport or the seaport…or if they are unable to fly commercially, they will get in contact with us, and we will get in contact with Medevac, a helicopter service that provides medical assistance to patients needing transport."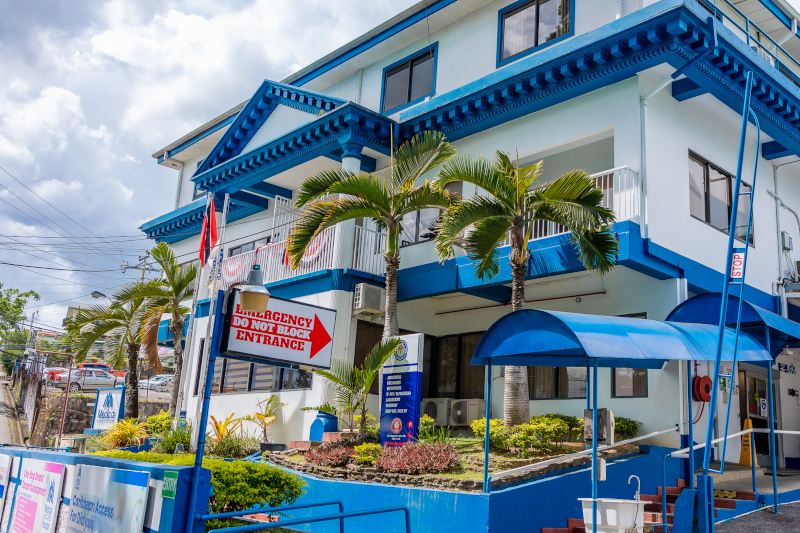 Dr. Naraynsingh adds that air ambulance services are available for transporting patients to and from other locations, such as the United States or other islands. This comprehensive and well-coordinated approach to medical transportation demonstrates Medical Associates Hospital's commitment to providing accessible, high-quality healthcare for residents of Trinidad and Tobago and beyond.
The hospital has also sought internationally recognized accreditations as part of its international strategy. Under Dr. Naraynsingh's leadership, Medical Associates Hospital recently achieved international accreditation, setting it apart as the only hospital in the Caribbean to have received this prestigious recognition.
This accreditation signifies that the hospital meets or exceeds international standards, including patient care, staff training, and waste disposal.
With this accomplishment, Dr. Naraynsingh is confident that Medical Associates Hospital is ready to expand its focus beyond local patients. The hospital is actively marketing its services to attract foreign patients, positioning itself as a trusted healthcare provider for local and international communities.
Medical Associates Hospital also places significant emphasis on cognitive and emotional services. Dr. Selvarajah shares, "We have some fantastic psychiatrists who are well qualified. Our main services are outpatient." The hospital is also committed to the well-being of its staff, providing regular occupational health check-ups, emotional well-being surveys, and team-building exercises.
The hospital's emergency department, led by Dr. Selvarajah, is equipped to manage a wide range of cases for walk-in patients, including those unable to see their local doctor. "There is not a single patient that we will not see through the hospital," Dr. Selvarajah stated.
Among the most common cases are myocardial infarctions, strokes, and diabetes-related complications, which are prevalent due to lifestyle factors.
Speaking about pediatric and geriatric patients with complicated problems, Dr. Naraynsingh explained that the hospital could manage all age-related diseases. He emphasized the importance of staff training to ensure the proper care and protection of elderly patients.
Medical Associates Hospital is constantly evolving to meet the growing healthcare needs of the population. Dr. Naraynsingh revealed their expansion plans: "Right now, we're starting on a new project to give us some more square footage to expand our lab and neurological services." The hospital aims to increase its capacity by widening its range of tests and enhancing its neurological and neurosurgery departments.
Regarding technology, Medical Associates Hospital is well-equipped with imaging facilities such as MRI and CAT scans. Interestingly, the hospital leverages telehealth for report analysis. Dr. Naraynsingh shares, "The person who does our readings lives in California. In an emergency, he will immediately call to speak to the doctor directly and report the situation and what they have to do."
As the hospital moves forward into the second half of 2023, its focus remains on providing excellent healthcare and preventing hospital-acquired diseases and infections. Dr. Naraynsingh highlights the importance of patient and staff safety, infection control, and the management of foreign patients.
In addition, the hospital continues to keep a close eye on its performance by conducting departmental audits and using key performance indices to ensure continuous improvement in all areas.
With a solid commitment to excellence, Medical Associates Hospital is poised to continue significantly impacting the health and well-being of Trinidad and Tobago in the coming years.
AT A GLANCE
Medical Associates Hospital
What: Leading Medical Center with modern diagnostic capabilities
Where: St Joseph, Trinidad, West Indies