Moon Palace Jamaica
Where the WOW factor is a way of life
Business View Caribbean interviews Clifton Reader of Moon Palace Jamaica, and Cessie Cerratto of Palace Resorts, for our focus on The Best Jamaican Resorts
The heart of Jamaica, the pulse of reggae, and the soul of luxury – just a taste of what beautiful Moon Palace Jamaica brings to the table as an island resort destination. With the Palace Resorts luxury, all-inclusive experience, your only responsibility is to indulge and enjoy unparalleled service, signature amenities, luxurious accommodations, 24-hour room service, world-class dining, complimentary wireless internet, and so much more. At Moon Palace Jamaica, the WOW factor is not only a promise, it's a way of life.
Situated in Ocho Rios on the gorgeous north coast of Jamaica, Moon Palace Jamaica is dressed to perfection after a multi-million dollar transformation from a previous incarnation and, today, boasts more than 730 guestrooms and suites with oceanfront views of the Caribbean Sea. Among its many offerings: Jamaica's largest spa, 'Awe Spa'; the only FlowRider Double-wave simulator on the island; four distinct dining destinations; the ultra-chic nightclub, Noir; an on-site dolphin habitat; and 17 acres of ivory sand on the longest stretch of private beach in Ocho Rios.
Business View Caribbean recently spoke with Clifton Reader, General Manager and Director of Operations for Moon Palace Jamaica, and Cessie Cerrato, Senior Director of Public Relations for Palace Resorts. Their insights into what makes the ideal guest experience at a luxury resort come directly from visitors' feedback, and explains why Moon Palace Jamaica shines like a starry night in the minds and hearts of all who've had the pleasure of a stay.
Reader reflects, "I'm one of the persons who has been here the longest since Palace took the resort over on Sept 1, 2014. We basically gutted the entire property; it was Renaissance before – Sunset Jamaica Grande – and we reopened as Moon Palace Jamaica Grande in July 2016, then changed it to Moon Palace Jamaica. So, technically, on Sept 1, 2019 it will be five years since Palace put its first footprint here. One of the biggest impacts of Palace coming to Jamaica is we were the first hotel to send Jamaicans to Cancun for training, as it was important to the company to ensure both cultures would fully embrace each other's, and fully understand the company's practices and commitments to service. Some of us went for up to a month, and the training was invaluable because it wasn't only technical training but also a culturized education. In fact, we continue to send people to our headquarters, "Cedis" in Cancun where our head office is. It's important to Jamaica for the tourism sector. We've set up a commissary training institute where we train quite a few of our food and beverage employees. It's working out very well for us – not only do we have Mexicans coming down for training but we also have Jamaicans going to Mexico to participate, as well."
At full capacity, Moon Palace Jamaica employs up to 1,200 people – 95 percent or more are Jamaican, many from the Ocho Rios area. The staff-to-rooms and staff-to-guests ratios are higher than most other hotels; the large number of employees this requires is a great benefit to the local economy. And visitors appreciate the personal attention. As Reader explains, "The quality of the resort speaks for itself, and the personality of the resort, by virtue of the people, is one that is always compared with other resorts and even the parent company in Cancun. Since we opened, we've consistently received the AAA Four Diamond Award and we are a Five Star, as well. We run some of the best restaurants on the island, offering Ibiza-type table service and à la carte. Our Italian restaurant – La Gondola – is fabulous, and of course our steak and seafood. Right now, we are building a steakhouse restaurant to finish by the start of the winter season. Historically, it is going to be on a site where the first James Bond movie 'Dr. No' was filmed, at the end of the pier near our dolphin area."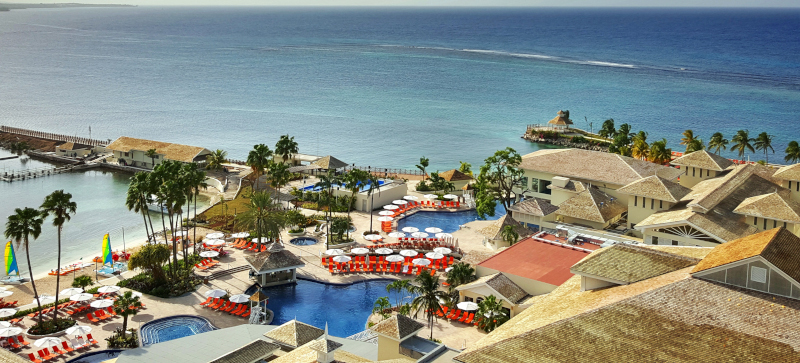 Moon Palace Jamaica is a resort for everyone. It's on the longest stretch of beach in Ocho Rios – with one section for all the watersports activities and the other for guests who just want to swim and relax at the edge of the ocean. The hotel is right in the middle of town, ideal for shopping. And 80 percent of the main attractions in Jamaica are within 20 minutes of the resort. The airport at Montego Bay is a scenic 90-minute drive away, but another airport, about 20 minutes from Moon Palace, accepts private jets, and they are expanding it to take larger jets in the next year or so.
According to Reader, "About 90 percent of our travel comes from U.S. and Canada, mainly in the U.S. southeast and northeast regions where connectivity between there and Jamaica is fantastic. The main responsibility of our sales force is for spreading the Palace Resorts brand and building relationships out on the field; making sure travel agents, tour operators and other industry members are informed about our product, brand, and offerings. And ensure they are always up to date on any new hotel developments, in an effort to remain top of mind when it comes to them selling our product to their clients. We really value our travel partners and the way they've helped get us to our current occupancy levels. There are quite a few travel agents and travel partners who work with us almost daily, along with our ground providers, service, and food suppliers – they all deserve special mention."
Social media has definitely changed the way resorts market and sell their property, because it has changed the way people travel. Before social media, people had no way of visually understanding what a destination actually looked like, aside from a brochure or the company's website. So, Palace Resorts has social media concierges onsite at each of their properties and the company is consistently active on social channels. Working with influencers and getting people to engage has really changed the dynamic in terms of bookings.
But is it all sunny days and smooth sailing? Reader admits, "Of course, along with sunny days we have increased competition – for the business and for employment. But Moon Palace Jamaica has distinguished itself through training and development and the standards we have to make sure that people want to stay with us. People come back to the resorts they are most comfortable with, where the employees make them feel that they are kings and queens. Here at Moon Palace Jamaica, we try to have the best-trained, loyal employees and we're seeing the benefits of that in our returning guest population and the comments guests are giving us on Trip Advisor – five-star ratings. And it's not the facility, alone, that guests are talking about, it's the special way the employees make them feel."
As for future expansion, Reader reports, "Right now, we have the only FlowRider Double Wave Simulator (Ultimate Surf Machine) in Jamaica; wonderful facilities for kids, including a kids & teens club; a world-class nightclub, and we are working on adding another restaurant to enhance the property."
Cerrato sums up Moon Palace Jamaica as "a true luxury all-inclusive resort. People tend to have the misconception about staying at all-inclusive, assuming the food and alcohol will be terrible, or that there will be hidden fees and things you have to pay out of pocket. But at Palace Resorts, as a whole, and specifically Moon Palace Jamaica, it really is a luxury brand that has everything included. We have partnerships with world-renowned pastry chefs like Antonio Bachour who came in and curated all our dessert and pastry menus. We only carry Certified Angus beef in all our hotels, and that speaks to the commitment to the quality of our food – we only work with high level brands. You're going to have a great time with your family, no limits in terms of activities and entertainment, dine on top of the line cuisine, and have the absolute best service.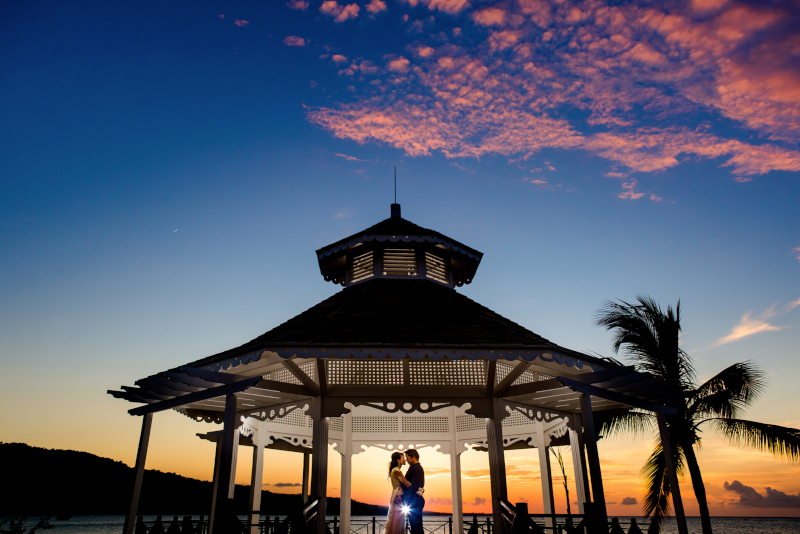 "Our resorts are value-driven. A big differentiator in our business model is that we offer an incredible $1,500 resort credit. Most people come to Jamaica for at least four or five days. So, if you book five nights or more with us, you automatically get a $1,500 resort credit to use for off-property excursions, to go to the Spa, or upgrade your wine at dinner. Also, we have a great summer promotion where anyone under 18 is complimentary. If you're a big family of five – two parents, three kids – it really makes a difference. Those two things are key differentiators for us in the market."
Reader agrees, "What Cessie says is absolutely true. The reflections from our guests on Trip Advisor tell the story: 'Amazing, excellent in every way.' 'Amazing family vacation.' 'Unparalleled.' 'Girls trip, love Moon Palace Jamaica.' 'Beautiful staff.' And I think from a guest perspective, that's all encompassing with our Jamaica resort."
AT A GLANCE
Who: Moon Palace Jamaica
What: Five Star Resort; part of the Palace Resorts brand
Where: Ocho Rios, Jamaica
Website: wwww.moonpalace.com/Jamaica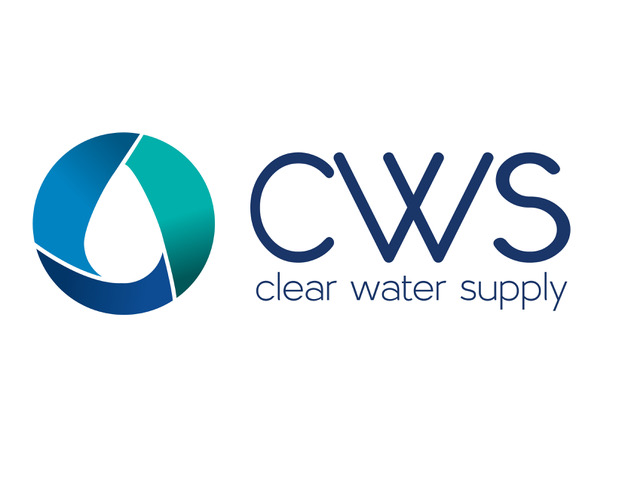 Clear Water Supply (MX) / KU3 Aqua Group Limited (JM) – info@cwsmexico.mx
For many areas, overdevelopment, pollution, population growth, and climate change have upset the balance between water usage and supply, and areas from North America to South America, and from Australia to Asia, are increasingly facing threats of drinking-water shortages. 
Water technology is therefore becoming one of the most outstanding and important industries and the capacity to supply sufficient, inexpensive water with optimum water quality will be more and more crucial, not only in the Caribbean, but the whole world.  
CWS (Clear Water Supply) is an experienced international team that provides outstanding solutions in the areas of potable water production and water treatment. We supply drinkable water and treat wastewater to ensure that our clients reduce their water costs, ensure their water supply and/or obtain a water quality, that guarantees the health of consumers, reduces scaling, lowers operational costs and extends the life cycle of machines and equipment. Through desalination plants, CWS saves its clients up to USD 1,000,000 per year and more. When treating waste water, CWS supplies treated water in a quality that enables the client to use this water for irrigation and industrial use, saving valuable fresh water, costs and contributing to conserving the planet and its resources.  
ALL THE BENEFITS, NO INVESTMENT FOR THE CLIENT
One of the biggest advantages CWS offers its clients, is the possibility to have all these benefits without the client having to invest in the necessary equipment. In this case, CWS takes care of the investment in the equipment, installation, start-up as well as the complete operation and maintenance. CWS pays for all operational costs, including labor, spare parts and consumables and the client only pays for the consumed water according to an agreed-on price and conditions. This concept allows large consumers of water, like hotels, residential developments and municipalities, to get access to better and less expensive water without having to wait for financing, annual budgets, etc. 
CWS is already operating in Mexico and Jamaica and opening new operations throughout the Caribbean. With a mixture of highly qualified  technicians and local employees, CWS makes sure that the operation runs smoothly and that any situation can be solved quickly and efficiently. 
CWS offers – among others – the following services 
Desalination

 

Waste water treatment systems

 

Potable water treatment systems

 

Membrane technology systems – UF, Nano, RO, EDI

 
Biological membrane reactor technology

 

Sludge treatment

 

Tertiary effluent treatment and disinfection

 

Water Softeners

 
For further information, send us an E-mail to info@cwsmexico.mx 

Jamaica Tours Limited – www.jamaicatoursltd.com
With over 50 years of experience in Jamaica's Tourism Industry, Jamaica Tours Ltd consistently delivers uncompromising, world-class service to our many clients. 
Let us take you on a journey to the interior of this magnificent island to explore our rich culture and history. From the powdery white sand beaches to the mountains, Jamaica Tours Limited will take you there in comfort and Jamaican Style. Leave the planning to us…after all; we are Jamaica's most experienced, prestigious and elite Destination Management Company.