Sky Mall
Sunny Days Ahead
Business View Caribbean interviews Everick Eastmond, Managing Director of Sky Mall, for our focus on Best Practices in Barbadian Business
Truly a one stop shop, Sky Mall, in Haggatt Hall, St. Michael, Barbados, offers a convenient and diverse shopping experience. From a wide range of retail boutiques, beauty and business services, banks, restaurants, and its flagship store, Massy Supermarket, shoppers can be sure they will find what they need, while enjoying the bright and luxurious surroundings of the mall.
First opened in 2002 under the name Mall Internationale, Williams Industries Inc., a diversified Caribbean corporation, took over the mall in 2010, bringing much needed rejuvenation to the shopping center. As a major promoter of photovoltaics in the Caribbean, Williams Industries added solar panels to the roof, and the name was changed to Sky Mall, "because we were tapping the energy from the sun," describes Managing Director, Everick Eastmond.
The past few years have come with more than a fair share of challenges for Sky Mall, with most businesses having to close their doors in the early days of COVID. Massy Supermarket remained open as an essential service, which meant that a skeleton staff was retained for maintenance and cleaning, as well as security. "They showed up at a time when we really needed them," relays Eastmond. "They were here doing all of those things that would have kept other people home, because of the fear of catching COVID. So, I'm really thankful to them and the supervisors, and the administrative staff for putting their hands to the plough at a time when we really needed it. We came together as a team."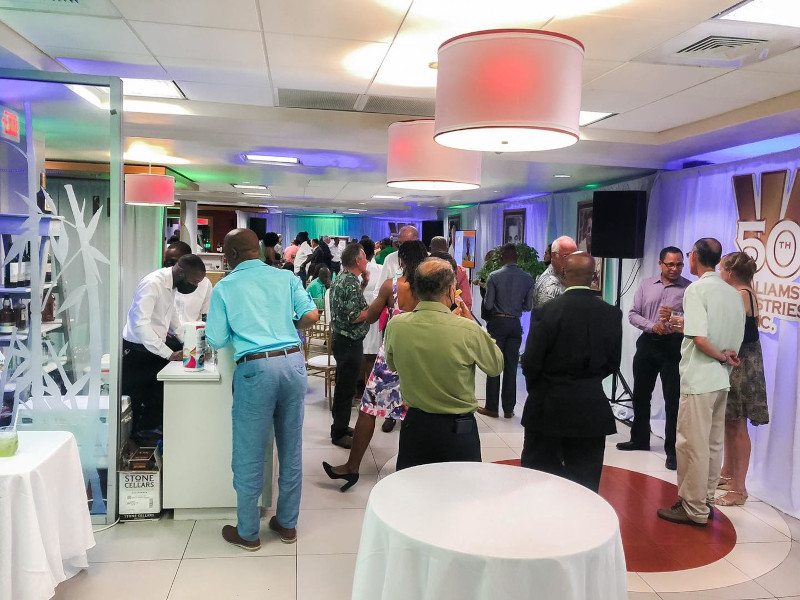 During this stressful time, Eastmond says that the mall was able to support its tenants through rent concessions, crediting Williams Industries for their assistance in navigating through the events of 2020 and 2021. He acknowledges, "They were there, not just in financial resources, but also the management resources and the cooperative relationship that we have, to make sure that the mall is still the premier choice for customers in Barbados. We've been able to get through it and overcome it, and I think we are well on our way to stability again."
In 2021, a volcano on the island of St. Vincent erupted, blanketing Barbados in ash and once again causing the mall to close. "We went through that period at a heavy cost, because it took us nearly two months to actually get all the residue off of the roof and the car park and all these things," says Eastmond. Next came price increases, adding another challenge for Sky Mall and its businesses. Taking an optimistic approach, Eastmond notes, "It has been a long struggle, but there is something about struggles that make you want to be able to get through it, so that you have the strength to be able to deal with anything else that will come." Although the mall is still experiencing a drop in customer traffic, he reports, "Things are gradually getting back to normal. I would say that we're probably 80% there and hopefully the next 20% will be forthcoming in the near future."
As the shoppers return, the next big obstacle many of Sky Mall's tenants are facing is price increases due to high shipping costs and supply shortages. Eastmond explains, "A lot of the stores are feeling that pinch, because before when we were paying $6,000 or $8,000 US dollars for freight, it is now gone to $20,000 US. That is affecting not just the supply, but also the cost." Materials to maintain the building itself are also subject to delays, sometimes taking up to six months to receive. "Now we try to make sure that we keep abreast of the realistic times and don't have in our heads the times of past days, until the supply chain gets sorted out," he offers.
To ensure the success of big celebrations like the annual harvest celebration known as the 'Crop Over Festival', masks are required in indoor spaces on the island, in an effort to keep positive cases under control. Eastmond explains that this is essential for the mall. "You want to make sure that nothing is out of whack in terms of positive cases, because a lot of the retailers are dependent on that too," he asserts. "If there's no partying and no festivities, they don't make any money because nobody wants to buy clothes to go nowhere."  Maintaining that the Government of Barbados has also been a major support to businesses and residents during recent events, Eastmond adds, "Good thing about it, you build resilience for these things. And the government has been truly a good partner in terms of listening to the people and ensuring that everybody is collectively trying to get back to normalcy."
While only 10% of customers are tourists, the Sky Mall does play a major role in the community, not only as a shopping destination but also as a source of employment. With four employees, who Eastmond notes do 95% of the administration work, Sky Mall is supported by Williams Industries. The mall employs a range of supervisors, security, cleaning, maintenance, and administrative personnel to run the daily operations. The true source of opportunity for work is provided by the businesses and services in the mall, who employ over 300 people.
As for customers, the supermarket is a large draw for shoppers. Proximity to Ross University is another source of business, and a target market for the mall. Reaching out to small entrepreneurs who are starting out is a way that the mall supports the people of the community, offering them the opportunity to display their offerings to the public. Giving to various community groups, from schools to food drives is another role that Sky Mall takes seriously. "We play a big part in that, because we believe as part of the community that surrounds us, and beyond us, that we have to take an active role," Eastmond says.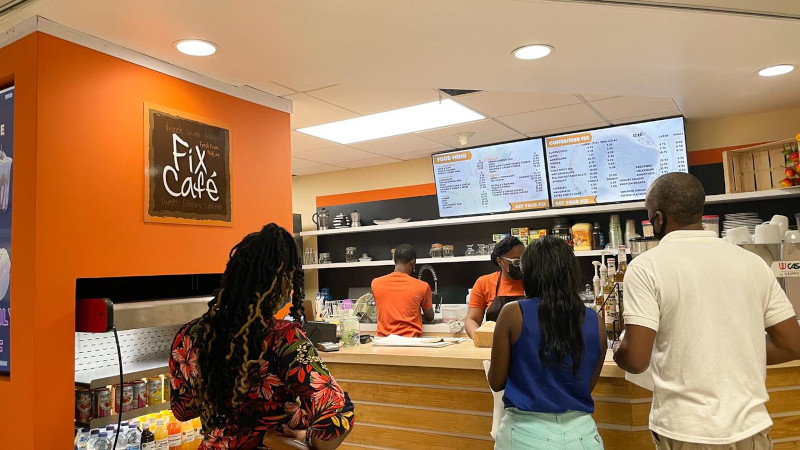 On the sustainability side, reliance on photovoltaics is part of the effort for Sky Mall to be an environmentally responsible facility, while also saving on energy costs. In other green initiatives, Barbados has introduced a plastic and foam ban, meaning that restaurants have had to find new solutions to food packaging at a much higher cost. This has posed another challenge for the restaurants in the mall. As Eastmond describes, "A lot of the packaging would have increased by 300%. And of course, there wasn't the same toughness because it's biodegradable, it doesn't stand up as long to liquids or heat. So that is still a challenge, but we have recognized that it is something that we have to do."
Home to an endangered population of sea turtles, Barbados is committed to restoration of marine turtle habitats, and helping to encourage survival and growth of the species. As another reason for Sky Mall's sustainability efforts, Eastmond suggests, "We've got to make sure that the turtles that we have in our environment are protected, so that people can come and enjoy seeing them. It is a lovely site, and one of the big tourist attractions. So, we are trying to protect that environment."
Moving forward Eastmond believes, "Our biggest challenge is to get people back into the spending mood. People will spend money when they know that the job is secure, or the money will be replaced. So far, Barbadians have been quite conservative in their spending, and it has been reflected in the rising level of bank accounts. Our job is really to get them to spend in the areas where it makes sense to buy now, because really and truly the bank interest is so low that money saved in this country has no real returns."
Describing what he calls the "risk averse attitude of Barbadians," he admits, "That is a slower process. Certainly, we try to encourage more spend, because more spend means that there's more turn in the economy. There are more taxes to the government to do more things, and it puts more money into more people's pockets." Along with an increase in consumer confidence, Eastmond emphasizes the role of the tenants to Sky Mall's success, not only in providing goods and services that meet customer needs, but also in top notch, memorable service. He explains, "I keep telling people that the only thing that distinguishes one product from the next is the level of service that the customer sees, and the level of care that is presented to them. That tells them that you need their business and you're thankful for them to come and patronize your business."
With many of the challenges of the past few years behind them, Sky Mall is moving into a bright and positive future. As a final thought, Eastmond shares, "There might be clouds in the sky, but the sun is always shining."
AT A GLANCE
Sky Mall
What: A shopping mall with retail, grocery, and offices
Where: Bridgetown, Barbados
Website: www.skymall.bb