TCA Handling Flight Services Ltd
reliably serving the Caribbean skies
With a host of initiatives taking off, TCA Handling Flight Services Ltd. Services the region's airport needs
TCA Handling Flight Services Ltd. (TCA Handling) has built its reputation on providing high-quality, reliable services for the majority of passengers who visit Providenciales Airport on the island of Turks and Caicos. The company evolved from a private airline to one focused on flight services for larger commercial carriers after September 11, 2001, terrorist attacks in the U.S. Since then, TCA Handling provides great service, at the right price for the leanest cost.
That is becoming more difficult these days. The first two years following the onset of the COVID pandemic were difficult for the company and all residents of Turks and Caicos, a country that relies heavily on tourism for revenue. Fortunately, the country lifted many of its COVID restrictions faster than others in the Caribbean, and tourism is now thriving.
According to TCA Handling Ground Operations Manager and Flight Dispatcher Owen Roberts, the schedule of American Airlines flights into Turks & Caicos increased by nearly 50 percent year-over-year in December 2022. American Airlines is one of two airlines that hires TCA Handling for full-service ground handling at the island's only airport. The other airline client is Jet Blue which along with American Airlines comprises about 60 percent of Providenciales Airport's airport traffic.
This increased air traffic means more tourism dollars for Turks and Caicos, and more work for TCA Handling, which is challenged to keep up with demand in terms of staffing. This is especially true given many flights to the Caribbean have been diverted to Turks & Caicos in recent months because the country has lifted COVID restrictions at a faster rate. The good news is that this all leads to tremendous growth opportunities for the company, Roberts says.
"We are in line for unprecedented tourism growth this year," Roberts says. He and his colleagues are noticing even more of a shift toward leisure travel, rather than business or conference travel, probably because tourists from foreign countries are tired of having to stay at home after three years of closures, lockdowns, and virus surges. The airport is looking to add new carriers from other parts of Europe and Asia as well, which could lead to additional growth opportunities for the company.
The growth of Airbnb, VRBO, and other online vacation rental websites has also helped the Turks and Caicos tourism industry. The country often struggled to have the number of hotel rooms required by visitors before those sites became popular, and by offering rooms, apartments, and houses through private owners, tourists can enjoy a more affordable and comfortable experience.
"This has been an important (trend) because it really alleviates the stress on our local hospitality industry," Roberts says. "Having these options offered by (residents) really works to our advantage."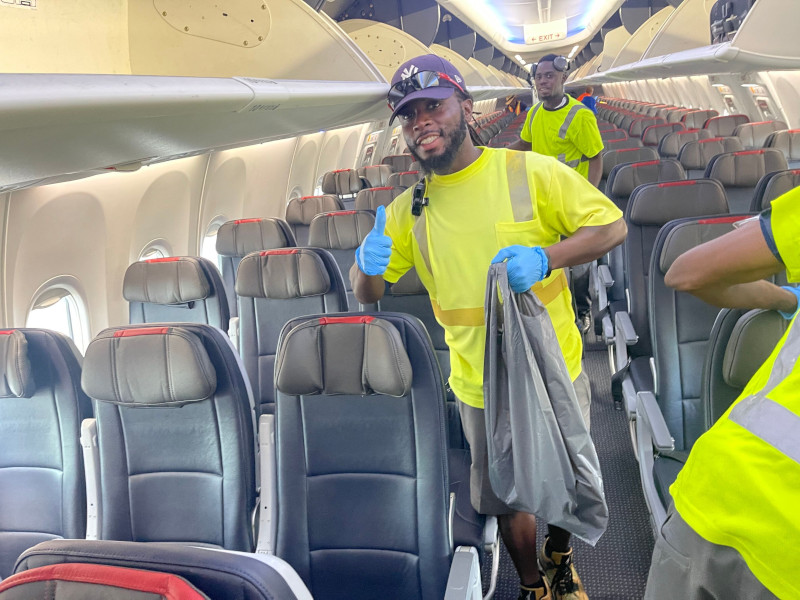 This is welcome information because 2020-2021 in particular were "very difficult years for Turks and Caicos" when travel was virtually non-existent, Roberts says. Not only was tourism limited at best, which reduced revenue opportunities and eliminated jobs for many residents, but supply chain issues and inflation made the cost of living even more difficult for the island, and TCA Handling's employees. "I don't even want to tell you what we pay for gas here," Roberts says with a laugh, although prices are no joking matter.
An online review of Caribbean news outlets suggests a gallon of gas costs between $6 to $7.50 per gallon based on historical prices in 2022-23. That means the company needs to become even more creative in managing its costs and is looking to electric and "green" solutions for its equipment, so it does not need to rely on gas-powered machines for handling baggage and transporting employees for services. These "green solutions" that use alternative sources of fuel will be important to help TCA Handling remain competitive in the years to come.
TCA Handling is the longest-serving ground handling company in the Turks and Caicos Islands and operates in accordance with the regulations of the country's Standard ground handling agreement. The company owns and operates equipment to adequately service narrow-body and wide-body aircraft.
Ground services include clearance of aircraft documents in accordance with government regulations, load control and communications, passenger service, and ramp and baggage handling. TCA Handling provides aircraft towing and pushback services, cleans and clears aircraft at the end of a flight. Roberts says that it even acts as a liaison with fuel and oil suppliers and catering services.
In delivering these services, TCA Handling focuses on working with varying airlines in diverse markets, leveraging economies of scale, and sharing operational excellence. It offers customized solutions to meet airline needs.
Security is another big service TCA Handling offers. It provides dedicated security services for both Delta Airlines and British Airways at Providenciales International Airport, and follows guidelines established by the United States Transportation Security Administration. (TSA)
Along with its parent company Turks and Caicos Airport Security Service (TCASS), TCA Handling provides service that's incomparable in the Turks and Caicos Islands. It offers unique expertise in this specialized field based on more than 20 years of experience in aviation security. The full range of services includes check-in security and combined check-in and security services, gate security, cabin cleaning and search and hold baggage screening.
Filling open jobs has long been a challenge in Turks and Caicos, even before the COVID pandemic. It is a country of roughly 35,000 residents that has developed an environment where residents have the right to move around and freely go anywhere and live anywhere on the island. This great freedom is a benefit for many residents, but it also leads to significant staff turnover for employers, Roberts says.
One way that TCA Handling is addressing the labor shortage is by educating students at the high school level about the benefits of working in the airport services industry. It introduces other career options for working in aviation outside of being a pilot or stewardess while promoting good stability and living wages. In fact, TCA Handling has created an internship program that allows students to see the inner workings of an airport.
Many former interns have moved into successful full-time opportunities following high school. The goal, says TCA Handling Human Resources Manager Denise Westcarr, is to produce well rounded team members by developing them professionally and personally and giving back to our Community.
"We try to support our team members anyway we can," Westcarr says. "We have an open-door policy, team members are encouraged to speak because we need their feedback and suggestions to enhance our service delivery to our clients and customers. Our employees are our eyes and ears. We are a family because we often spend the majority of many days on the job."
For these employees, training is a critical part of their success. Westcarr says training is ongoing even daily. From learning technology systems to company processes to customer service, despite training which is continuous along with significant investment turnover is high, we still have to meet and exceed clients/customers satisfaction.
Many partners are needed to help TCA Handling achieve its goals. Three of the biggest challenges for the company are maintaining staffing levels, its ground support equipment that is needed to get the job done, and the rising cost of fuel, Roberts says.
Napa Auto Parts and Carquest help with supplying needed parts to support its equipment needs. PTS Equipment and Tibor's Machine Shop have the expertise to support the maintenance staff to find a solution for just about any equipment issue. Having this knowledge is paramount to the company's fortunes.
Scotia Bank and CIBC First Caribbean International Bank helped find necessary funding and other financial solutions and were a big help to TCA Handling during the first couple of years of the pandemic. TCI First Insurance provides solutions to help protect the company's assets. Other companies support utility and phone needs while the TCI Airports Authority is a partner that houses TCA Handling's facilities and is charged with managing the upcoming airport expansion project that will take place over the next few years.
Finally, the Turks and Caicos government via the Ministry of Education, Labour, Employment and Customer Service for supporting TC Handling's with their local and international labor force along with local schools like Clement Howell High School which has provided several interns for the company in recent years.
"We rely heavily on our many partners to help keep us going," Roberts says. "It literally takes an island and our people to help us be successful."
AT A GLANCE
TCA Handling Flight Services Ltd.
What: The regional authority representing the needs of the country's airports and affiliated services
Where: Turks and Caicos, Caribbean Islands
Website: https://www.tcahandling.com/