Weathershield Limited Jamaica
We will cover you!
Business View Caribbean profiles Weathershield Limited of Montego Bay, Jamaica for our focus on Best Practices in Construction
There is no denying that the island of Jamaica is a beautiful tropical destination, where tourists love to bask in the sun and everyone loves the ideal weather. But there are still times when the rains come and the winds howl – and so buildings need to be built strong and sturdy to protect against the inclement weather. Whether it's new construction or replacement roofing needed due to storm damage, there is one exceptional company that has you covered.
Weathershield Limited was incorporated in 1996 to provide the widest variety of superior quality roofing products and services in western Jamaica, in particular in the region of Montego Bay. Selecting Weathershield Limited will allow you to select the best roofing company in Montego Bay to install your new or replacement roof. For most people in Jamaica, a home is the biggest investment they'll ever make and their most important asset.
Because your roof is the first line of defence from Mother Nature, Weathershield Limited is the proven choice to protect your home. Some roofers talk quality, reliability, and customer service, but the crew at Weathershield Limited proves it first. Just ask their many happy clients. They have a large range of satisfied customers in the community who will attest to the fact that the Weathershield team, with company President Glen Vernon at the helm, is easy to do business with. They personally answer the phone in a friendly manner, give you a precise appointment time, show up on time, give you a detailed proposal, and spend as long as it takes to answer all the questions you may have.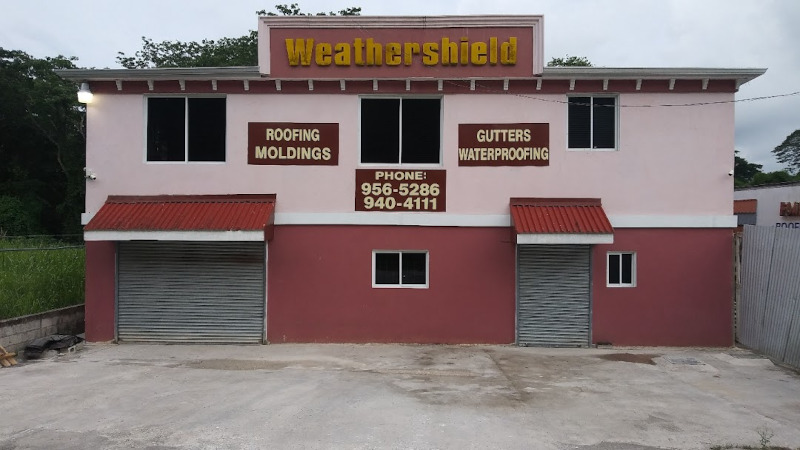 A proud construction material wholesaler and manufacturer in Montego Bay, Jamaica, Weathershield Limited also sells high density polyurethane foam ceiling medallions in many styles and sizes. Exquisite ceiling domes are painted white, lightweight, easily installed, and waterproof and are a beautiful addition to a home's ambience.
As well as being outstanding installers, Weathershield Limited also manufactures seamless gutters, metal awnings, architectural foam moldings, faux coral stones, and much more.
Some of their various projects include enhancements to an apartment block with EPS foam moulding trim around windows and mid-band and lower wall cladding. Re-roofing at Sandals Ocho Rios using clay roofing tiles. Installation of window moldings and seamless gutters at a popular hotel in Negril Jamaica. Applying membrane waterproofing with a torch to stop leaks on a concrete roof. They also did a large project that involved re-roofing Whistling Villa Cardiff Hall. The job required taking off the old metal roof and replacing with it a new, long-lasting, quality metal roof.
Weathershield Limited in Montego Bay takes all the worry away for homeowners and commercial building owners – so you can just relax and enjoy the sun, knowing that when the rains do come… well, you know you're covered!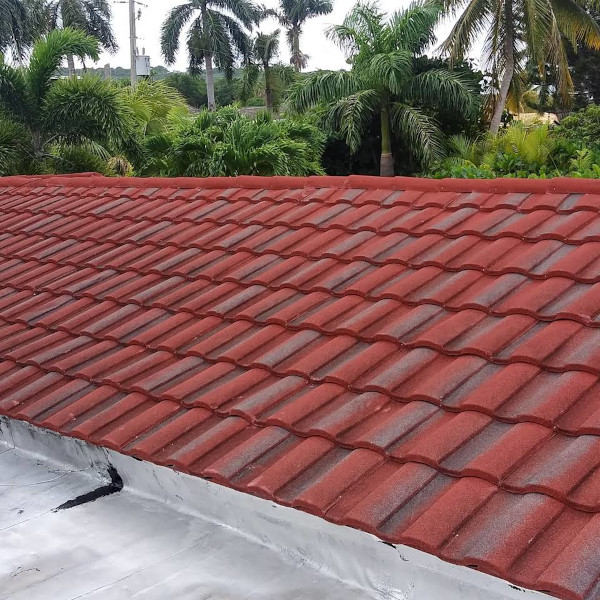 AT A GLANCE
Weathershield Limited
What: Roofing manufacturers and installation contractors
Where: Montego Bay, Jamaica

Englert Inc – www.englertinc.com
Englert is a leading manufacturer of metal roofing and gutter systems. We are built on the core principal of giving our customers the tools they need to succeed. Contact us to find out how we can help you.