Andrews Memorial Hospital
Blessed to serve
Business View Caribbean profiles Andrews Memorial Hospital Ltd. in Kingston, Jamaica for our focus on Best Practices in Healthcare
With health and wellness top of everyone's minds these days, the frontline workers at hospitals and healthcare facilities are stretched to the limit. Yet, remarkably, they continue to give the best care and service – with plenty of genuine smiles for good measure. That in itself is a wonderful cure for what ails you. In the Kingston, Jamaica region, people are certainly blessed to have the outstanding team at Andrews Memorial Hospital (AMH) ready and willing to serve their medical needs, as they have done for the past seven decades.
Established in 1944, Andrews Memorial Hospital is a devoted Christian institution which is owned and operated by the Seventh-day Adventist Church. The 63-bed hospital provides 24-hour Outpatient and Emergency services, in addition to offering in-patient services, a 4-Room operating theatre, a Medical & Diagnostic lab, an Imaging Unit (CT-scan ,ultra-sound, x-ray), a Pharmacy, and a Dental Centre. Additional services include a Maternity Unit and Physiotherapy, plus two recently added specialist services – Breast Surgical Oncology and Cardiac Services. In response to the COVID-19 pandemic, AMH is now providing a testing station for the Rapid Antigen Test and is soon to offer PCR COVID tests.
AMH is strategically situated at 27 Hope Road in the capital city of Kingston. This location gives convenient access to medical care for the commercial business district (New Kingston), as well as the wider community. The hospital is in near proximity to the three main universities in the city – University of the West Indies (UWI), the University of Technology (UTECH), and University College of the Caribbean (UCC). Having an address midway between uptown and downtown also makes AMH easily accessible to a wide range of residential communities.
Business View Caribbean recently asked Herman Wade, AMH Marketing Manager, for some updates on the hospital's recent achievements, innovations in technology, and the future outlook for this exceptional healthcare facility. As you'll discover, the entire Andrews Memorial Hospital team has been working hard through the COVID-19 pandemic; committed to a strong and steady mission of healing.
BVC: How does AMH fit into the big picture of Best Practices in Caribbean Healthcare?
Wade: "The AMH tag line 'Dedicated to healing the whole person' aptly captures the essence of our approach to healthcare. We believe that healing involves treating the whole man! The physical, psychological, spiritual, and social. This approach is consistent with best practices by numerous healthcare organizations and hospitals worldwide."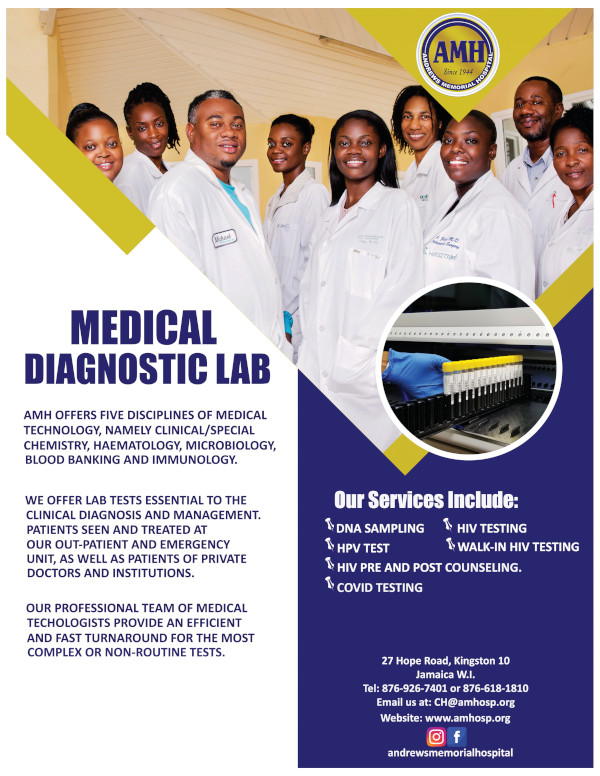 BVC: How does technology help enhance the hospital's offerings and attract new talent?
Wade: "Technology drives everything in healthcare including our Hospital Management System, to sample testing in the Lab, to SCAT scans, to Telemedicine. We are also investing in developing a CAT Lab which will be completed by mid year. All these equipment are driven by cutting edge technology and forms a part of the tools we use in delivering the highest quality service to our patients.
"As a medium size private hospital operating in Jamaica, we are uniquely positioned to take advantage of many emerging developments in healthcare. The flexibility we have to adopt new technologies and mobilize our human resources to respond market trends is relatively easy and not hampered by much bureaucracy. Applicants to our hospital are also open to a wide range of career opportunities and disciplines. Presently the hospital is focusing on the development of its human resources by undertaking a strategic management program."
BVC: How important are strategic partnerships and supplier relationships to your organization?
Wade: "Over the years our hospital has been able to form many valuable relationships and establish meaningful partnerships. These relationships continue to make a significant difference in times of severe challenge such as the Covid-19 pandemic. For example, in the initial stages of the pandemic, sourcing sanitizers was difficult because of market demand. However, because of strong relationships with our suppliers we were able to secure scare supplies from our dedicated partners. We also benefit from numerous referrals by satisfied customers and partners."
BVC: In the area of environmental sustainability, are there any significant green initiatives you are implementing?
Wade: "Our hospital embarked on an energy and conservation drive some three years ago. This effort included an energy audit, the installation of solar water heaters, inverter type air-conditioning units, and the replacement of incandescent lighting with LED.  Water taps were also replaced by special water conserving types. The next phase was intended to be photovoltaic panels. However, the emergence of the COVID-19 pandemic has delayed this venture for now."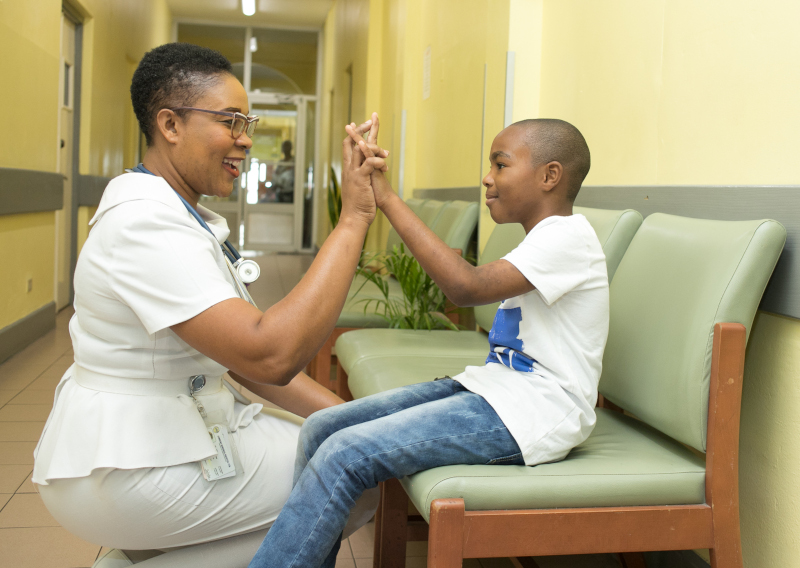 BVC: How do you promote the hospital and the services you provide, and what sets you apart from other healthcare facilities?
Wade: "AMH is marketed through direct corporate engagement efforts. This involves meeting with and encouraging our corporate partners to have their employees use AMH hospital, Radiology and Laboratory services and benefit from membership discounts and value-added services. We also use our website and social media platforms to highlight our services. Radio program sponsorships and spot commercial placements are also used when embarking on special promotions."
BVC: Looking to the future… what are the main goals and aspirations for AMH over the next five years?
Wade: "Technology driven services such as telemedicine and Healthcare Tourism will be given much more focus. Also, the opening of a new CAT Lab later this year will further improve our ability to offer a wider range of diagnostic services. Andrews Memorial Hospital is geared to realize significant growth in the years ahead, as we seek to invest in our workers and the necessary infrastructure that will enable us to provide the best quality care to our patients.