Aquarius Caribbean
Fine foundations for the future
Business View Caribbean interviews Danielle van Lieshout, Managing Director of Aquarius Caribbean, for our focus on Construction in Curaçao
For Aquarius Caribbean, bringing ideas to life is an ongoing mission, accomplished with emphasis on quality workmanship, an exceptional building experience, and trusted client relationships. With 35 years of experience in Europe, and seven years on the island of Curacao, Aquarius Caribbean brings knowledge and expertise in the fields of construction, development, and project management.
As a fourth-generation family company, Managing Director Danielle van Lieshout has recently taken the reigns of Aquarius Caribbean after her father stepped down from his role in the company. She explains, "My father wanted to quit the business, and eventually, in 2020, he decided that it was time to go. He also left Curacao because he said if he stayed, he would keep interfering with the business, and that was something that he didn't want to do. Unfortunately, exactly around the time that he stepped out of the company, we came into COVID."
Van Lieshout admits it was a bit of a rough start because they had to adjust to the fact that her father, and her mother who also helped in the business, weren't there anymore to help with the operations. Today, van Lieshout operates the company alongside Ramiro Balentina, her husband and Operational Manager, and Ferdy Gevers, who was brought in as Engineering Manager in 2019.
Adjusting to the challenges of COVID was difficult for Aquarius Caribbean in the early days, due to the very strict lockdowns on the island. The first eight-week lockdown resulted in the company making the difficult decision to reduce staff numbers by 35 percent. Van Lieshout recounts, "You can imagine that if your business is down for eight weeks, that has a huge impact. When we opened again, we made some adjustments, and then COVID was there all year up and down – we had a curfew in the evening, we had some days that we couldn't work. Then the next year, we had another lockdown for seven weeks. Of course, we were already a little bit adjusted to the new rules, but it was very tough."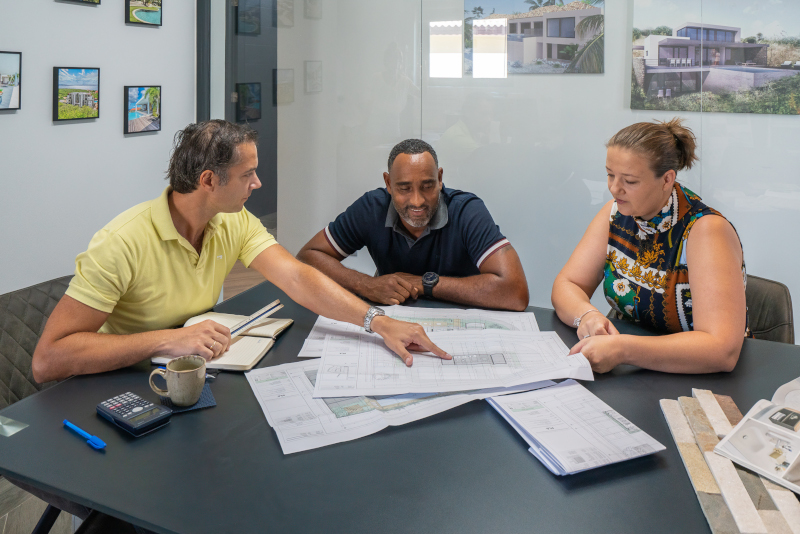 Describing 2020 and 2021 as a very low key time for the business, Van Lieshout reports that 2022 has been much better, with business picking up and all members of staff returning to work, along with several new hires. "We bounced back really good. It was a tough time, but eventually we came out better," she shares.
The next challenge facing Aquarius Caribbean was what van Lieshout describes as "enormous price increases," as a result of shipping issues. She notes, "We live on an island, so we don't have anything here. Everything has to come from Europe or from the U.S., and the prices went through the roof. So, we had to be more creative." Importing larger quantities of materials from Europe and America was one way in which the company was able to manage these material shortages and price increases. Van Lieshout relays, "We look for materials we can buy ourselves, so that we aren't depending on the hardware stores here. Just to be prepared, we are buying in bigger amounts so that we have a little bit of stock and we don't fall short on materials when we start a new project now."
Sourcing goods as soon as possible is another way in which Aquarius Caribbean attempts to avoid shipping delays, which can be costly to the job and aggravating for the customer. With lingering supply and price issues, van Lieshout remains optimistic, although there are times it has been frustrating for everyone. She admits, "The projects that we had in the COVID period were all finished later than we anticipated. Of course, in the beginning, there was understanding from the client, but once COVID faded out a little bit, the understanding of the client also went away. It is very difficult to explain over and over to your client that it is going to take longer because people are sick with COVID, or because there are no materials, or because we have big price increases so we have to wait, or because shipments are not coming in. So, I would say in the last half of 2021, that was a difficult discussion."
As the public has become more aware of these ongoing challenges van Lieshout suggests that clients are better prepared for what is coming and are again showing more patience with delays.
With the majority of builds being residential, Aquarius Caribbean has many clients from the Netherlands, Europe, and North America who are building second homes, retirement homes, and investment rental properties. To keep these clients updated on their projects, some properties are equipped with cameras, one even offering a time lapse video showing the entire build in two minutes. Zoom and Skype are also used to keep people up to date on the progress. "Before COVID, the client would come more frequently to the island during the construction, but now they only come one or two times. So, we send them pictures and we keep in touch with them through WhatsApp, or email, or Zoom," reports van Lieshout.
While technologies such as solar panels and smart homes are seeing an increase in popularity, Aquarius Caribbean enlists the expertise of various suppliers to install these options. The company has many valuable supplier and subcontractor relationships that all play a vital role in its growth and success. Van Lieshout acknowledges, "There are so many different ones because it all depends on the on the client's wishes."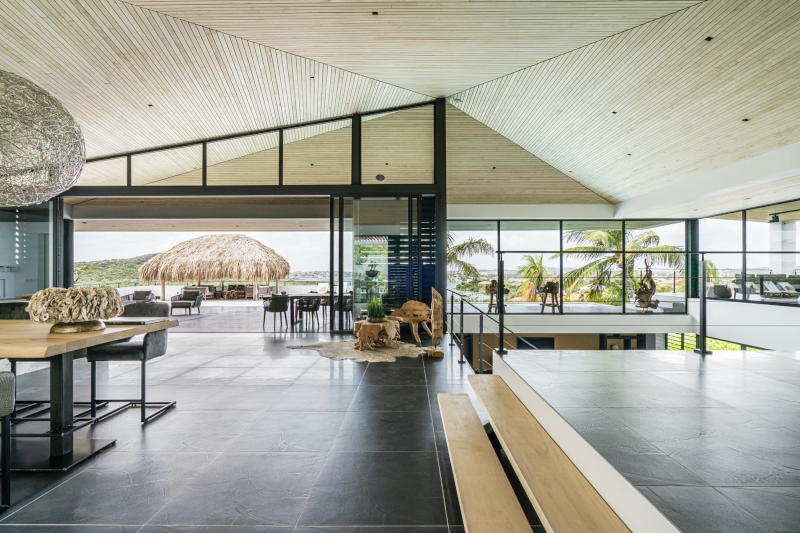 The company does provide a 68-page construction guide to potential clients, in which suppliers and partners were given the opportunity to add their company information at no charge. Claartje van den Bogaard, Marketing Director for Aquarius Caribbean, explains, "You're never building it all by yourself, we depend on many suppliers and partners. So, our guide was free for everyone to get their name in. That was simply for us to say thanks. We are all doing it together, and we are depending on each other."
This exceptionally produced guide offers extensive information on the building process and options, while also including photos of houses of existing clients, which van den Bogaard suggests is a point of pride for many. "They are proud of their homes, and also to see it in our guide," she shares. "If we look at the guide ourselves, we realize that Aquarius makes those houses and they really belong to the most beautiful of the island."
As Marketing Director, van den Bogaard uses social media to share the company's progress and milestones. She explains that the stepping down of the older generation, along with the challenges of COVID have refreshed the company, which is now made up of a much younger team, noting, "We try to use that younger energy to give the whole building and engineering environment a lively and catchy concept through storytelling. I try to translate the dust and the concrete into visions and nice photographs."
As for attracting new clients, word of mouth is the number one marketing tool for Aquarius Caribbean. "We care a lot about relationships with the clients, since in the end, that's our most important lead to another client. We try to do that simply by being there for them, not only in building their house, but also creating their home. I think that's a very important thing," asserts van den Bogaard. Van Lieshout adds, "Some really become friends, because of course, Curacao is a small island and you see each other everywhere. I always say, our main goal in the work that we do is quality. Not only quality in building the house, because a lot of people can do that, but there is also a lot of quality in the communication that we have with our clients."
Continuing to grow the family legacy, van Lieshout offers the metaphor of a house to share her perspective on the company's direction. She describes, "We have a very good foundation with very good walls and a very good roof. With the team we have now it is very important that we design the house and that we fine tune it, and that quality still is our main target in what we do." As for the future of Aquarius Caribbean, she adds, "Within three to five years, I think that Aquarius is a name that everybody on the island will know. We don't want to be the biggest company, but we do want to be the best company, and we want to have the nicest projects – small or big. I think we will really be the name out there. If somebody who doesn't know Curacao asks where to go for a quality house, everybody will say, you have to go to Aquarius, nowhere else."
AT A GLANCE
Aquarius Caribbean
WHAT: Quality residential construction company
WHERE: Willemstad, Curaçao
WEBSITE: www.aquarius-caribbean.com