Baoase Luxury Resort
A legacy of love
Business View Caribbean interviews Thijs van der Valk, General Manager of Baoase Luxury Resort, Curaçao, for our focus on Best Practices in Tourism
Some stories are well worth sharing, and this is definitely one. With its white sandy beach, turquoise  waters and lavish suites and villas, Curaçao's Baoase Luxury Resort was originally built as a personal oasis by owner Ad van der Valk and his partner Bibi.
"When he came to Curaçao, he fell in love with the beauty of the island and its people," says Ad's son and Baoase General Manager, Thijs van der Valk. "He bought a little place on the waterside and created his dream villa, now know as Baoase's Master Villa. Shortly after, he started building five extra villas on the property surrounding a large tropical infinity pool – one for each of his children. He continued creating a truly magical family retreat with a private beach and a beautiful private lagoon.  Whenever he sat on the crane, the development of the property steadily grew into something much more. And then there was a point, and I can still remember that moment, we were all lying in the swimming pool and he was sitting on the crane placing rocks into the sea and he said, 'Ok, it became too big, it might get me back to work', and in that moment, he decided to  continue developing the property into a five-star resort, stating, 'I want to build the most beautiful resort in the Caribbean'."
Baoase now has 23 accommodations, highly decorated by BiBi herself in Balinese style. Lodgings include three garden rooms; three honeymoon suites featuring a private outdoor hot-tub; eight beachfront pool suites with private wrap-around plunge pools and some with a private beach, or access to a private beach area; five Tropical Pool Villas surrounding a large infinity pool; and three private pool villas. The Master Villa, which is the owner's home and Baoase's masterpiece, can be rented on request only with approval of the owner. Baoase also offers the possibility of a vacation on Isla Kiniw, a private island in the middle of the Spanish Waters of Curaçao, which is also rented out on request only.
Baoase is the definition of luxury, with its exquisite villas surrounded by glistening swimming pools and swaying palm trees. The facilities include a private beach complete with beach butler service, a beautiful private lagoon and the use of Kayaks and snorkeling equipment, an outdoor infinity pool which is directly accessible from the terrace of your Tropical Pool Villa, a well-equipped gym with personal training possibilities , spa treatments and massages in the massage gazebo or in the comfort of your private villa or suites, and a personal server service.  Guests can request anything from private beach dining to a private chef for in-villa meals, as well as a private guided tour and spa treatments.
"Of the 23 accommodations, 12 have a private pool, and our five Tropical Pool Villa's surround our large infinity pool," notes Baoase's Director of Sales and Marketing Marlow de la Fuente. With our personalized service, we make sure guests feel the five-star luxury, yet in a sundress and sandals attitude kind of way, because you are on a Caribbean vacation." The resort is also home to the Baoase Culinary Beach Restaurant, named as one of the top 50 restaurants in the Caribbean. Executive Chef Rene Klop provides exquisite breakfasts, lunches and dinners using tropical influences, Asian flavors and his traditional French techniques.
Baoase is located in a residential area of the island, surrounded by lush greenery and crystal clear ocean that creates an atmosphere of total seclusion. "When the gates open there is just a magical sense of the surroundings," de la Fuente shares. "It's really a private hideaway."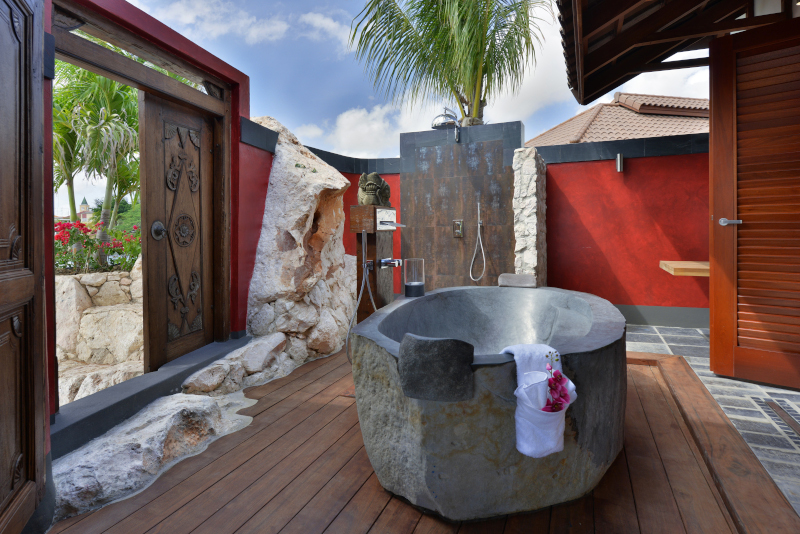 The resort is built around a 75-year-old Banyan tree, known as the symbol of eternal love – a dedication to Ad and Bibi's longstanding relationship. The essence of romance in the air makes it the perfect place for couples to spend quality time together, get engaged, or say "I do." According to de la Fuente, "Proposals and weddings are very popular at our resort because it's such a magical place. Although we offer some packages, what we really do with every guest is sit down with them to get a feel of what their wishes are. Luxury is limitless at Baoase , so we will do everything we can to make our guests' wishes come true. "
Despite its penchant for romantic luxury, Baoase has maintained an at-home family feel and has many repeater guests because of this. It helps that the resort is family-owned and family run. Prior to van der Valk coming on as general manager in 2021, the resort was run by his sister and brother-in-law. He notes, "They accomplished much of what Baoase is now known for. They developed an unparalleled  atmosphere here for both our guests and our staff, which is why we call ourselves a Baoase family."
The van der Valk history can be felt all around – from BiBi island, which stands in front of the resort's lagoon and breaks the incoming waves, to the name "Baoase," which stands for Bibi and Ad's 'oase', which is Dutch for oasis. "We really aim for a personal touch," de la Fuente says, and therefore the family-focused atmosphere extends to our guests, as well. The resort is open to everyone, including couples looking for an intimate getaway and families wanting to spend quality time together. "Being family friendly is part of our philosophy," adds de la Fuente, "at Baoase our guests become  friends and our friends become family."
In early 2020, the COVID-19 pandemic put a halt to air travel from abroad, and even barred guests from the resort completely for three months . But the staff at Baoase made the best of the  situation. "During these unprecedented times, you either sit still or you move forward," de la Fuente says. "I believe most  properties have been trying to do the latter, and so have we. We had to do some major flip thinking."
Within two months the Culinary Beach Restaurant was completely renovated, which created more space for guests. Meal plans were created so guests can now enhance their stay with an à la carte all-inclusive option or a Full American plan option. The resort also implemented a personal server service, similar to having a butler. "Each and every guest has access to a personal server when staying at Baoase," de la Fuente explains. "Basically, this way, our guests are in touch with one person most of the time; either via WhatsApp or in person. Any questions they have, anything they would like to book – activities and tours, massages, dining out or getting their hair or nails done in the privacy of their accommodation – that request is sent out to the personal server and they arrange it with the rest of our team in the back of the house and confirm it with the guest."
The resort also added new eco-friendly initiatives, including the installation of solar panels and investing in infrastructure that will allow them to make their own drinking water. "We need to help the environment," says van der Valk. "We are near the sea, so why not make our own drinking water. We also have a coral nursery. With the help of the Coral Restoration Foundation of Curaçao, we have been planting coral on the outer edges of Bibi Island for the past three years. And I am happy to say that we   see the coral growing back exponentially."
Since air travel resumed in July of 2020, the resort has had many visitors from Europe, and since January 1st, 2021 the island has opened up to all destinations. Slowly air travel is picking up and the resort is welcoming back guests from the U.S. as well. Baoase's private location and wxclusive accommodations, together with their personal server concept means that guests can easily adhere to social distancing measures. That has been a big draw to those who have been stuck inside wearing masks for the past year. "The number of COVID cases on the island remains low, " van der Valk emphasizes. "The feeling our guests have when arriving  on Curaçao and at Baoase is that they can breathe again. Everything feels normal when visiting Baoase which is one of the reasons  why our guests keep coming back to us."
Looking to the future, the goal is to continue expanding the resort, but not too much. "Of course, we want to keep the feeling of Baoase as it is, small-scaled and personalized," van der Valk says. "However, we do have plans to expand with a few more suites in the near future, as well as adding a second restaurant, a spa and another beach area.
"We are the top of the line in Curaçao," says de la Fuente, adding, "We are the only five-star resort on the island and we are unique in the sense that we are very small-scaled and family-owned and there's a great story behind us. Our aim in the next five years is to become one of the top three boutique resorts in the Caribbean and ultimately ending up in the number one position and we will do this by listening to the feedback we receive from our guests and using that feedback to continuously improve our guest experience. "
AT A GLANCE
Baoase Luxury Resort
What: A luxury beach resort featuring 23 accommodations for guests of all ages
Where: Willemstad, Curaçao
Website: www.baoase.com