Developing agriculture through innovative technological applications
At its core, the mandate of the Barbados Agricultural Development and Marketing Corporation is to empower farmers and "agripreneurs" to develop sustainable agricultural enterprises.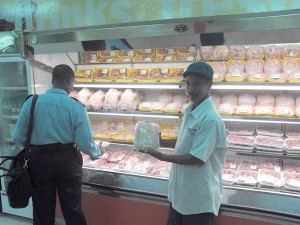 The organization is a statutory corporation of the Barbadian government's Ministry of Agriculture and carries the primary responsibility of catalyzing non-sugar agribusiness in the island nation, which is home to nearly 300,000 residents and is situated roughly 300 miles off the South American coast.
Toward those ends, BADMC's Agricultural Services team offers critical development assistance that includes the Land Lease Program, irrigation and agricultural extension services and the Motor Cultivation Scheme. It also manages several commercial units that aid in the marketing and distribution of local and import-controlled agricultural produce and agro-processed goods.
Among them are the state trading enterprise, meat department and food promotion unit. Its retail operations include Carmeta's Meat Shop in the capital city of Bridgetown, the Duty Free Shop at Grantley Adams International Airport and the farm inputs shops at Fairy Valley and Spring Hall.
BADMC's products include the Carmeta's family of locally grown and processed foods, which include gluten-free flours, pancake mix, beef sausages and burgers, lamb sausages and fresh juices.
The corporation was formed by combining two existing operations – one which was involved in production, the other in marketing – in 1993, with the idea that the overall agricultural sector in Barbados would ultimately be benefited more by a strong unified entity than with separate organizations whose individual financial fortunes weren't necessarily similar.
The pairing was made official on Sept. 1, 1993 and has continued since.
"At first, one was so deep in debt and the other had to fully support that one, and it initially started to crash – but eventually, after some restructuring, it started to work again," said Glendene Bartlett, the organization's Chief Executive Officer. "It still has not reached the potential that they thought it would have reached by now. But we're working toward it."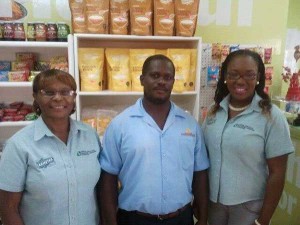 BADMC has its own board of directors and is not technically a division of the Ministry of Agriculture, but nevertheless reports to it as a "parent ministry," she said. Bartlett oversees an annual budget of $21 million, which funds the various aforementioned commercial, retail and administration tasks.
Most of her workdays are typically taken up with land leases – where the corporation negotiates rates and leases land to farmers without property of their own – as well as irrigation services and extension services, which provide crop and production advice to farmers to maximize their outputs.
A unique challenge the sector faces in Barbados, as opposed to other locales, is a high labor cost.
In addition, much of the land that might have been suitable for agricultural pursuits has instead been purchased and reserved for other endeavors because of a higher payoff available to land owners.
"We have set pricing through the unions, so, therefore, we have to have production ramped up to offset the price of the labor," she said. "The cost of living here is high, so the wages and salaries are normally set to meet that cost. Barbados is a very small island, too, and persons have taken a lot of the land out of agriculture, because they can get more selling it to develop to build homes. That's what we are trying to reverse now, because a lot of the land has been allowed to lie idle.
"Most of it does belong to private persons."
And the reality of how agriculture is viewed makes the job of the sector's No. 1 fan particularly tough.
"It's very difficult," she said. "What we've been trying to do is work with the schools, trying to get that mindset in there about how important agriculture is. But it's difficult because I don't think even the politicians see agriculture as that important. They don't connect it to being able to feed its people."
The Land for the Landless program is a government initiative where arable land, both private and public, is made available through lease or license arrangements to bona fide farmers who otherwise would not be able to have access. A range of diverse agricultural projects is encouraged, with emphasis being placed on enterprises with the greatest projected social and economic benefits.
The program is designed to empower Barbadians not only to provide for their families through agrarian reform, especially in rural areas, but also to increase the productivity of value-added agricultural products that will enable Barbados to become less dependent on imports.
Its specific objectives are the procurement and distribution of public lands at Bawdens, Sedgepond, Haggats, Greenland, Turners Hall, Pine Basin and Springhall – as well as private lands at various locations – to establish a database of agricultural land, to facilitate development of communal grazing areas at Turners Hall and Shorey Village and to provide marketing assistance to farmers in the program.
The government has lowered the threshold for land tax rebate and waived the property transfer tax payable by private land owners who make their land available for a period of no less than 10 years.
The lands made available are typically range from a half-acre all the way to 60 acres in size.
"We are aware that there are a number of potential farmers with no land, and the government does have some land," Bartlett said. "It allows them to occupy land and farm the land. We provide some assistance and some services, and then we see what they can produce."
As for the future, the ongoing perception challenge will probably remain the same.
But new technologies, she said, can be made available to farmers to help them change the lingering mindset of farming from a difficult, non-glamorous job to one that provides vital items to people.
"We want to keep pressing on. We're trying to encourage more young people to get involved with agriculture," Bartlett said. "That is key. We're giving the younger people the land and we're having a number of them coming in and they're providing good successes in some areas. Overall, the youth is coming in and we are seeing a light at the end of the tunnel for agriculture.
"In this economic climate, a lot of persons who are out of work will turn to agriculture. And even though the climate is not necessarily good for it in the country right now, we can bring some good results."
________________
AT A GLANCE
WHO: Barbados Agricultural Development & Marketing Corporation WHAT: Statutory corporation of the Barbadian government's Ministry of Agriculture, with primary responsibility for catalyzing non-sugar agribusiness in the island nation WHERE: Corporate headquarters in Christ Church, Barbados WEBSITE: agriculture.gov.bb[/vc_column_text]