Biomedical Enterprises of Trinidad and Tobago Limited (BMETT)
Dedicated to a healthier society
Business View Caribbean profiles Biomedical Enterprises of Trinidad and Tobago Limited (BMETT) for our focus on Healthcare in the Caribbean Region
As a team of fellow-professionals who had been individually chalking up a formidable number of years working in various capacities in the bio-medical field, we spotted an urgent situation developing on the islands of Trinidad and Tobago – namely, medical institutions in the local public and private sectors needed to have access to world-class equipment, systems, and services in order to meet the pressing requirements of practitioners and patients.
Dedicated professional and visionary that he is, our Founder Kieran Thompson issued a signal to his colleagues, who promptly responded with the great news that they too had been thinking along those lines! We all knew what was needed, how to get it, and a host of reasons why we were the best people to fill that need. Kieran immediately began sharpening his own outlook, committing thoughts to paper, and turning ideas into action… and after his pressing the key buttons that would take a wonderful dream into a wonder-full reality, BMETT (Biomedical Enterprises of Trinidad and Tobago Limited) was born in Port of Spain, Trinidad, in 2017.
Our Objective is to offer the Caribbean diaspora a most viable avenue to cutting-edge technology – to enhance capabilities in the Region, to change the level and quality of healthcare systems, and to aid in the prevention and care of prevalent diseases affecting the more vulnerable states of the Caribbean. Our Mission is to: Enhance healthcare by providing leading-edge technology and unwavering support to our frontline partners, enabling them to deliver transformative diagnostics and treatment to their patients. And we have focused our Vision: To be the leading solutions provider for the healthcare sector, continuously adding value through our dynamic network of resources and quality service delivery, contributing to a more progressive industry and a healthier society.
Operations
The merging of factors of our operations with elements of our capabilities gave BMETT its initial shape and its corporate structure. Our early analysis of the medical environment showed us that, according to the Pan American Health Organization (PAHO), life expectancy in the Region ranges over an average of 68/76 (years), males and females respectively. The Global Health Observatory's (GHO's) priority health issues in the Region – including diabetes, heart and kidney diseases among women and children – have been and continue to be an intrinsic reason for the adoption of a proactive stance of prevention and the harnessing of our medical capabilities, through the procurement of the necessary tools and technologies.
Additionally, the Sustainable Development Goals (SDGs) – Geneva World Health Organization 2017 and Associated Global Development targets – cite health as the primary indicator for a progressive society and health equity across the globe. We therefore found that the role and responsibility of medical technology in this international scenario has become ever more significant, as they relate to proactive actions by governments to prevent, cure, alleviate, and control diseases.
From our inception, we were clear that BMETT would be poised to provide the healthcare sector with the latest advances in medical technology, gearing our Company to serve as an enabler to spur change across borders and boundaries, to the benefit of all stakeholders. Then came our major decision to have join us on this mission a number of global partners best described as 'an impressive range of providers who demonstrate the highest standards of engineering and performance'. They include Siemens Healthineers, Infinium Medical, Schiller, Tekno Germany, and IBA RadioPharma Solutions, to name a few. Each brings a stellar track-record of scientific pioneering and innovation, contributing to BMETT's versatile and progressive offering, in support of a happier and healthier world.
Solutions
For Medical Imaging, BMETT offers a truly diverse range of solutions, including our highly specialized portfolio of products from Siemens Healthineers, in areas from: Angiography, Computed Tomography, Digital Fluoroscopy, to Digital Radiography Systems, Magnetic Resonance Imaging, Mammography, Molecular Imaging, and more. For Medical Equipment, we provide cutting-edge equipment (from a number of highly reputable global brands) including Vital Signs Monitors, Cardiac Monitors, Electrocardiograms, Hospital Beds, Pulse Oximeters, Defibrillators, Medical Scales, and Surgical/Examination Lights and instrumentation.
Technology has been the critical fuel that oils our machinery – from the world-class equipment and systems we supply to our customers, to the first-world digital matrix we employ for our internal and external communications. Because of the top-level quality of our technological facilities, we have been able to manoeuvre the standards of our delivery to a relatively safe place during the global COVID-19 pandemic.
Case in point, thanks to Smart Remote Services (SRS)/Remote Connectivity, services that formerly required on-site visits are now available via an online connection. But that's not all. Powered by SRS, we enable our customers to take full advantage of their system's potential. For example, by proactively monitoring their equipment, we can detect parameter deviations before problems occur… thus safeguarding their medical equipment against software attacks, and helping them improve their equipment utilisation and speed up their daily operations.
With Options & Upgrades, we keep our customers' equipment at state-of-the-art levels, and enable them to stay competitive – expanding their clinical capabilities and reducing Total Cost of Ownership. We increase their equipment uptime with services designed around quality, proactivity and availability, so that they may safely manage downtimes for minimised operational disruptions. With our Project Plans, customers receive authorised service parts and minimise downtime by relying on our Parts Logistic Team to transform uptime risk into managed costs, achieving extra operational savings. Our BMETT Applications Specialists walk through all features of the customer's system including turning it off and on, and perform any required quality assurance tests, patient positioning. They also will conduct test-cases demonstrating how to use the equipment for each study type.
Today, healthcare professionals are faced with the increased pressure of improving performance within their medical facility while meeting patients' expectations and operating with small budgets. To avoid errors, careful planning is necessary. Our team is proficient in tailoring each of our diagnostic imaging services to meet and match our customers' needs. For new construction or re-modelling projects, BMETT offers complete radiographic room planning services that best fit the customer's space, workflow needs, and imaging equipment requirements. Our Projects Team is there to assist, from inspection to deinstallation, crating, rigging, transport, importation support, and installation literally from start to finish.
Through leading-edge technologies, and with highly trained and certified engineers, we offer a high-end level of After Sale Service, combined with quick on-site and remote tasks, to ensure minimal downtime and optimum performance of the customer's imaging system. Preventative Maintenance realised on-site and on time ensures the highest performance of a customer's system, preventing unnecessary downtime, promoting proactive and early detection and replacement of faulty parts.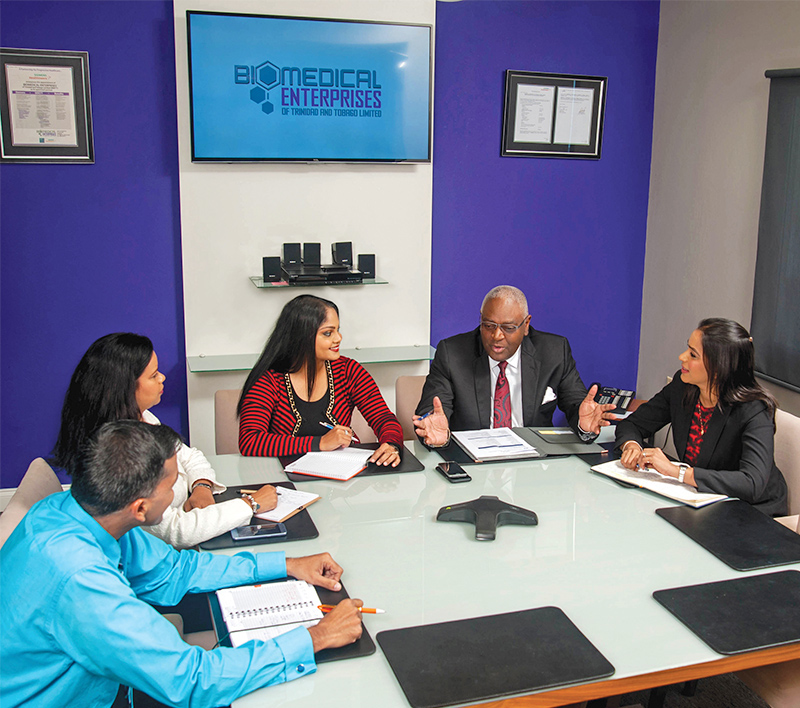 Sustainability & environment
BMETT's definition of 'the environment' goes beyond the 'eco' category and takes in the technological-environment (particularly as it pertains to the health-care sector of our society), as well as our economic-environment, and others. With respect to our eco-environment, BMETT has undertaken to play its part as a responsible corporate entity committed to every practical level of our community's wellbeing. For instance, we've chosen to locate our offices in the midst of a well-known food-basket area of Trinidad with agrarian surroundings, and we've taken care to outfit our building with accents, which aesthetically remind us that human life benefits from a symbiotic relationship with plant life.
Our techno-environment is being taken care of by our comprehensive range of digital equipment, both hardware and software, and is well-managed by personnel trained up to maximize our significant investment in technology. Our economic environment is significantly competitive, but we see our fellow operators not as adversaries but as adjuncts to the many sources of inspiration which keep us business savvy and sharp. Finally, our social environment is where the essence of the BMETT business resides, framed entirely by international highest standards in ethics, integrity, and pin-point principles which govern our policies and practices, in matters from Finance to Diversity, Contracts to Delivery.
Future
In the final analysis, a superb corporate development plan is only as good as the foundation on which it is based. In BMETT's case, that foundation is primarily our personnel – the good people in whom we take great pride.
BMETT is approaching its future using the Six Sigma Methodology, as created by Motorola engineer Bill Smith in the 1980s. The objectives and performance requirements are defined, existing gaps are being assessed and KPIs are set to measure performance. Historical performance and existing processes are to be audited and analysed, and the results will help plot a direction for business improvement. Feedback and control measures ensure the Company's risks remain moderate to low so that success can be reproduced and sustained even in a dynamic economic and social environment.
BMETT is well on its way to business stability and sustainability and is projected to maintain our significant net profitability over the next calculable years. As market conditions remain favourable and BMETT stays focused on performance, the Company will realize the full potential and benefits of the healthcare business.
AT A GLANCE
Biomedical Enterprises of Trinidad and Tobago Limited Ltd. (BMETT)
What: A dedicated provider of world-leading healthcare and biomedical equipment and solutions
Where: Port of Spain, Trinidad and Tobago
Website: www.bmett.com