IMCA Jamaica
running smoothly and leading the competition.
A leading distributor of machine lubricants and leading brands, IMCA Jamaica looks toward expansion.
In the wake of the COVID-19 pandemic, Jamaica has demonstrated remarkable strength, growth, and resilience as it recovers and adapts to a new economic landscape.
As the world grappled with the pandemic, Jamaica's economy experienced a downturn. Still, the resilient spirit of its people and businesses, combined with their adaptability, has been a driving force in the nation's recovery.
The country's ability to pivot and harness technological advancements has been crucial in overcoming the challenges posed by the pandemic. Businesses and individuals alike have embraced change, developing new ways to communicate and conduct their activities more efficiently.
Jamaica's strength, growth, and resilience are evident in its thriving industries and companies. Among these shining examples is IMCA Jamaica, a company that has demonstrated adaptability and a solid commitment to serving the local market.
Jose Sasso, Country Director of IMCA Jamaica, provides insight into the company's history, its niche in the market, and how it has evolved over the years.
"IMCA Jamaica's roots trace back to the Dominican Republic, where Rafael Esteva Menéndez and other important investors founded IMCA Dominica in 1945 following the end of World War II. Initially established to contribute and development of the Dominican Republic, IMCA began by representing two renowned brands, Caterpillar and John Deere with a focus on agriculture, the company expanded its reach and began its Jamaican operations in March 2008."
"In the territory of Jamaica, IMCA Jamaica serves the following markets: mining, construction, industry and commerce, agriculture, and transportation," Sasso explains."We have a Cat Rental Store to rent machines, generators, and other allied products to the market."
With 78 years of experience, IMCA has made a name for itself in the Dominican Republic and Jamaica. In Jamaica, the company's vision is to "execute a sustainable, profitable growth strategy to become a dominant player in the region, recognized as the best-in-class distributor."
IMCA Jamaica represents brands such as Caterpillar, ExxonMobil Lubricants, John Deere Agriculture equipment, Metso Outotec crushers for non-metallic mining, and Kalmar equipment for port operations.
Currently, IMCA Jamaica employs 90 direct employees, a remarkable 98% being local Jamaicans. This team makes up 16% of the total workforce across IMCA's Dominican Republic and Jamaica operations.
Building on their confidence in the Jamaican economy and commitment to customer service, IMCA Jamaica is poised to open a new, modern facility. Jose Sasso explains that the company has entered a long-term leasing agreement with an investment company to build the facility, which will be custom designed to suit their needs.
"We are going to have almost all the things that we need to serve our customers, such as the parts store, offices for sales, product exhibition, a workshop for service, and a warehouse to stock the parts," Sasso elaborates. This exciting development showcases IMCA Jamaica's belief in the nation's growth and its dedication to supporting customers.
IMCA Jamaica's client base is as diverse as the nation it serves. The company provides services to a wide range of customers, from national strategic services such as energy, tourism, and airports to industry manufacturers and infrastructure developers. These clients range from multinational corporations to single-owned businesses, with IMCA Jamaica offering prime mover products maintenance, repair, and rental services.
"Our main activities are machines and lubricant sales, as well as product support, sales and service, and rental services," Sasso says, emphasizing the company's ability to cater to the varied needs of its diverse clientele.
One notable commercial client is the Norman Manley International Airport in Kingston. IMCA Jamaica supports the airport's backup generators, ensuring a reliable system is in place in an energy shortage. Additionally, they occasionally supply maintenance equipment for the airport's runway, such as agricultural equipment for landscaping purposes.
As IMCA Jamaica continues to expand its operations and client base, the company remains a prime example of the strength, growth, and resilience that characterize Jamaica's economy. Their commitment to providing exceptional products and services, along with their investment in the country's future, showcases their dedication to their customers and the nation.
In a competitive market, IMCA Jamaica sets itself apart through the quality of its products, the advanced technology of the brands they represent, and the exceptional service they provide. According to Sasso, these are the key differentiators that position the company above its competitors.
"Our professional team of qualified and certified technicians provides the best solution for our customers," Sasso explains. He emphasizes the importance of helping customers evaluate the real cost-benefit of their investments and the support they will receive instead of solely focusing on the acquisition price.
The move to a new facility further reinforces the company's commitment to offering a convenient shopping experience and excellent customer service. Sasso acknowledges that today's customers are well-informed and discerning, with vast information at their fingertips. This reality necessitates businesses like IMCA Jamaica to provide solid solutions and dependable support to meet their customers' needs.
In terms of their online and technical capabilities, IMCA Jamaica maintains high standards to keep pace with the market's global nature. As a partner to demanding, world-renowned brands, the company is expected to perform at the same level as dealers in the developed world.
"We have to invest in the highest standard of technicians and people working with us to support our customers because we are evaluated and measured by our partners," Sasso says. In doing so, IMCA Jamaica ensures that it receives the necessary tools and support to continually elevate its quality and maintain its position as a market leader in Jamaica.
IMCA Jamaica's long-standing relationships with its customers and partners have been critical to its success. Though Sasso prefers not to mention specific customers without their permission, he does highlight the company's strong ties with major brands such as Caterpillar, John Deere, ExxonMobil, Metso, and Kalmar. These global companies have maintained enduring partnerships with IMCA, with Caterpillar and John Deere's relationship spanning 78 years.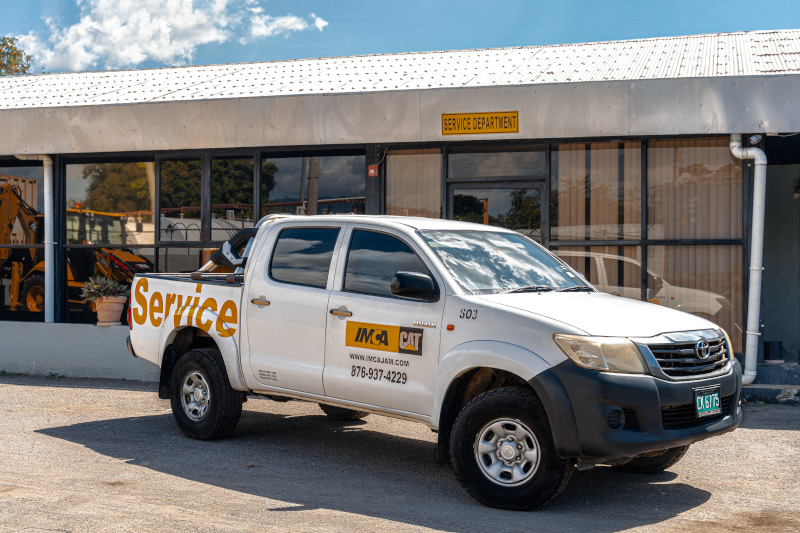 Sasso notes that the evolution of IMCA over time has resulted in the company being one of the top preferred employers in the Dominican Republic. This growth and transformation are guided by the values and ethics that underpin IMCA's long-term relationships with its partners and customers.
Regarding technical infrastructure, IMCA Jamaica utilizes a variety of software platforms to manage its operations effectively. Caterpillar's dedicated Dealer Business System (DBS) allows for interconnectivity and analysis between the company and its dealers. IMCA also employs SAP for its accounting needs and has developed its own customer relationship management (CRM) platform, Click.
The combination of strong partnerships, advanced technology, and a commitment to continuous improvement ensures that IMCA Jamaica remains at the forefront of Jamaica's rapidly growing economy.
The COVID-19 pandemic presented numerous challenges for businesses worldwide, but IMCA Jamaica adapted and continued its operations throughout this difficult period. The company learned valuable lessons about the importance of technology and the ability of its employees to work remotely when necessary. As Sasso points out, technology has become a crucial pillar for IMCA, as the brands it represents are leaders in technological advancements in their respective fields.
Despite the economic downturn and supply chain and employment shortages caused by the pandemic, IMCA Jamaica remained resilient. Sasso credits the company's employees for their dedication and sense of responsibility in supporting customers while protecting themselves and their families during the pandemic. Although the pandemic temporarily slowed business activities, Sasso is optimistic that the recovery process is well underway.
IMCA Jamaica has ambitious plans for the future, focusing on strengthening and expanding its services to further contribute to Jamaica's growth and resilience. Sasso shares the company's short- and long-term vision, stating, "we have to reinforce the rental business" to cater to clients' evolving needs in the construction sector. This move will allow clients to access the necessary equipment without investing substantial capital.
In the long term, Sasso envisions IMCA Jamaica expanding geographically to serve customers across the country better. Currently operating from Kingston, the company is considering returning to the North coast to be closer to customers and seize new opportunities in the region. Sasso explains, "we are seeing growth geographically because we are serving all the territory of Jamaica from Kingston."
IMCA Jamaica's dedication to providing high-quality products, exceptional customer service, and embracing technological advancements make it a powerful force in contributing to the country's growth. With its optimistic outlook and ambitious plans, IMCA Jamaica is well-prepared to continue its positive impact on the Jamaican economy and the lives of its people.
AT A GLANCE
IMCA Jamaica
What: Leading supplier in machines and lubricant sales, as well as product support, sales and service, and rental services
Where: Kingston, Jamaica
Website: www.imcajam.com