Black Ink
Evolution in progress
Business View Caribbean interviews Maxine Miller, Founder & CEO of Black Ink, for our focus on Best Practices in Professional Services
Black Ink prides itself on being a chameleon. The award-winning creative marketing and branding agency out of Kingston, Jamaica is constantly evolving, adding new services and support for its ever-growing list of clients.
"It's just a matter of being flexible over the years, being adaptive, and being a chameleon, taking on the shape, the face and the vibe of your client," says Black Ink founder and CEO Maxine Miller. "With that, from one client to the next, we have gotten recommendations, references, and referrals from existing clients for new clients. And that's how we've grown."
For more than a decade, Black Ink has been going above and beyond to meet its clients' needs, learning, and growing as they go along. Founded in 2011 by Miller, a marketing and communication specialist with more than 15 years' experience, the agency originally specialised in providing marketing consultancy and promotional sales support.
"Little did we know that we would have morphed into what we are now," Miller says. "We started off ambitiously wanting to be a promotional agency that was more aligned to doing face-to-face engagement and supporting our clients with their consumer-facing events. We did so by going into the trade and doing the sampling, the mystery shopping, the field force management component – and we did a pretty good job of it."
Black Ink then took on more responsibilities by doing event execution. From event execution, they moved into PR and IMC (integrated marketing communications), and each time they would take on a new project, they would unleash new skill sets that they would then monetize. So, the company's service range over the years increased. Miller notes, "Our core competencies have increased over the years because of the different projects and the different clients we have been aligned with, and the scope of the work they would task us with."
Today, Black Ink is a multi-faceted company that offers a full range of services to help clients build their brand, increase sales and consumer awareness, and improve their business performance and returns on investment. Services run the gamut from field force management where Black Ink will recruit, train and handle staffing for client's projects, all the way to a plethora of events, integrated marketing communications, and content creation.
"We are a full-service agency from concept to execution, so we do everything," says Black Ink's operations supervisor, Roudian Rowe. "We do everything from the planning stages to execution to the post-event reporting and or analysis. Most of our clients come to us with just a thought, even if they don't have the full idea of what they want, and we do the ideation. It's like putting flesh on a skeleton. We do the proposals and, once they sign off on it, then we go all out as it relates to executing. Whatever their event requires, we make it amazing."
In 2018, Black Ink expanded its repertoire even further, opening up Black Ink Images and Signs Limited. The sister company includes large-format printing and custom fabrication. They acquired top notch machinery with state-of-the-art technology to ensure high-quality results from the design to the fabrication of lit and non-lit signs, banners, retail displays, booths, vehicle wraps, and much more. They are among only a few printers that can print a continuous 10+ feet in high resolution color. Fabrication services can be done using substrates like acrylic, wood, PVC, and metal.
Due in part to the pandemic halting events, Black Ink's printing business has taken off, becoming the forefront of the enterprise. "That became our pivot," Miller says. "What our print and fabrication business allow us to do now is to add the branding aspect of marketing to our clients' needs and to meet those needs for them as well."
Black Ink offers services island-wide, and also service most of the Caribbean region. "We've quite a few clients from Central and South American countries," Rowe says. We have touched every other Caribbean country to date, except Cuba and Haiti."
The company draws on a highly trained and skilled team of creative individuals that specialize in marketing, customer relations, promotions, graphic design and other aspects of the business. They currently have a pool of over 50 support persons they can draw from for promotional activities across the Island. They pride themselves on having a network of suppliers in the other Caribbean markets that they can call on at any time to execute projects mirroring exactly what they have done in Jamaica.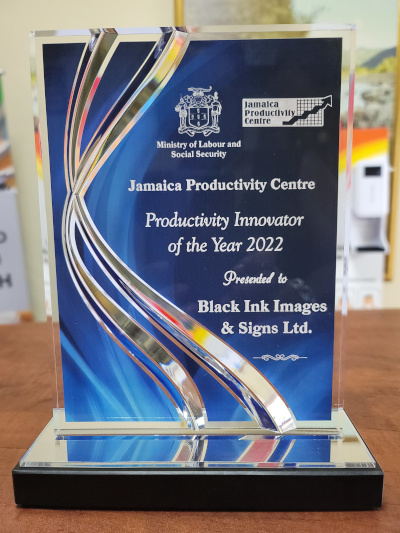 Black Ink is known for executing major product launches and promotional activities. "To do what we do, and do it amazingly, we draw on most, if not all of our internal and external promotional staff. We can mobilize 50 to 60 persons at a time to do simultaneous activations island wide," Rowe states. "That is the kind of employee staffing and reach that we have or can call on at any time."
Much of Black Ink's staff have been with the agency for over a decade, and they pride themselves on being a big, happy family. "It's a family team," Rowe says. The agency's employees are treated with respect and given the opportunity to showcase their ideas and talents. "The process of ideation is a communal process," Rowe notes. "Each person's idea, perception and input are important, of which we all discuss and share. At the end, we agree on what fits best for each client based on their activity brief."
Even on the printing and fabrication side of the business, everyone has the chance to give their input.
"Nobody feels left out of the whole process," Rowe says. "The installers and artisans are part of the whole creation aspect, so that everything is seamless through and through."
Black Ink's dedication to providing their clients with the best and most well-rounded service has paid off. "We've had very good relationships and most of our top clients have been doing business with us for over ten years," Miller says. "We are proud that we have longevity with the relationships we shared with our clients."
As Black Ink moves to the future, they aim to continue to evolve to better themselves for the benefit of their clients. The next big change on the horizon is an expansion and new location. Miller explains, "Expanding is always on our mind. In the heights of COVID, when everybody was uncertain as to what the next steps were, as a faith walker, I decided that we have to come out on the other side of the pandemic stronger and even better. So, we invested in machinery that would allow us to take on even bigger projects. We have bought one of the best UV printer and plotter on the market, to complement what we already have."
"If you want to play with the big boys, you have to have what they have or even better," Miller says. "So that's where we are. We are just as competitive now, as we have the most advanced UV printer on the island. Evolving is always a big-ticket item for this dynamic team."
But it's not just the physical machinery that's getting an update. Black Ink is also looking at how to create new opportunities for their business in a world that has forever been changed by COVID. "We are now looking at how to create new opportunities with what we have. We will be embarking on retail production very soon; we have started to fabricate the prototypes / samples," Miller says. "We have to be flexible, adaptable and, as I said at the beginning, the only constant is change… a chameleon in full effect."
To solidify them further as a force to be reckoned with, Black Ink Images and Signs Limited recently won the "Productivity Innovator Award for 2022," top prize in the corporate category presented by the Jamaica Productivity Centre (JPC), an arm of the Ministry of Labour and Social Security.
"On behalf of the team at the Jamaica Productivity Centre, I take this opportunity to once again congratulate Black Ink Images and Signs Ltd for receiving the award of Productivity Innovator of Year 2022. We believe that your innovation has made a significant impact towards supporting productivity in Jamaica during unprecedented times," said Tamar Nelson (Chief Technical Director) Jamaica Productivity Centre.
AT A GLANCE
Black Ink
What: An award-winning creative marketing and branding agency
Where: Headquartered in Kingston, Jamaica
Website: www.blackinkja.com