Lockhart Realty Inc.
Proudly serving the USVI
Business View Caribbean interviews Gershwain Sprauve, President & COO of Lockhart Realty Inc., for our series on the Strength and Resilience of USVI.
The Lockhart name needs no introduction In the U.S. Virgin Islands. They are one of the most established and best known land-holding families, and one of the pre-eminent and most visible business enterprises. Founded in 1884, by Alfred H. Lockhart, and incorporated in 1936, parent company, Lockhart Companies, Inc., continues to proudly serve the U.S. Virgin Islands, today, in the areas of property management and development, insurance, finance, and community-spirited endeavors. Its three divisions: Lockhart Realty Inc., Lockhart Insurance Holdings, and Lockhart Finance are deeply involved in rebuilding efforts on USVI, following the massive destruction from Hurricanes Irma and Maria in September 2017.
President & COO of Lockhart Realty Inc., Gershwain Sprauve, reports, "It's a very busy time for us. We have about eight properties still under reconstruction since the hurricanes. It's been two years and we're still recovering, and will be much of the year and well into the future. The island is still in recovery mode but we're resilient people. We'd hoped to be further along, but it's a slow process. Living on a small island in the Caribbean, you're detached from the mainland, so everything has to come by air or sea. We depend solely on those modes of transportation for wares, food, and our tourism product. Because we don't build or grow anything here, it's all imported, and we rely on visitors coming to our shores to spend time with us and spend their money."
Tourism has come back in a big way, but many hotel properties, including the large resorts, remain closed. Fortunately, the Airbnb program has supplemented the room inventory. A lot of people who own villas on the island have turned some of their living space into quarters that can accommodate visitors. As such, USVI has become one of Airbnb's hottest destinations because of hotel traffic being down. Sprauve notes, "I travel by plane at least once a month, and they are always full. And not just residents – it's primarily tourists, coming and going. And that bodes well. It shows that people do have an interest in us and what we have to offer and we really appreciate that."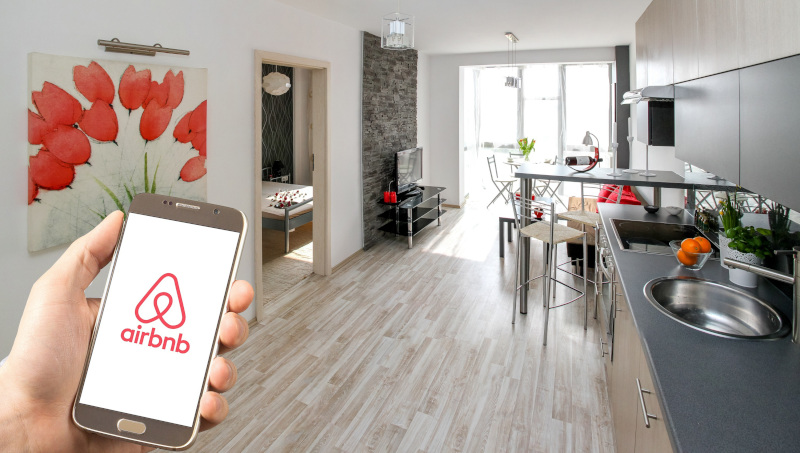 Lockhart Realty's operations include management and development of seven shopping centers on St. Thomas, and one on St. Croix. It also owns and operates commercial real estate parks, where it provides the necessary roads and utilities infrastructure, then enters into long-term leases with selected commercial tenants. In addition, the company owns approximately 400 acres of undeveloped St. Thomas real estate zoned for commercial and residential development. One of the recent additions to the portfolio is an energy company – Vital Energy, LLC. Sprauve explains, "We decided we needed to diversify a little more, especially as it relates to the fallout after the two hurricanes, and the fact that we were without power for such a long time. Energy is a main concern on an island. Our public utility has done its best trying to get us back online as quickly as possible. And we've have a lot of assistance from U.S. energy jurisdictions; some are still here, helping with that recovery process.
"A lot of folks are interested in alternative energy, such as solar, to augment what is available now on the island. The fact that we have properties that lend themselves to that type of development, we are making ourselves available to participate with the public utility and anyone else who would might like to do a partnership or venture in the energy arena. We formed Vital Energy so we could communicate with the public utility. The way they regulate it, we had to be a qualified entity to engage with them in negotiations and discussions on what we can do to participate – whether it's providing land or building something. For us, it's partly about looking at the demand of our tenants; they heavily rely on power and if we can make certain things available to them, as part of an offering, we want to do so."
Lockhart Realty just recently completed different stages of reconstruction on Red Hook Plaza on St. Thomas, which had sustained severe storm damage. All of Lockhart Realty's properties had roof damage – varying kinds of roofs on different building types, and heavy exterior damages, as well. So the company put a program in place to seal envelopes and make certain the buildings are watertight, and to make sure all the roofs are put back, if necessary, and refresh the exteriors. Several contractors were engaged to do the work, because of the number and size of properties and the challenge of finding labor. Sometimes the workforce and contractor base had to be supplemented from the mainland. One company Lockhart used had set up on the island after the storm and will remain there for a number of years.
The difficulty of finding skilled labor is prevalent throughout the building industry. Sprauve recalls, "There used to be a vocational education program within the public school system, here, and absence of that is one of the reasons we aren't producing skilled labor as we should. A number of us have been discussing how we can bolster that. There are some programs we're trying to put in place to, at least, get that back online in the school system, as a source of future skilled labor. Not every kid wants to go the academic route. So it's finding what their interests are and steering them towards electricity, plumbing, masonry, or carpentry – those are all major trades needed to complete projects.
"I'm a Rotarian and my Rotary Club focuses on education, also renewables. Two programs we heavily participate in are a culinary program and also a marine-related program. Being surrounded by water, marine is a big industry for USVI, and trying to get our youth more involved in that aspect of work is significant. There is a huge demand for that pool of talents. Out of the same marine program, we're trying to have a component to create other interests in the trades. It has to be a more collective thing that the government gets behind to make it what it ought to be."

The Lockhart family and companies have been in the Virgin Islands for decades and continue to be a source of strength for the people – as an employer and also as a stable influence that has endured and evolved for decades. The rebuilding efforts Lockhart Realty has undertaken – bringing their various properties back online and refreshing the brand and products – are all to attract investors and investments, new retail and food establishments, and the like, because their centers serve, not only residents, but visitors, as well. In fact, two downtown properties are primarily geared to the tourist market. The others are mixed, in the sense that they lean more to residents with big box stores like Kmart, fast food chains, pharmacies – the staple shops for residents. The property known as Market Square East has the Caribbean Cinemas as a major tenant. Home Depot also resides in that St. Thomas shopping center. And Cost-U-Less – which was completely destroyed in the hurricanes – is actually rebuilding now and expanding, which is a joy to see. People can't wait until they reopen. Completion is projected for November or December of 2019, so that is some very exciting news!
Along with the anchor tenants, the smaller stores have really rallied and championed throughout this whole rebuilding experience. According to Sprauve, "We have barbershops, salons, beauty supply stores, men's and women's clothing stores – a variety of shops owned by locals that cater to residents and visitors. They all wanted to be back up and running as quickly as possible but, of course, right after the storms there was a lack of power. At one of the malls closest to my office there is a barbershop, and I was amazed at how creative those guys were to get their business going again. In some instances you employed a generator or a battery pack, and those guys went down on the sidewalk and started cutting hair. That's really the entrepreneurial spirit. You have to be adaptive and creative in times of crisis and, certainly, that all adds to the resiliency of the people, and who we are, and what we need to do to survive."
In summing up the best attributes of Lockhart Realty and the Lockhart family legacy, Sprauve shares, "We are a company with a vision and a focus on our people – employees, as well as the community at large. We have been here for generations; started out with businesses that were food-related – we even had a lumber yard at one point – and have grown into what we are, today, while serving the needs of the community. Currently, there are Lockhart family members who are part of the organization and major shareholders. And when you start working here, you become part of the Lockhart family. It's a name that speaks well of the integrity of the individuals and a family that has been here a long time and has given back and invested in the community."
AT A GLANCE
Who: Lockhart Realty, Inc.
WHAT: Owns, manages, develops commercial real estate properties
WHERE: St. Thomas, US Virgin Islands
WEBSITE: www.lockhart.com
St. Thomas/St. John Underground Utilities, LLC – St. Thomas/St. John Underground Utilities, LLC is an electrical contracting firm that specializes in the installation, maintenance, and repair of electrical high voltage underground systems. It is also a distributor of electrical products including medium/high voltage components.
The company has been in business for 17 years and is equipped to handle any type of electrical installation or repair. St. Thomas/St. John Underground Utilities, LLC warranties all its workmanship and supplied equipment against defect for a period of one year from final installation. It is a customer- oriented company that focuses on its customers' feedback and needs, with the assurance of quality tech support and competitive pricing. – djregiste@hotmail.com
BDO in Puerto Rico/USVI  – www.bdopr.com
BDO is the world's fifth largest accounting network. BDO in Puerto Rico/USVI is a full service certified public accounting, tax and business consulting firm that provides industry-focused, tax and business advisory services to public and private clients with a novel, groundbreaking approach, being the fastest growing and largest local firm.