Blue Waters Resort & Spa
The perfect escape
Business View Caribbean interviews Kevin Phillips, General Manager of Blue Waters Resort & Spa, for our focus on Best Resort Destinations in Antigua
One of the oldest, most adored destinations on the island of Antigua, Blue Waters Resort & Spa can best be described as, quite simply, enchanting. Its serene setting on 20 acres of paradise at Soldiers Bay, on the northwest tip of Antigua, is a mere four miles from the airport and a short 15-20 minute transfer to the hotel – yet light years away from everyday life.  First-class service, freshwater pools, secluded beach coves, and stunning tropical gardens exemplify luxury living. And those views over the azure waters… heavenly.
Over the years, Blue Waters Resort & Spa has evolved to include 117 rooms (107 keys) arrayed throughout the site in three villas; four, three-bedroom penthouses; 24 junior suites; and oceanfront and beachfront rooms – along with four outstanding restaurants. Much reinvestment has resulted in the modernization of the décor and upgrading amenities, such as lighting, sound system, soft furnishings, and a new outdoor restaurant and a Kids' Club have been added. The resort is spread out over the beautiful landscape, and guests appreciate the feeling that they're staying in a smaller hotel, because it's never particularly crowded. And yet there is no shortage of amenities: 11 swimming pools, three beaches, and four restaurants (Bartley's, the Cove Restaurant, the Pelican Bar, the Palm Restaurant, and Carolyn's on the beach for lighter 'salad' fare). While the beaches are not the biggest, they are indeed "pristine and perfect".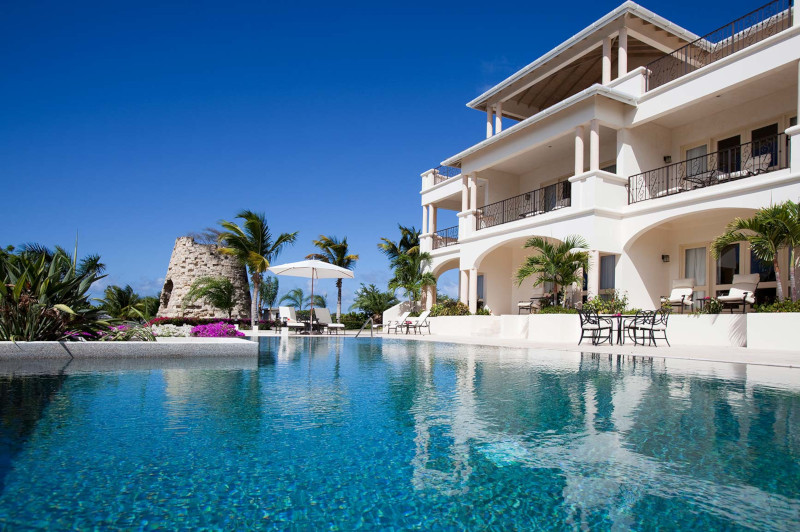 Kevin Phillips, General Manager of Blue Waters Resort & Spa for the last 2 years, shares, "Blue Waters, being family owned, lends itself to a place where right away you feel relaxed. You're not walking into that corporate hotel entity that is very robotic-style in their service. Here, there is a natural warmth, a natural friendliness. And as you exit your taxi and you walk into our lobby, you have unobstructed views of the Caribbean Ocean right in front of you. And the amazing "blue waters" which is why you're here. You're made to feel welcome right away; nothing is put on; there is no showmanship going on. That's one of the great strengths of the resort. Guests often remark that it usually takes them a day or two to get relaxed when they travel to a place. But here, right out of the taxi they feel a sense of calming down, so that's a good thing."
Previously marketed primarily to U.K. tourists, Blue Waters Resort & Spa has significantly shifted focus over the last three or four years to increase the percentage of U.S. business. In that regard, the resort's marketing partner, Karen Bull, has contributed to Blue Waters' success through representation stateside. While statistics show that 40 percent of Antigua's overall tourist business comes from the U.S. and 20 percent from the U.K., at Blue Waters the majority of guests have historically been U.K. visitors. But the resort's marketing efforts in the U.S. have certainly seen an uptick in those visitors (pre-COVID-19).
According to Phillips, "A lot of our marketing is through intermediaries; tour operators and travel agents that are selling us. We promote ourselves as conveniently located close to the airport, so after a long flight you could be on a beach sipping a pina colada in 10 to 15 minutes – which is obviously quite attractive. We have a full website set up; for persons who want to come direct, we are on all the booking channels to reach and penetrate the U.S. market. Before the pandemic, we spent a great deal of time going through the U.S., hosting trips for agents from some of the big American tour operators to come to the resort and become familiar with Blue Waters. We bring them over, set them up with accommodations, have them make use of the facilities and the amenities, so they can go back and promote it to their clients."
Many years ago, Blue Waters was predominately a couples resort that didn't focus on families but that has changed. Today, there is a nice mix of family and adult guests, it all depends on the time of year. Phillips explains, "Outside of school holiday times, we have a lot of couples in varying age groups. From young honeymooners to retirees who are just travelling. In the last two years, we've found the 'blueprint' for making sure that when families come here they have a good time. We have an active Kids' Club with a lot more outdoor activities. Before, we held those indoors quite a bit, so we've added beach football and beach cricket, and we take the kids out fishing and on nature walks and bird spotting… Also, we open our Kids' Club at night in peak periods, so families can drop them off and our attendees will take the kids for dinner and they will come back and play games, watch a movie."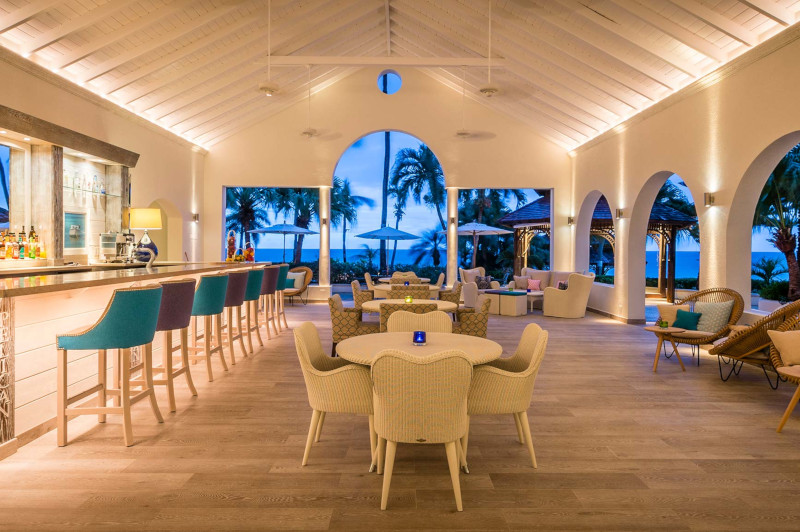 Blue Waters has been in operation for 60 years and returning guests have become familiar with the resort, to the point where repeat business includes the next generation of family members. A good number of guests come back to the resort every year, and the demographic is changing to a younger group, especially from the U.S., who are just looking for a peaceful getaway. Phillips admits, "We focus on our leisure guests, rather than corporate getaways… it's always a tight rope you're walking, where you have a mix of people coming for corporate events and people trying to enjoy a relaxing vacation. Our strategy has always been to try to avoid that. However, we do have packages for weddings; we actually host about 60 to 70 weddings a year."
Blue Waters employees 250 staff members, including 12 gardeners who do an exquisite job tending to 20 acres of lush, tropical gardens. The resort is also a champion of the local agricultural community – purchasing fresh fish and chickens and produce from local farmers. The resort also maintains a herb garden, started in 2019 as part of a sustainability initiative. "Environmental responsibility is something the world is focused on right now," states Phillips. "In that regard, we banned the use of plastic straws resort-wide and we are looking at biodegradable products such as trash liners. And Antigua has banned all Styrofoam, so we now have environmentally-friendly takeout containers."
One of Blue Waters' bigger initiatives is the implementation of a refillable water bottle system. Guests are given a BPA-free plastic water bottle when they arrive and there are water stations set up throughout the resort where they can fill up – no more single-use miniature plastic water bottles. And food waste is given to local pig farmers on the island. Phillips reports, "By the end of 2020, we will have refillable bathroom amenities throughout all the accommodations. Again, to stop the use of all the single-use plastic bottles. These changes have been well received by guests, as long as it's sustainable people are happy to buy into it."
From a technology perspective, guests enjoy complimentary wi-fi throughout the resort, a smart investment made during an upgrade of the facility's infrastructure in 2019. Phillips adds, "We also invested in 2018 in a new property management system called Opera that is quite popular. We use that to manage our reservations and make sure we have a data system for guest information. That helps us to be more proactive as a business and to respond to the needs of our guests. We want to be able to meet and exceed their expectations and the use of technology helps us do that. Especially when it comes to repeat business, because we get feedback from guests that we can plug into our system, and when they return we know exactly what they liked last time, if they had concerns, what are their preferences. And it tracks how many times they repeat, because we're looking to implement a loyalty program where the more time you've spent with us you would be rewarded with nicer amenities on arrival and things of that nature."
Being family run, that close-knit atmosphere transcends into the resort from a staff perspective, as well. Some Blue Waters staff members have worked there over 20 years – and there are even restaurants and bars named after them. Phillips shares, "Our most long-standing employee, Mrs. Bartley, had been with the company for 54 years. Sadly, she passed last year, but our pan-Asian restaurant, Bartley's, is named after her. Just to show how big of a family environment we have, she had already retired from the resort and she still wanted to be part of it, so she used to come to work three or four days a week. She became an ambassador of Blue Waters and worked here into her seventies. And then we have Caroline's Bar & Restaurant – she has been here over 20 years."
There has been significant capital investing done at Blue Waters in recent years, and they are continuously looking for ways to improve. "Investment is always needed in a resort of this size that is really quite spread out," says Phillips. "And all the back of house things that you don't really think of. We have spent some good money front-facing, but we would obviously look at our back of house to see how best it can help with streamlining some of the processes to help us provide a more efficient, effective service to our guests." Speaking to the best reasons for escaping to this Antigua paradise, Phillips notes, "When you come to Blue Waters, you come to a place in the Caribbean that's very laid-back. It's barefoot elegance, and the staff here will be your friends."
AT A GLANCE
WHO: Blue Waters Resort & Spa
WHAT: Award-winning luxury resort destination
WHERE: St. Johns, Antigua
WEBSITE: bluewaters.net

Grant Thornton – grantthornton.ag 
Grant Thornton is the leading professional services firm in Antigua. The Firm was established more than 30 years ago in Antigua and subsequently opened offices in both St Kitts and Barbados.
Our services include: Audit, Accounting & Payroll, Tax, Advisory, Corporate Services and Citizenship by Investment.
We are proud to have provided professional services to Blue Waters Hotel for more than 30 years and we look forward to many more