Fides Limited
Something old, something new
Business View Magazine interviews representatives from Fides Limited, as part of our focus on best practices in the Caribbean construction sector.
Fides Limited was founded in Port of Spain, Trinidad in 2007 by Shane Sagar, a former lawyer who decided that sitting in an office was not his "cup of tea" and decided to start a construction company. The new firm started small, with government contracts for things like drainage projects and retaining walls and grew, over the ensuing years, to include the construction of homes, schools, offices, medical establishments, and community buildings. Then, in 2014, Sagar and his staff saw an undeveloped niche market in Trinidad – the restoration of old buildings. The timing of the restoration projects was perfect, Sagar explains, with the Prime Minister and his Government showing a keen interest in preserving the country's rich architectural history. It was to become a market that Fides Limited conquered with innovation and style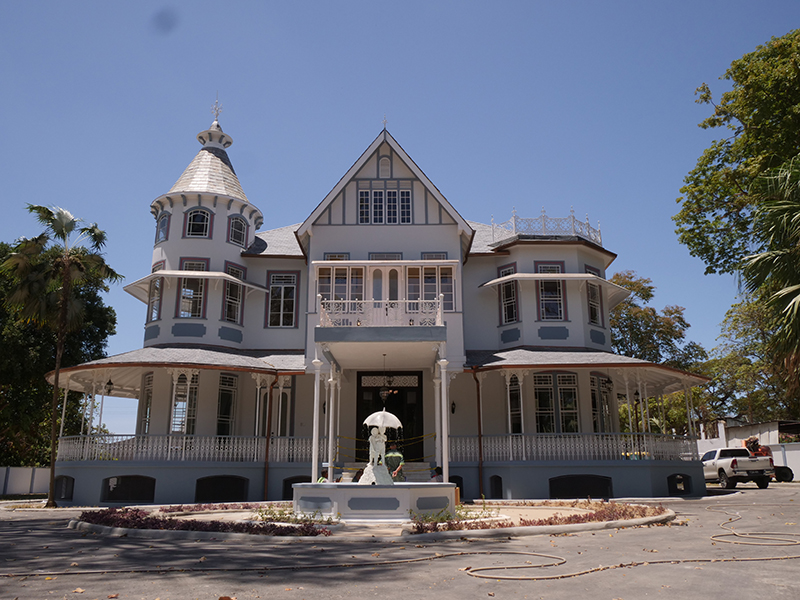 "There were a lot of old, historical buildings, which were left abandoned or in serious state of disrepair," Sagar recounts. "So, we formulated a plan with respect to getting specialty staff in order to get the work done. I decided the best place to look for that was Cuba, because Cuba has a lot of historical buildings and they are known for their restoration jobs. We engaged the Barbados ambassador to Cuba, who put us in touch with some people who we brought to Trinidad, and they started to help us with the preparation and the execution of our first job – the Heritage Library, which was the first library in Trinidad and Tobago, constructed in 1901. One of the main engineers on the job was Yeimer Suarez. His technical expertise and knowledge are invaluable to the company, and he has been instrumental in of all of our restoration projects, since."
Those projects have included work on four of Trinidad's "Magnificent Seven," a group of seven mansions, built between 1902 and 1910, and listed as heritage sites by the National Trust of Trinidad and Tobago, located west of the Queen's Park Savannah in northern Port of Spain, on land that was previously used as a government stock farm. The structures were designed in an array of architectural styles including French Provincial, German Renaissance, Scottish Baronial, Indian Empire, and Moorish Mediterranean styles—often blended with Caribbean architecture. Most were originally built as residences and kept within families for decades; others were used as official government or church offices.
Fides Limited's first restoration job on one of the Magnificent Seven, under the purview of the Urban Development Corporation of Trinidad and Tobago, began in 2017 on Stollmeyer Castle, originally constructed in 1904, and supposedly styled after a wing of Balmoral Castle in Scotland. Next came Mille Fleurs, also built in 1904, and most recently used by two government ministries. Then there was Whitehall, which was begun in 1904 and completed in 1907. Originally called Rosenweg, the building was renamed Whitehall by one of its former owners because its exterior was built using white limestone blocks from Barbados. Between 1963 and 2009, it was used as the office of the Prime Minister of Trinidad and Tobago. Restoration on Whitehall by Fides-Limited started in October 2018 and was completed in August 2019. Currently, the company is working on Queens Royal Castle. Built in 1902, QRC, as it is known, is the oldest secondary school in the country. The company also worked on the Cathedral of Port of Spain, the country's first Catholic Church, built in 1781. Additionally, Fides Limited did all external works, inclusive of monuments at the Red House – which is the seat of Parliament – and President's House, which is home to the country's Head of State.
Suarez says that when working on the restoration projects, he tries to use traditional building materials that match, as much as possible, the architectural and historical aspects of the buildings. "There are instances where we have to be innovative with respect to how we go about restoring," Sagar notes. "There's no way, for example, that you can source the original block, so what Yeimer did was construct blocks from scratch, using the methodologies to match the existing blocks. So, we have done four of the seven. And I don't want to toot our own horn, but I think we are the foremost contractors in restoration because all the projects we have undertaken have come within budget and to the satisfaction of the client."
Today, Fides Limited has about 45 employees and between 100-200 subcontractors depending on its scope of projects. Sagar believes that the company's competitive advantage lies in its emphasis on quality work. "No matter how it may affect the bottom line, we don't compromise on quality on our jobs," he maintains. "Our clients are satisfied with the final results and we strive to give them exactly what they want. We are a business that is founded on integrity. And even though we are a business, we are family-oriented. We take care of our employees and we encourage and motivate them to expand their professional capabilities in order to reach their full potential. Like any family, we support, and we inspire. If they want to proceed with their education, we foot the bill; we are always behind our employees to better themselves."
"And as part of our corporate social responsibility, we have developed a list of initiatives which not only boosts our brand, but also assists those in society," Sagar continues. "Last year, Fides-Limited assisted financially towards the Trinidad and Tobago Centre for Persons with Disabilities, after thieves stole equipment from the centre. And, prior to COVID-19, we were in talks with the Centre about offering an internship program to some of the students there as part of our outreach program. We believe in equality and being disabled should not be a hinderance in accepting any form of employment. We were also in the process of offering internships during the summer vacation to final year students at the University of the West Indies, at the end of which, contractual employment opportunities were to arise. Additionally, Fides-Limited has contributed to sports, sponsoring the National Karate team of Trinidad & Tobago."
Going forward, Health & Safety/Project Manager, Karen Lopez, would like to see Fides-Limited expand regionally. "In the Caribbean, we have a unique and rich history and it's definitely portrayed in our architecture," she notes. "On a lot of islands, such as Barbados, there are a lot of beautiful buildings that, for various reasons, have fallen into disrepair, and I would love to expand our restoration expertise across the region. In that way, we can enhance beauty in the Caribbean and renew sectors of tourism on other islands. With the Magnificent Seven buildings that we worked on, we have seen a huge increase in tourist buses, so it has generated a lot of buzz. And whenever people see me in my hard-hat and company safety vest, they always ask us questions. It's renewing peoples' sense of history. If we can expand that throughout the region, I think that would be an amazing milestone for us."
Sagar adds that the company is also looking to open a branch location in Guyana and is waiting for an official outcome of Guyana's recent presidential election, which is currently in dispute. "We have registered a company in Guyana, and we have located a site for an office," he says. "We are just waiting for a few things to be resolved before we make a firm decision as to when we will enter that market."
Over the last 13 years, Fides Limited has become a firm well-known for its exquisite restoration works, its timely construction projects, and its corporate social responsibility initiatives. With over 1,000 completed projects, valued at over half a billion dollars, the company has become synonymous with impressive construction designs, which capture the essence of its clients' needs. So, whether restoring old buildings or working on new ones, the future of Fides Limited looks very bright.
AT A GLANCE
Fides Limited
What: A construction company specializing in building restoration
Where: Port of Spain, Trinidad & Tobago
Email: www.fides-limited.com