Do It Center Dominica
Getting the job done
Business View Caribbean interviews Ms. Evadney Esprit, General Manager of Do It Center Dominica, for our focus on the Caribbean Construction Industry
Located in Roseau, the capital city of the beautiful island of Dominica, Do It Center is an adaptable, progressive hardware store with much to offer. The store was opened in 2018, one year after Dominica was devastated by Hurricane Maria. The impact of the category 5 hurricane was immense, even for an island familiar with major weather events. Now, four years later, the good news is that most of Dominica has bounced back and is once again a vibrant jewel of the Caribbean.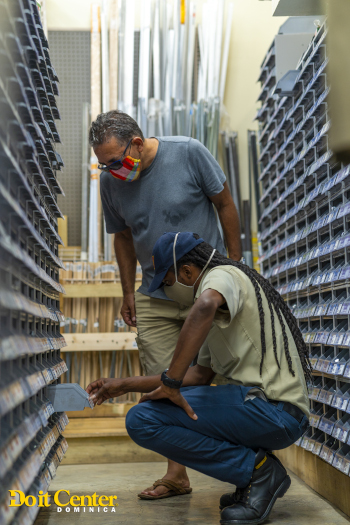 As Ms. Evadney Esprit, Do It Center General Manager, describes, "Overall, we have come a very long way. I would say almost all of the houses that were damaged have been repaired. The vegetation is back to where it was before. The island really looks good now. If you didn't know a hurricane devastated us in 2017, just looking at the island you would not know. The road network is back to how it was, and we are recovering nicely from the hurricane."
Do It Center has been right in the middle of the rebuilding efforts, introducing products to help with the government initiative to be climate resilient. Recognizing the effects of climate change, and the increasing occurrence of life-altering weather conditions, Dominica plans to address this problem proactively. Esprit reports, "The government has put the call out for Dominica to be the first climate resilient nation in the world. Adding hurricane-rated windows to our portfolio will help with the construction side."
Many of Do It Center's 72 employees have been with the company since it opened, which Esprit contributes to the positive work environment. She shares, "The culture here is almost a family unit, I would say. We work hard to make sure the employees are comfortable and happy when they come to work. We have been fortunate in that 90 percent of the people who started with us are still with us. We are creating a culture where employees will want to continue working with us, and even from the outside people would want to work here."
In March of 2020, COVID-19 arrived on the worldwide scene. This included the tiny island nation of Dominica, adding a new challenge for the Do It Center company, and prompting the move to an online store – a move that was already in the plans. Esprit describes, "In August of 2020, we launched our online store so that we could better serve the customers during limited hours brought on by COVID. It was something that we already had planned as part of our growth engine, but we had to bring it on faster than expected because of the pandemic. We just fast-tracked launching of the online store." The company worked with software provider Epicor, using their online store feature to make the quick transition easier.
With the construction sector booming, Do It Center has been fortunate to have remained busy throughout the COVID-19 pandemic. Hardware stores were deemed essential on the island, so adaptions were made to the in-store shopping experience; adding sanitizing stations and hiring additional staff to manage the flow and distancing of customers. Esprit acknowledges that things have changed on the operational side, especially with products such as lumber and steel arriving from the U.S. She notes, "Our lead times have become longer, so now we must plan a lot further ahead. We have been challenged with a continuous rise in the price of commodities-only markets. Lumber, plywood and steel has been consistently increasing. That has been a challenge for us."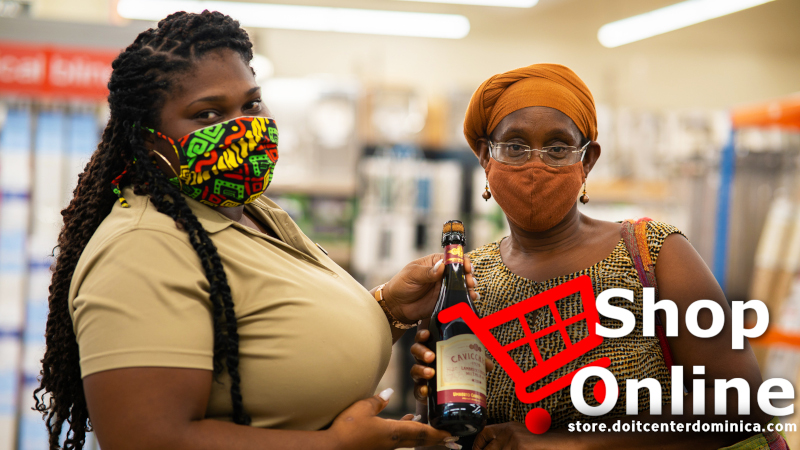 A company loyalty program was recently introduced, offering incentives to create return customers, an endeavor which Esprit believes will be a success. She explains, "The customer will accumulate points for every dollar spent and they can redeem points after they have a certain amount. We are hoping the customers will respond. To be quite honest, Do It Center is the preferred hardware store on the island right now and it is because we offer such a wide range of hardware products. We anticipate a good response to the loyalty program."
Along with the introduction of the hurricane-rated windows, Do It Center has also increased their tile offerings, adding more selection and a variety of sizes and styles. These complement the already extensive product selection, which includes everything from paint, to building supplies, to housewares. "Despite the pandemic, we are still trying to stay within the strategy that we have developed, our plan for the future and the growth of the company," says Esprit. "We have the challenges of procurement, like I said, but we are still trying to bring in new products." Part of that growth plan includes opening a second Do It Center location in the future.
With both residential and commercial projects happening across Dominica, Do It Center enjoys a mixed customer base, with 70 percent contractors, and 30 percent homeowners and DIYers. "We have a lot of commercial work happening because of our Citizenship by Investment program – a lot of home construction is also taking place with that government program," conveys Esprit. Citizenship by Investment is an opportunity which offers citizenship to applicants who meet specific criteria and provide a financial investment starting at $100,000 U.S. The investment must be made to either a government fund, or through the purchase of approved real estate. This program has been active in Dominica since 1993 and has successfully enticed investors to participate in the development of the island.
The Dominica Association of Industry and Commerce is a membership-based organization working with local businesses to facilitate the island's economic development and growth. Not only is Do It Center a member of the organization, but Esprit is on the Board of Directors. She describes what is happening to the business landscape, as some sectors have not been as fortunate as Do It Center, and the building industry in general. "For a lot of members, the pandemic and the effect of reduced sales on businesses is what we are hearing about. It is what many of the members of the association are faced with."
However, there is hope for a quick recovery for the island, as Esprit adds, "Our Minister of Tourism was recently in the news, talking to the stakeholders and asking them to get vaccinated because the cruise ships are looking to come back. We are to begin preparing and getting people vaccinated so that the cruise ships can start coming to Dominica again. Tourism has really taken the brunt of COVID-19."
Looking into the future, Esprit has a vision of where she'd like to see Do It Center. She shares, "Five years down the line, of course, Do It Center will continue to be here. I see us having more employees based on our growth plan. We will definitely have new product offerings for our customers. Right now, we do not have a delivery service, so we are working on that before this year is over. There is a lot that we are looking at to serve the customers better and to position the company into the foreseeable future."
While Dominica continues to grow and rebuild, Do It Center is right there, ready to supply their customers with everything they need to get the job done.