Construcciones Shaddai
Building homes for families to enjoy
Business View Caribbean profiles Construcciones Shaddai for our focus on Best Practices in Construction in the Dominican Republic
According to a "Construction in Dominican Republic – Key Trends and Opportunities" report from ResearchAndMarkets.com, the Dominican Republic's construction industry in 2021 was anticipated to grow by 23.3% in real terms – up from a previously estimated growth of 14.5%. The upward revision is attributed to fast recovery in the first half of the year and a rebound in tourism business confidence, coupled with improvement in the overall economy.
This is good news considering the significant disruptions caused by the Coronavirus (COVID-19) pandemic to the Dominican Republic's economy, with containment measures bringing many key sectors to a standstill and causing a sharp decline in construction output in 2020. In the first half of 2021, most sectors started to recover owing to the re-opening of the economy, coupled with increased vaccination.
The Central Bank of the Dominican Republic (BCRD) reports that the construction industry's value-add index grew by 41% year on year (YoY) in the first six months of 2021. The tourism sector generated 26.8% more revenue in the first half of the year, compared to the same period in 2020, according to the BCRD. In October 2021, the central bank predicted a high annual GDP growth of 16% for 2021.
Furthermore, the construction industry is expected to expand at an annual average rate of 5.8% between 2022 and 2025, supported by the government's efforts to raise investment on transport infrastructure, commercial and energy construction projects. The industry's output over the forecast period will be supported by the government's focus on developing the country's infrastructure. In September 2021, President Luis Abinader launched an urban planning project called 'Santiago 2025', which involves an investment of DOP42 billion (US$715.4 million) on the execution of new infrastructure works in Santiago over the next four years.
All this speaks to the positive momentum building for real estate and development companies in the Dominican Republic. Construcciones Shaddai is a leading firm in that sector, dedicated to the construction of first line apartments. At the same time, they offer design, construction, and works supervision services.
Construcciones Shaddai believes in building houses that, more than roofs or structures, are homes for the enjoyment of the families that inhabit them. They encourage prospective clients to "tell us what you are looking for and we will find the best options for you." The firm is proud of its Dominican Republic roots, and as such is committed to promoting and developing the creation of jobs, making them the main asset of the company.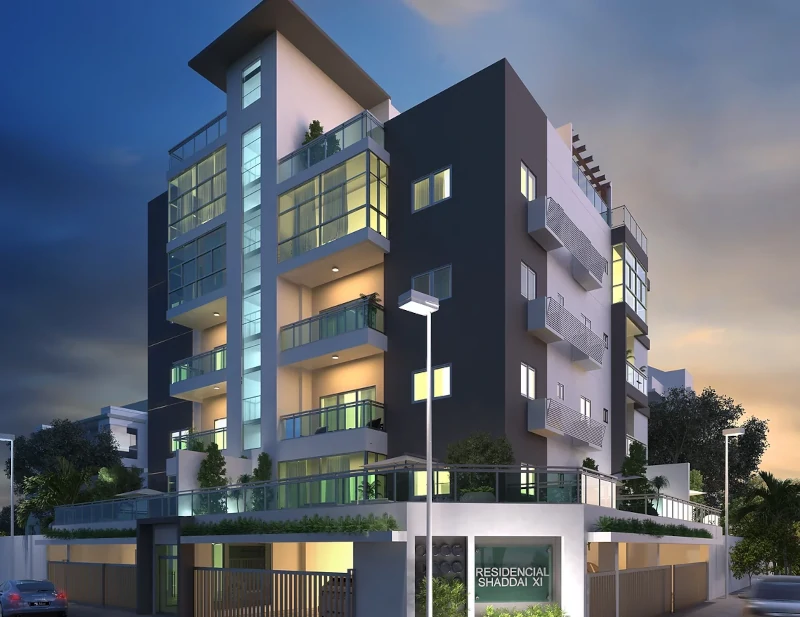 A talented, experienced, and dedicated management team is at the heart of the Construcciones Shaddai business operation. These include: General Manager Augusto Beato, who graduated from Intec with a Diploma in Construction Administration. He brings to the company 18 years of experience in the engineering area. Business Manager William Read graduated from Intec Economics and offers 10 years of experience in Sales and Business. Service Manager Miguel Beato is a marketing graduate from the Catholic University of Santo Domingo with a specialization in Sales and Commercial Management and 18 years of experience in customer service. This strong leadership trio use their skills and passion to inspire the rest of the Construcciones Shaddai crew to do the very best work possible.
According to Read, "Augusto Beato, our General Manager, started the company from scratch 18 years ago doing small residential projects in a very good area here in Santo Domingo. He built his reputation based on outstanding customer service. From the start, he knew that he wanted to develop good client relationships. People started noticing the quality of his construction – and the company grew quickly over the next 14 years. Today, the firm's stock ownership is split, with 50% Augusto and 50% my dad, who has 30 years experience as a banking executive in some of the biggest banks in the Dominican Republic. He had known Augusto for years and wanted to invest in the company, so in 2017 they partnered and started Shaddai XI. That's when I came in, on the 11th project. We continued to grow and build on the brand that was already made by Augusto."
Targeting the upper middle class segment, the company doesn't go to the luxury side but are always trying to build up more value for people. "That is a priority for us," says Read. "We just don't compete on price. We are always a little bit above market price but we work for our value to go way further. We offer the amenities but it's also the execution of the work. Miguel, Augusto, and I each live in a Shaddai, in one of our projects. When you live here, you see the quality finishes and materials, the high ceilings, the LED lighting, the sense of spaciousness, the attention to detail – we want to give you more than a place to live… a place that feels like your home."
Residencial Shaddai XI is an exclusive residential complex with 12 apartments in the unique sector of Los Cacicazgos, comprised of 2 and 3 bedroom apartments with porcelain floors, granite and oak kitchens, plaster ceilings and LED lights in the living room and main room. The ideal location is just steps from Mirador Sur Park. Among its other amenities are a social area and jacuzzi on the terrace, intelligent lighting and security system (Smart), a power plant, air conditioning in the apartments and lobby, as well as covered and individual parking spaces.
TOWER Shaddai XII is a beautiful modern tower features 15 apartments in the Bella Vista sector, 150 meters from Downtown Center. Each 1, 2 and 3 bedroom apartment has granite and oak kitchens, plaster ceilings, LED lights in the living room and main room, and a balcony. In addition, Shaddaii XII offers a social area with covered section for events, as well as a bar and jacuzzi. Other features at this exclusive location include an air-conditioned lobby, intelligent lighting and security system (Smart), a power plant, and covered and individual parking spots. Not surprisingly, Residencial Shaddai XI and XII are fully sold out.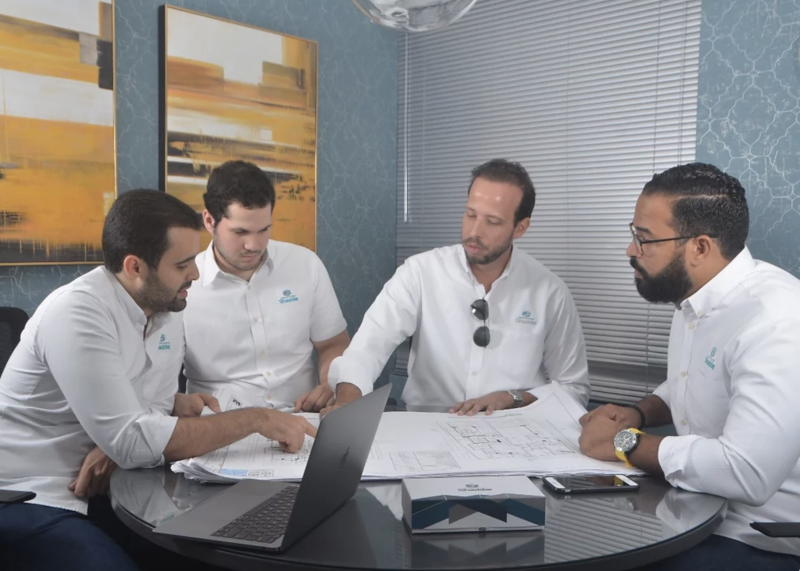 TOWER Shaddai XIII is even more exciting. The eight-level tower offers 28 apartments with 1, 2 and 3 bedrooms, in the Mirador Norte sector. Highlights include a security system and video intercom; social areas equipped with Jacuzzi, BBQ area, and gym; air-conditioned lobby; 2 levels of covered parking; 2 latest generation elevators; a full power plant; and a common water well. The apartments feature high-end porcelain floors, modular kitchens, precious wood doors, pre-Installation of air conditioning, and bathrooms outfitted with porcelain. TOWER Shaddai XIII is over 75 % sold and is still eight months away from completion, but not to worry – there are many more opportunities for home ownership on the horizon, with Shaddai XIV and others on the way.
Construcciones Shaddai projects depend on excellent, reliable suppliers to maintain their reputation for quality. Marmotech is a major name in quality finished goods that Read describes as, "a great partner. We do the kitchens with them, the countertops, everything we can buy from them, we do. They are our number one option. They are very well recognized for quality and they stand by their brands, and they're very innovative. They are one of our principal suppliers and the people that we trust."
As a company that is very much focused on service after the sale, Construcciones Shaddai has a huge amount of repetitive clients that have been buying from them and investing with them for years. Read says they are "informed buyers." Industrywide in the Dominican Republic, the majority of purchasers are Dominicans living abroad in the U.S. who want to invest in their own country, where it is more affordable. The idea is to rent out the apartment as an Airbnb but also have it as a place to come in Santo Domingo for a vacation.
Looking to the future, Read shares, "As a company, we want to grow and do taller, higher volume projects. Of course, there is some very good competition here, so a lot of options for people to choose from. And it's great for the consumer to be able to compare. But we want to go a step further to differentiate ourselves by the long-term value we bring. We want to sell a lifestyle within our projects – to keep on innovating and make our mark in the market. And to have people know and appreciate what we create."
Construcciones Shaddai has a passion for its work and its people and a strong vision for the future – to be a leading company in the area of construction and real estate, serving as a key piece for the growth and sustainable development of the country. The company's core values of honesty, service, integrity, respect, and pursuit of excellence will serve them well on their path to continued success.
AT A GLANCE
Construcciones Shaddai
What: A development company specializing in construction and real estate
Where: Based in Santo Domingo, Dominican Republic
Website: www.construccionesshaddai.com