Delfins Beach Resort
Luxury in Bonaire
Business View Caribbean interviews David Rietveld, GM of the Delfins Beach Resort, as part of our focus on best business practices of Caribbean resorts.
The Delfins Beach Resort is located on a 200-meter stretch of sandy beach at idyllic Punt Vierkant (Dutch for "square point"), in the south-western part of Bonaire, an island municipality of the Netherlands in the southern Caribbean. The resort opened in November, 2017 with 84 luxury apartments in various sizes, all with stunning views and equipped with high-end amenities.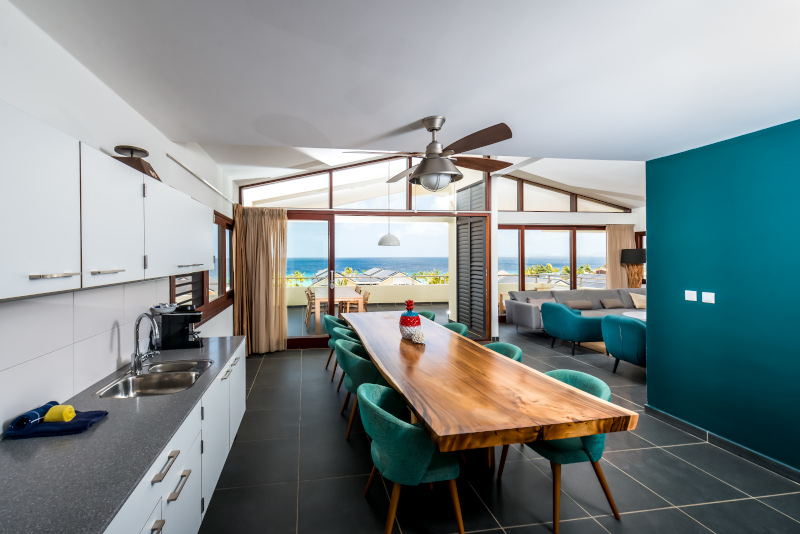 The resort was built on one of Bonaire's most natural and picturesque locations and its architect, Dick Barkuis, sought to preserve the natural elements and build around what nature created. The coastal strip features some ruggedly shaped volcanic "fingers" protruding into the sea, and a so-called "blow hole" from which impressive jets of sea water spray are ejected at regular intervals. The premises are surrounded by lush green gardens with a large variety of palm trees.
In the center of the property is a large apartment building with studio, one, two, and three-bedroom apartments, all with expansive views of the Caribbean. There are also 13 villas, with either three or four bedrooms. Situated directly on the palm beach is a 3,800-sq.-ft. magna/mineral pool, Bonaire's largest, with an "island" with lounge seats that can be accessed via stepping stones. The resort also features the Brass Boer restaurant, created under the watchful eyes of Dutch culinary geniuses, Jonnie and Thérèse Boer, as well as a 5-star PADI diving school with its own expansive dive pier. The restaurant with outdoor kitchen and direct ocean front terrace, along with the scuba shop, are housed in a renovated and expanded former villa. This charming building has retained its original identity, in architecture as well as colors and materials. On the seaside, the beach descends so gradually, one can easily walk into the sea.   On the restaurant side, guests can enjoy a romantic dining experience with views of the waves crashing into the coral seawall.
David and Cisca Rietveld are the married couple that came to manage the Delfins Beach Resort over a year and a half before it opened. "So, we had some influence on the way the restaurant was being built, the way reception was being built, and all the facilities of the resort like laundry, maintenance, and housekeeping," says David. "Cisca does the administrative part and I'm doing the general management. We have 90 employees, now, and we're still growing."
Also growing it the resort's guest list, most of whom come from Holland and North America; last year's occupancy rate was 78 percent, and this year, it's 81 percent, to date. David attributes those good numbers to several factors: "One of the main reasons is that we are a brand new resort and the other resorts on the island are a tad older. That's important," he explains. "And the way it's been built is totally different than the rest. It's spacious, transparent, open, and high-end. This made the first year really successful. Also, there's the cooperation with Jonnie and Thérèse Boer, the management couple of the restaurant. They're doing the management from Holland; they have one of their colleagues working here, but in Holland, they own a Three Michelin Star restaurant, and they're 34th place on the Best Restaurants in the World. So, this gave us really good publicity in Holland."
That resort's initial success has fostered plans for more physical growth, as well. "We are building the resort in phases," David notes.  "We have a 200 X 300 meter piece of land. The 200 meters are oceanfront, and the 300 meters are to the back. We agreed that we would start with 84 units, a restaurant, a beach bar, the beach, and a beautiful swimming pool. The next step, based on the success we had, is whether we would build another part. For, now, we really need the 32 studios we are currently building. When this is done, we will immediately start with a new pool, a fitness center, conference rooms, another restaurant, shops, and some extra office space. If this is done, another 32 studios will be built, as we anticipate that we are growing even more. We are also investigating whether the last piece of land we have available will be suitable for time share."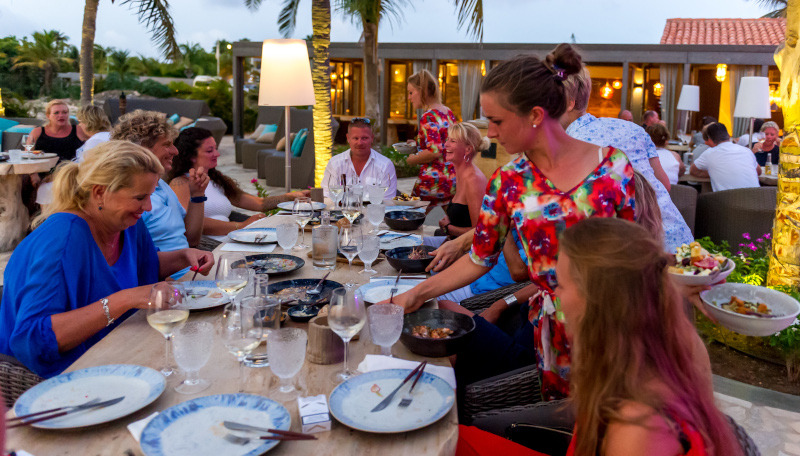 Regarding the resort's marketing initiatives, David says that, currently, the resort reaches out to various niche markets – wedding parties, divers, fans of wind and kite surfing, etc. –  all the types of visitors who are generally attracted to Bonaire's stunning natural beauty and welcoming climate. But he is also investigating other areas, as well, such as medical tourism. "I'm looking into diversification," he states. "For example, the 32 units we are currently building are available for disabled people, too, especially disabled divers, which is a niche market here and I think we can support these groups to come to Bonaire by building suitable units for them. Conference rooms would give us another targeted group, and the fitness studio will attract another targeted group that wants to have some kind of exercise when they go on holiday. So, by diversification of the targeted groups, and building facilities for them, we hope to fill all the rooms we are going to build."
While planning to grow, David asserts that the Delfins Beach Resort will not turn its back on the people of Bonaire, nor on the island's ethos of sustainability and environmentally-sound practices. "We make an effort to find businesses here on the island to buy from, and we try to employ people from the island," he avers. "We also try to be as green as possible with investment, for example, in our solar panels on all the roofs we have available. And we are looking into catching the wind with special windmills now in development in Holland. There are all sorts of things we try to do to be as sustainable as possible, like the water we use to rinse the laundry is re-used as the first rinse for the dirty laundry. Our main goal would be to have our carbon footprint be zero, while being energy neutral, not only because energy costs are very expensive here on the island, but also because of the environment. Bonaire is beautiful with lot of protected reefs and nature and it's the reason why people come here. As a resort, we should be doing our business here as green as possible. We need to preserve all we have here for future generations, so that we can have our business for future generations."

TELBO – www.telbo.net
TELBO is Bonaire´s leading communications and media provider providing a complete range of innovative services to residential and business customers. TELBO delivers fixed line telephone, high speed internet access, IPTV with the highest quality using our exclusive optical fiber infrastructure and mobile service under the brand name Kla mobile.