Do It Center Dominica
Your partner in home improvement
Business View Caribbean interviews Ms. Evadney Esprit, General Manager of Do It Center Dominica, for our focus on Resilience, Strength, and Growth of Dominica.
Do It Center is on a mission to change the landscape of hardware shopping and lumber yards in Dominica. In November 2018, well-known Dominica businessman, Karl Nassief, opened Do It Center (DIC) as a one-stop shopping center, catering to DIYers and contractors; embracing the motto "Your partner in home improvement." Karl and the Nassief Group of Companies, owners of Auto Trade, KFC, Fine Foods Inc., and several other successful local businesses, chose to locate Do It Center along the Edward Oliver Leblanc Highway on Goodwill Road in Roseau – the site of a previous commercial building that was devastated by Hurricane Maria.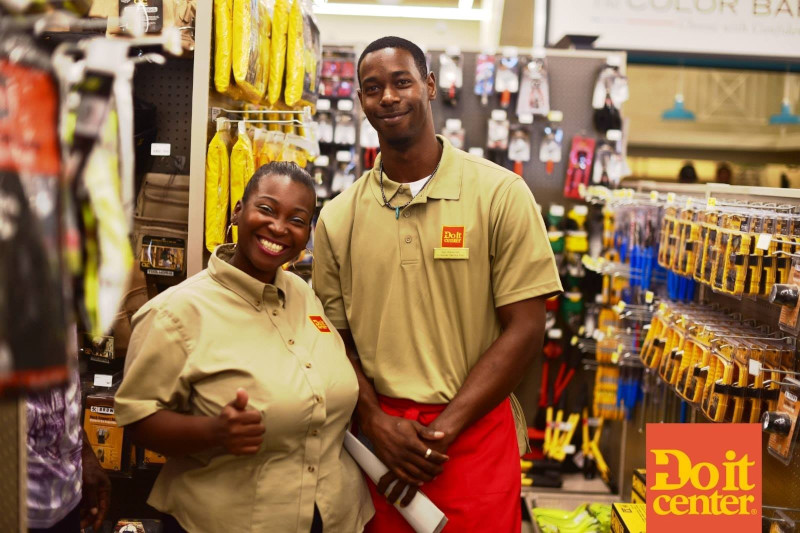 Ms. Evadney Esprit, General Manager of Do It Center Dominica, explains, "We are a new business – the owners had a hardware store before, but it was destroyed by the hurricane in Sept 2017. After that, they decided to sign up with the U.S.-based Do It Best company that is headquartered in Fort Wayne, Indiana, and our Do It Center was opened in Nov. 2018. It has progressed very good in this first year. As a hardware store, we carry everything from A to Z. It's the only one of its kind on Dominica. The opening was very timely with all of the rebuilding that's currently happening on the island after the hurricane."
Dominica's state of recovery from a rebuilding perspective stands at about 90 percent and many of the residents that left the island after the hurricane have returned. Building supplies are in huge demand. The quintessential hardware store and lumber yard, Do It Center stocks a wide variety of hardware and home supplies to fill that demand, including: Hand Tools, Power Tools, Interior Décor, Plumbing Supplies, Electrical Supplies, Building Material, Lawn and Garden Supplies, Home Goods, and Paints – for homeowners with a single home project, as well as local and foreign contractors. There are currently many foreign donor agencies and contractors involved in rebuilding projects on the island. If DIC doesn't have certain items in inventory, they will special order them to keep the projects going. In addition, Do It Center has an instore Pro-Desk Coordinator – a dedicated team member that contractors can call to place their order and inquire on product availability. Other contractor benefits on offer include store accounts, discounts on purchases, and payment terms.
Building contractors are presently working on several major construction jobs in Dominica: The Tranquility Beach Resort is being developed, and government housing projects are ongoing across the island. About 70 percent of DIC's customers are contractors and 30 percent homeowners. Esprit reports, "We have a lot of contractors and that keeps the revenue flowing in a number of different projects at the same time. We have about 50 employees, and one location (for now) in Rosseau. Being part of the diverse Karl Nassief Group of Companies affords us resources that others probably do not have, so we could expand in the future."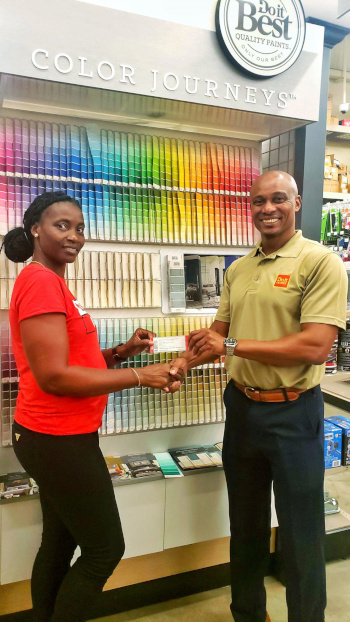 Employees are very important to the success of the business. DIC treats its team with respect, offers staff training, a friendly work atmosphere and, in turn, customers receive the best service from people who love their jobs. Do It Center Dominica has access to all the Do It Best brand training materials and initiatives to use in its own employee training process. The DIC Human Resources department also conducts training. All the current employees are new – hired when the store was opened – and the company has invested a lot of time and money in making sure they are knowledgeable and well- prepared to serve customers.
Inventory is primarily imported from the U.S., with smaller amounts coming from China, Europe, and the U.K. Not surprisingly, shipping poses one of Do It Center's biggest challenges. Esprit admits, "The long lead times, not having goods readily available – these are worrisome. We have to plan purchasing, carefully, so as not to run out of product. For example, it will take 75 to 90 days to get a shipment out of China. And it may be longer depending on the shipping schedule, so there is a risk that we'll run out of product for our customers. We have a 45,000-square-foot building on two levels (shop floor and warehouse) and we a large inventory of lumber, steel, roofing materials, and cement in individual bags and in whole pallets."
With being so new on the retail scene, Do It Center is trying a variety of marketing channels to see what works best. According to Esprit, "We have an active Facebook presence with great comments from customers about the excellent service. We do not have a website yet, having only been open less than a year, but we do radio ads and we have a lot of customer referrals. We also belong to the Dominica Industry and Commerce Association. Being part of the Do It Best parent corporation, they have been very supportive in getting the store designed and set up, giving us the training that we need. That was very critical in us opening in such a short space of time because they already had a road map to help get us off the ground. We started the building in March 2018 and within seven months we had the structure up and the store laid out and we opened in November. Our buying group in the U.S. is really the best support in getting our hardware here."
Looking to the future, the company's priorities and objectives are clear and resolute: to continue to grow and provide the services for the general public of Dominica, and expand to respond to the needs of the country. "That's really what the future holds for the business," says Esprit. "We have very good technology; we have a great POS system that manages our inventory and accounting. The technology is also such that we can communicate with Do It Best; we prepare purchase orders on our software and it communicates directly with the warehouse in Miami. So we don't have to fax or email our orders in. We have spent time and made the investment in technology. We have scanners for receiving. We can look up prices on our phones, and how much of an item we have in inventory, so we can serve the customers as efficiently as possible. As for growing product lines, we currently do not carry decorative tiles but I think it is a requirement for any hardware; something that the clients want and look for. So, we have started placing orders and will be offering tiles for our customers a few months from now.
"My background is in finance; I'm a chartered accountant by profession and I've worked with Karl Nassief for the last several years, so I was already part of the Nassief Group of Companies when I made a career change and became the GM of Do It Center. It's been very rewarding to see the resilience here. We've made a lot of progress since the hurricane with the rebuilding process. From an individual standpoint, and a company standpoint, and from a national standpoint, we've made a lot of progress. Dominica is strong and moving forward and we are proud to be a part of that."
AT A GLANCE
Who: Do It Center Dominica
What: Premier home improvement supply store
Where: Goodwill Road, Roseau, Dominica
Website: eesprit@doitcenterdominica.com