GH Construction Co. Ltd. (GHC)
Beautifying Barbados
Business View Caribbean interviews Gerren Hopkin, General Manager of GH Construction Co. Ltd., for our focus on the Barbados Construction Sector
When it comes to bespoke, high-end custom builds, GH Construction Co. Ltd. (GHC) is the best of the best in the Barbados luxury home sector. Headquartered in Holetown, St. James on the west coast of Barbados, the GHC team has been beautifully enhancing the island's residential landscape since 1986 and has weathered many a storm – both physical (hurricanes) and fiscal (economic downturns) with determination and skill and pride in a job exceptionally well done.
Gerren Hopkin, General Manager of GH Construction Co. Ltd, addresses some of the challenges currently facing the industry in Barbados. He reports, "With COVID, generally, you have the rising costs of doing business and, in particular, the inputs to construction which most of us do face in this region. Particularly in Barbados, we have a shortage of sand for the purposes of construction because it's illegal to take sand from the beaches to mix and create concrete, mortars, any cementitious products." Instead, the sand is quarried. The main source of sand in Barbados, Walker's Quarry, has now been completely depleted and the private sector has been forced to import sand from Guyana.
"As you can imagine, that has caused the price of sand to skyrocket," Hopkin admits. "Everything ever built on this island was made with mortars or concrete from sand that was quarried in Barbados and now there is none of that left. On such a small island, it's cause for major concern. You're relying on a small number of aggregate producers and there are two main companies that are importing it now – one of those is Ready Mix. We have a great relationship with Ready Mix, they've been providing us with concrete for the entire history of our company. That's 36 years, which is very long time for a construction company on this island."
The rising cost of construction is a big cause for concern for GHC and with the strength of the sterling declining in the U.K., Hopkin says they are starting to see signs that people might not be as interested in building high-end homes as they were before. He adds, "Also, there aren't as many government-funded jobs as we would have expected here. So there are a lot of challenges for cash flow."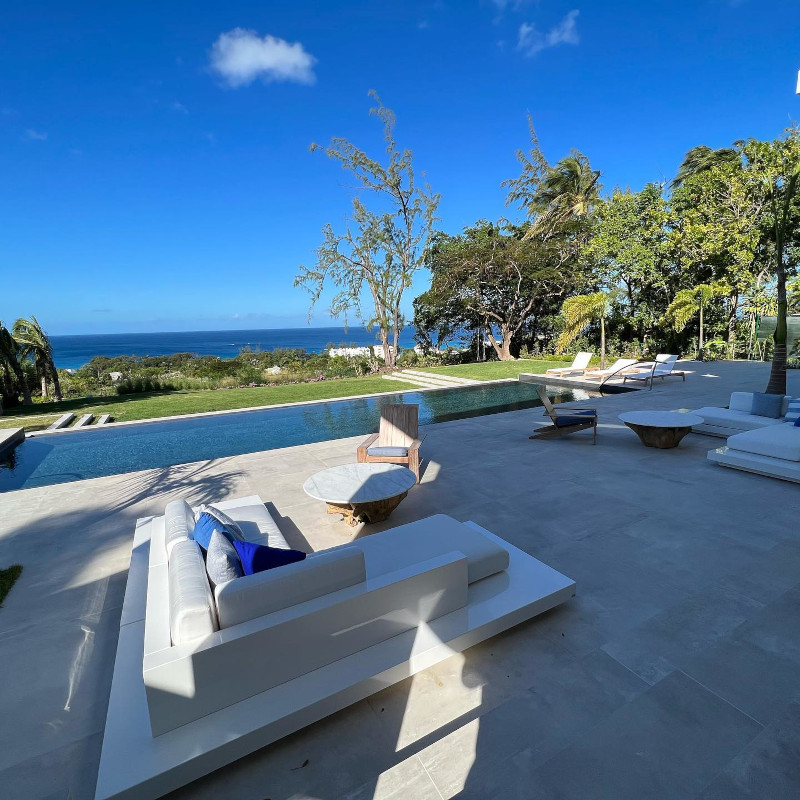 With that in mind, GHC has now refocused efforts on a two-year plan, which is to have the majority of its portfolio be born out of the company's own housing development work. This usually consists of mid to high-end, semi-detached townhouses, which GHC develops.
As Hopkin attests, "Those are much easier to sell when margins are far higher, as compared to the competitive invitation-to-tender process, where you're basically pricing work based on a bill of quantities supplied by the client's quantity surveyor. It's very competitive – all based on what rates you're willing to go in with. You're not really judged on the quality of the work that you've done and your track record. Yes, that is a consideration, but what's driving the price down is that there are new entrants (other contractors) into the market and lots of people tendering. Everyone wants the job, so you have to have the best or second best price. You wind up with an 8 or 9 percent margin and 5 percent of that is held until you achieve what's called practical completion. It's a very difficult business proposition in a climate with all these rising construction costs."
GH Construction has completed two housing developments up to this point, and the firm is now going into the second phase of its most recent development called Golden Acre. There are five modern townhouses that are going to come on the market this fall in that location. It's a more lucrative way of doing business for GHC because they partner with real estate companies in Barbados that pre-sell everything off plan. This is not something GHC was doing before because the type of projects they were tendering on were larger. For example, in the past three or four years, the company has completed houses that were $15 million, $6 million, $5 million, and a $45 million residence – so a minimum of $5-$6 million. "But when you're doing townhouses, they're in the $1.1 million U.S. range," Hopkin explains, "so it's not nearly the same and there is risk inherent with housing developments, as well. You may not sell anything, depending on the economic climate, which is what happened in 2008/09. We had to hold onto nine townhouses for the better part of a decade."
The high-end townhouses built by GHC are almost always purchased by British and Canadian investors as rental properties. According to Hopkin, "They are mostly middle to upper middle class buyers who always had a dream of owning a property in the Caribbean. The British especially have a love affair with Barbados, it gives them piece of mind and feels like home to them and historically it's a place of value, where they'd like to retire."
GH Construction will be starting the five townhouse block this year and they plan to do at least one housing development per year from this point onward. Simply because they don't want to be relegated to the competitive tender process. Of course, they still want to be in the game, but not rely on it as a main revenue stream.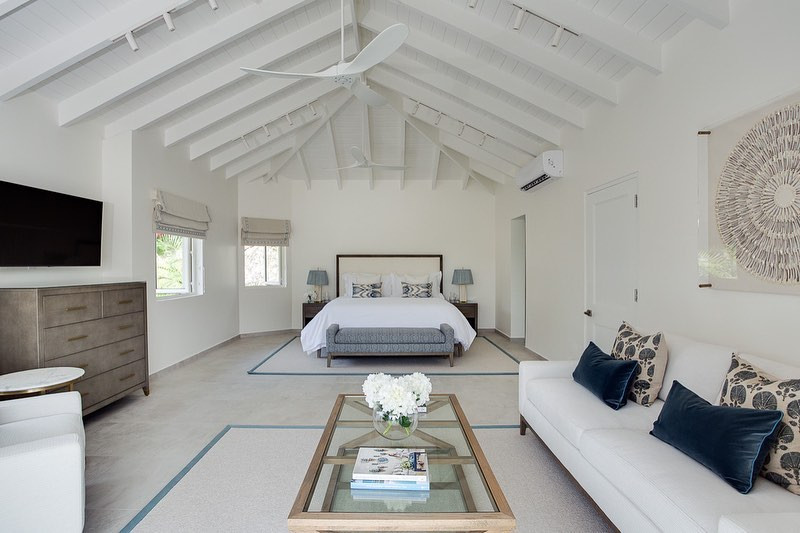 In fact, the company is doing a good amount of design/build work at the moment. Having just finished a beautiful chattel house in St. James called The Dream, they have another house in Gibbs, St. Peter targeted for completion in October, and yet another custom built house on the beach. Hopkin emphasizes, "These are just clients who have come to us because they've heard good things, and we will do design/build projects for them. These are preferable, not necessarily because of the margin but because we can control design, we can cost engineer more efficiently, and everyone's happy in the end. And we have a more personal, one-on-one relationship with the client, as well."
Hopkin sees the future of GH Construction as being that type of mix, where they're directly negotiating with potential homeowners who want to avoid all the red tape of the competitive tender process and put their trust a contractor that has a good reputation to build their home. And also for the company to continue to make inroads with the high-end housing development market. He acknowledges, "The demand is so strong for the latter, that they sell right away now. Everyone wants to invest here if they can buy a semi-detached townhouse of good quality – as an Airbnb, or to have their family here during the summer when they're not here, so they have a nice spot to use that's within five minutes walking distance to the beach. That's what we're trying to do now."
GH Construction has just over 30 permanent employees at the present time plus fulltime subcontractors that work year-round, for a total of about 80 to 100 workers. That includes various trades – painters, masons, carpenters, joiners, supervisors. "We have some of the best tradesmen in the industry working with us," Hopkin says. "Especially construction foremen, which are really the backbone of any construction site in Barbados. The way we build here, particularly when we're doing really bespoke homes, is we have a very knowledgeable foreman, who could be called a master builder, and he galvanizes and instructs all the different trades. So we control every aspect of the build process and we build everything from the ground up. It's very important that we have good people."
When it comes to planning ahead, Hopkin shares, "We are looking forward to partnering with others who want to do joint ventures to develop their land, or to get into housing developments, so we can create higher quality housing for more people. There is a need for better, reasonably priced homes and I think that's part of the future. Construction isn't the only business we're in. The Hopkin Group of Companies has a lot of commercial real estate that we lease and that's one of the more important forms of business that we're doing right now… construction is very cyclical and we need to diversify to continue being successful."
AT A GLANCE
GH Construction Co. Ltd.
What: Custom builder of luxury homes in Barbados
Where: Headquarters in Holetown, St. James, west coast of Barbados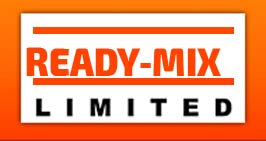 Ready Mix Ltd & Ready Block Ltd – www.readymixbarbados.com
Ready Mix, a 100% Bajan Company, is a niche supplier of concrete ready mix, concrete blocks & Omnidec floors for the residential and commercial market. Our ability to manufacture concrete on-site, allows us to provide the most efficient solution for concrete supply on the island. Additionally, our commitment to the consumer, ensures the quality of our products are never compromised.