It's all about color for one of the Caribbean's leading paint companies
Edgechem Jamaica Limited is a Kingston-based manufacturing company that produces and distributes paints, paint products, coatings, and finishes. It was founded in 1990 by five Jamaican entrepreneurs who were looking for a way to give back to their country by employing local people, while offering necessary and useful products for general consumption in the furniture manufacturing sector. According to Melissa McHargh, Edgechem's General Manager, the company began in "a little shop in a depressed area – Olympic Gardens – where you wouldn't even think of putting a little business. They started to make furniture finishes, and from that seed that was planted, it has grown to what it is today."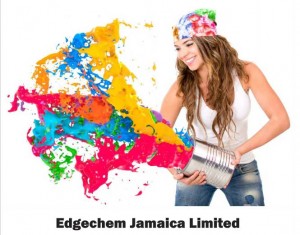 McHargh relates that the company's founders had not originally envisioned the business growing as quickly or as robustly as it did. "The master plan never saw the business this large, or growing to this extent," she says. "They put together the usual five-year business plan. But then it skyrocketed and as the years moved on they continued to add different lines of products to the manufacturing process."
Edgechem's 15,000 square-foot factory and corporate offices were constructed in 1995 at Nanse Pen in Kingston, and today, the "little business" has grown to 200 employees, 22 retail stores, three warehouses, over 500 distribution locations island-wide, and a head office that houses the company's factory and handles its products' distribution. In addition to providing its products throughout Jamaica, Edgechem also exports automotive, industrial, furniture, and decorative finishes to 13 islands and countries across the English-speaking Caribbean region. Some of its products include: sealers, primers, lacquers, thinners, putty, stains, varnishes, color glosses, enamels, tints, textured and trowel paints, roof compound, and clearcoat.
Edgechem's flagship product is its automotive line of finishes that it sells to repair shops specializing in accident restoration. McHargh explains: "Our shops sell to the repairers. We have a full line of 'bases' that, when combined together in a formulation, will match a particular color that the manufacturer has put on a particular car. Edgechem is the only paint company in the Caribbean region that has spent R & D funds on developing its own automotive products line. Every other paint company that sells automotive in the region either has a parent company in Europe or in the U.S., or imports a product and re-sells it here. So, in terms of the automotive line, we put a lot of investment there and we have distribution of that line through our own shops. We also sell to, say, a large garage, like a Nissan, or a Toyota, or Subaru dealership here in Jamaica. We will supply our goods to them for them to do the repair job."
According to McHargh, being the sole, local producer of proprietary automotive finishes is not the only characteristic that differentiates Edgechem from its competitors. Service to its customers is also a key ingredient that has driven the company's success. "We just don't sell the paints," she says. "We were the first in Jamaica to introduce what we called 'automotive clinics.' We would go into an area where there were a number of garages. We would put up a tent or we would use an existing garage. We would collect all of the 'spray men,' which is what we call the repairers in the area, and invite them to come into the clinic. We would spend a half a day with them, training them how to use their equipment efficiently so they would get the best value from the paint; how to improve their work-flow in their various garages; introduce them to the products; and teach them new techniques so that they can cut the costs of the repair job. We introduced this clinic idea and we took it across the globe.
"One of the other things that we have done is that we were the first company to introduce a mobile, paint-mixing lab. If you were in the hinterlands of Jamaica and you had a little garage there, we would take the shop to you. So if you had a repair job, you wouldn't have to spend your money to come down to a fixed shop to get the paint. You know we would be coming to the region, you had your repairs lined up, you just walk up to us – we carry samples – you use the paint to do your repair job, you pay for it, and we move on.
"So we've always done creative things like that to get people to buy the product. And we do the same across the other three product lines. The furniture finish; we would hold furniture repainting and refinishing demonstrations. Same thing with the decorative paints; we have been working with contractors. And the same with our industrial products."
After 25 years in business, Edgechem still works diligently to expand its product offerings. "We just upgraded our automotive line." says McHargh. "Each year, we add different products. We have a couple of formulations that will be coming out in the next couple of months. Three of our product categories will have new products hitting the line." The company is also planning some new construction. "We just acquired some additional land. We don't know what's going to happen yet, but certainly in the next three to five years, we should be constructing a new administrative facility and converting our current factory and administration [building] to just a factory by itself."
Edgechem also hopes to expand its territorial spread. Currently, its export business is about 12 percent of total sales, and McHargh says that the company wants to grow that percentage. "So we're looking at new markets," she says. "When you're in Jamaica, you don't tend to look at the Spanish-speaking Caribbean Islands or the other lands that surround you, but if you look at a particular map and you look at the non-English speaking lands that are in the Caribbean, you see a large market that we can tap into." How will Edgechem land those new customers? "Trade shows introduce," says McHargh, "but a lot of times, it's just jumping on a plane, looking up some things in a directory, cold-calling for customers, and just going. Usually it's through good recommendations from contacts that we have."
When asked to sum up Edgechem in just one word, McHargh responds immediately: "Family. Despite the fact that we are two hundred employees, I can tell you the name of every one of them; so can our Managing Director, and so can every staff member even though they're not physically housed in the same facility, because that's how we approach our business. We're very close-knit."
Of course several other words quickly come to mind: "Quality is the next important issue," adds McHargh. "We will never compromise what we put out on the market. We stand behind our products. Our quality control checks are very stringent." And finally: "We are innovative. We don't like to follow; we like to lead, so we always like to be the one who is the first to come up with ideas. Innovation is very important to us."
Innovation, quality, and family. Three concepts that have propelled the little business that began in Olympic Gardens, into one of the Caribbean's leading paint companies.
________________
AT A GLANCE
WHO: Edgechem Jamaica Limited
WHAT: Manufacturer and distributor of automotive, furniture, industrial and decorative finishes WHERE: Kingston, Jamaica WEBSITE: www.edgechem.com