TCI Hospital
One of the best
Business View Caribbean interviews Gaston Levac, CEO of TCI Hospital, as part of our focus on healthcare in the Caribbean.
TCI Hospital is the sole, secondary, acute, public healthcare facility in the Turks and Caicos Islands, comprised of two locations, each situated on the sprawling Caribbean archipelago's two most populated islands. Cockburn Town Medical Centre is located on Grand Turk Island and Cheshire Hall Medical Centre is located on the Island of Providenciales. Together, they serve the local population and visitors. Overall management is handled by Interhealth Canada in a public-private partnership with the Turks and Caicos government.
TCI hospital opened in 2010, after the government decided that the island nation's healthcare facilities needed to be improved. "The government acknowledged that it did not have the resources to put up the cash, nor did they want to borrow on their books to do that. Hence, the decision by the government of the day to enter into a public-private partnership with a firm," says TCI Hospital CEO, Gaston Levac. "They went out for tenders and, eventually, InterHealth Canada was chosen as the partner to build the facilities. The company would borrow the funds and the payback on it would be over a 25-year period, from 2008 to 2033."
Levac says the contract language spells out clearly both party's responsibilities – essentially the creation of state-of-the-art facilities at two sites, with a contract containing well-defined expectations and key performance indicators, as well as a well-defined methodology for monitoring and continuing to improve services over the pact's 25-year lifespan.
Spurring the decision to move ahead was Turks and Caicos' burgeoning popularity with tourists and the accompanying growth of its hospitality industry. "The growth of the hotel industry was quite rapid, and quite robust," says Levac. "The population began to increase quite rapidly and, in order to ensure that it didn't discourage potential future tourists from coming, the government wanted to make sure that it had a high-quality, sophisticated hospital system."
"The larger island, by far, in terms of population, is Providenciales," Levac continues. "The population is about 28,000, so the majority of the sophisticated services are here." The bulk of TCI Hospital's patients are enrolled in the Turks and Caicos' National Health Insurance Plan, which covers people born in the nation "and people who have established themselves here to work in a fairly robust tourist industry and everything that supports that," Levac adds. "Those people can become citizens here and be eligible to be covered by the National Health Insurance plan."
A significant portion of the hospital's clientele is comprised of the increasing number of tourists who flock to the island chain located about 575 miles southeast of Miami, about midway between the Bahamas and the Dominican Republic. Levac says there may be as many as 20,000 tourists on the main islands at any one time during the winter months. If visitors need medical care, the hospital derives revenue from their insurance carriers.
"The third type of client that we have is the uninsured patient," he adds. "Their numbers are increasing because of the huge amount of illegal immigration occurring, mostly from Haiti. We are a private hospital now, in partnership with government, and we must treat these people under the contract agreement we have. Unfortunately, we cannot derive revenue from these patients. So, we have an issue there. We're still talking with the government about whether we should be entirely responsible for those people or whether they should participate in that. At this point, we are taking care of them the best that we can like any other client that comes through our doors."
Family practice, maternity, outpatient, emergency, and surgical services are provided by the small hospital, which has a little over 330 employees spread between the two sites. "We have a small number of beds because the bulk of our operations are in providing day service, outpatient services, and emergency services, where we attempt to admit as few as possible, but of course we do on a fairly regular basis," says Levac. "We have 30 beds approved; 10 on Grand Turk and 20 in Providenciales. The fact of the matter is that, based on population growth, even though we're funded for 30, we currently operate with 40 and, of course, we are (financially) responsible because we're funded for 20."
Levac notes that TCI Hospital also has cooperative agreements with about a dozen tertiary care hospitals in Miami, other Caribbean nations, England, and Canada. "It is very clear in those agreements that there are certain cases that we can't afford to do because the volume of patients would be so low that we could not maintain competency and the tools required; it would be so expensive as to not be practical," he explains. "A key player in that is the National Health Insurance plan. We have discussions with the insurance plan to ensure that they are in agreement that, when we refer a patient out to Miami or to London or to Toronto or Jamaica, that they know why we're doing it, and they're in agreement with why we're doing it, and that they will pay the cost. There are very rare glitches in that system. It works quite well and we're fortunate that the National Insurance Plan of TCI is very cooperative in funding those referrals."
The hospital's mission, vision, and values have at their core a philosophy of quality and patient safety. TCI Hospital's success in meeting that standard has resulted in it receiving Accreditation Canada International's coveted annual Diamond Accreditation for the last three years. "Not only are we the only hospital in the Caribbean that has received the Diamond Award, we are the only hospital outside of Canada that has received three consecutive diamond awards," says Levac. "This is a source of pride for us. It helps us recruit, and it indicates to our staff, to ourselves, and to the community the type of care that can be offered by this size facility."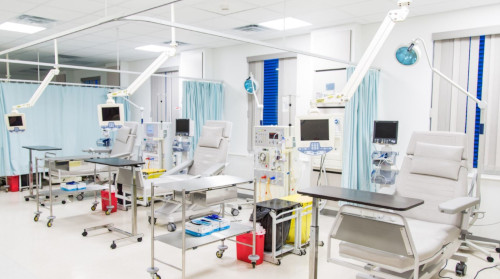 TCI Hospital conducts an internal review of its operations to gauge whether it remains on target in achieving its goals. "We review our mission, our vision, and values every two or three years to reflect the new realities that we face because the population is increasing, and the types of clientele that we're retaining and no longer sending outside of this country, is increasing," Levac reveals. "As a critical mass of people develops, it becomes cheaper for us to now treat them here rather than send them abroad for treatment. When that critical mass is achieved, we accommodate that; we grow, and therefore, there is a need to review our mission, vision, and values on a cyclical basis."
Patient volume at TCI Hospital has increased significantly over the last few years, far exceeding projections when it opened in 2010. For example, the hospital had 25 dialysis patients then and a dialysis unit that was built to handle a slightly larger number. "We bought machines, we recruited staff and it was projected back in 2010 that by the end of our contract, we would have about 50 dialysis patients," says Levac. "In 2018, we have 53 dialysis patients that we treat. So we've doubled the volume in eight years when it was projected at the time, using the best estimates possible, that it would take 25 years to do that. That's one example among several."
"The population is increasing and getting older, our obstetrics cases are skyrocketing, so yes, there's a need for a review of how things are done here," he continues, "and we are currently in discussions with the TCI government that feels that there's already been quite enough done on healthcare, thank you very much. So, it's a very dynamic and difficult discussion that we're having now. However, we understand that the government has its own financial challenges; but we, as the private manager and owner of this hospital, are being placed in a situation whereby, there is a huge increase in the volume of activity that is well-documented; nobody disputes it. So, we feel it is now time to have an increase in funding, an increase in facilities, and to use the built-in expansion space that was approved and built back in 2008. But that takes resources."
TCI Hospital's medical staff is a mixture of natives of the island and, especially where doctors are concerned, newcomers from across the globe. "The government of TCI has a program whereby it subsidizes students who are residents who have potential," Levac explains. "They are funded by the TCI government and sent to universities around the world, but mostly the U.K., because Turks & Caicos Islands are a territory of the U.K. Some of them choose to go to the States and if the government approves it, that's where they go. Some go to Canada and some go to the West Indies University in Jamaica. But all of their education, if they go to medical school or dental school or all of the allied health services approved by the government, are funded on the condition that they return to their country and serve for a period of time."
Levac says that physicians are recruited from around the world and most are ex-pats. "Our staff here represents about 27 different countries and in terms of physicians, we have doctors from almost every one of those 27 countries. We are quite successful in recruiting very competent, very qualified people and that is one of the reasons that we are able to capture about 90 percent of the available hospital clientele. Within that 90 percent, we have visiting physicians that are extremely qualified, from all over the world, who come here three, four, five times a year for periods of one to two weeks, in order to do clinics, do surgery. Again, all of this to prevent our National Insurance Plan from having to pay for patients to have to go anywhere else but here for treatment."
Levac offers high praise for the skills of the staff and lauds their passion for identifying and implementing improvements when and where possible. These qualities set the hospital apart from others he's experienced, he avers.
"I know it sounds trite to say that we do that, but I've worked in hospitals and I've surveyed hospitals all over the world, and when I came to this little hospital, I began to say, regularly, that this is one of the best hospitals that I have had the privilege of working in because of that passion for continuous quality improvement, identifying when there are problems, doing root-cause analysis, looking at options for solutions, implementing the ones they feel will best meet the needs of the patient, and correcting the problems or the issues and then measuring progress of that plan," he adds. "It's a continuous cycle that exists in every area of activity here."
Check out this handpicked feature on Kishco Trading Ltd. – Turks & Caicos.
AT A GLANCE
WHO: TCI Hospital
WHAT: A secondary, acute, public healthcare facility in the Turks and Caicos Islands
WHERE: Grand Turk Island and the Island of Providenciales
WEBSITE: www.tcihospital.tc

Quantum Pharm Rx & IMPEDE Global – www.qpharmrx.com 
Quantum Pharm Rx is focused on delivering the most competitive pricing of U.S. FDA approved pharmaceuticals. We understand that clients look for consistency, reliability, quick delivery, while keeping shipping expenses low.
IMPEDE DEET-Free Insect Repellent is a new opportunity exclusive to the Caribbean. It offers effective protection; safe for pregnant women and children. Quantum and IMPEDE are working together to provide for a better tomorrow for our CARICOM partners.