CIACS promises safe, proficient professional services on time, every time.
The entity now known as Caribbean Industrial and Agricultural Chemical Services Limited was founded in 1989 as EWEES G.E. by Ewart Ali, a production manager at Yara Trinidad Ltd. Upon his retirement, Ali saw an opportunity to supply catalyst change-out and inert entry services to a growing local petrochemical industry which had been getting those services solely from foreign contractors.
Ali became the first local entrepreneur to service the niche market.
His initial intention was to establish a family business that would be continued by his children. It began under the management of Ali, his wife and second eldest son, and started out by supplying manpower services for catalyst removal and re-entry while renting the equipment for the removal of the catalyst from Industrial Agricultural and Chemical (IAC) in North Carolina.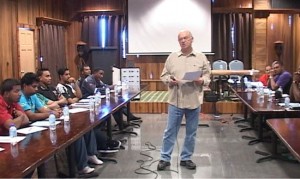 The EWEES name was changed to Confined Space Workers & Catalyst Handlers Limited (CONSWOSH Ltd.) in 1995 under an equal partnership with IAC for the acquisition of equipment for the business. The company was handed over to CIACS Ltd. in 1997 and, in 2011, Ali's youngest son, Jody, acquired full ownership. After 25 years of expansion, diversification and the formation of strategic alliances with both local and foreign enterprises, the company is based at Claxton Bay, Trinidad.
In addition to its core business of catalyst change-out and inert entry services, CIACS offers a full range of services to the petrochemical and oilfield industries. It has successfully executed projects in both onshore and offshore environments, both locally and internationally, with an objective to provide customers with prompt, reliable and efficient services that are of the highest quality.
Major services now offered include disposal of spent catalyst, vacuuming using industrial vacuum units, vibration screening, inert inspection and sampling, catalyst unloading, catalyst loading, catalyst packing, disposal of hazardous chemical and lab waste, life support equipment, inert welding and repairs, confined space training & certification, containerized offices – rental and sales, confined space rescue supply, offshore vessel vacuuming and endoscope video inspection and recording.
Specialty services available include pre-commissioning of reactors and vessels, services in inert, hot and toxic atmospheres, unloading and loading of catalyst under inert or normal atmospheres, vertical/horizontal dense phase loading, innovative purpose built equipment ensuring low catalyst attrition rate, catalyst sampling, screening, density grading and oxidization, vacuum unloading with closed loop nitrogen re-circulation, catalyst transportation, storage and containment, catalyst loading of reactors using DENSICAT and UOP dense loading and conventional techniques, tubular reformer loadings using UNIDENSE loading and conventional techniques, metals reclamation and disposal of materials, video inspection and assessment and catalyst disposal/precious metal reclamation.
"We offer round the clock services with a competent and experienced staff that is ready to be of service," Jody Ali said. "CIACS was built on a foundation of sound ethical practices and community stewardship, and these principles are the major elements of our corporate culture."
CIACS has been certified as a peak-level STOW (Safe TO Work) workplace since January 2013, a label that demonstrates the company's operation according to industry best practices, thereby fostering a safe and accident free environment.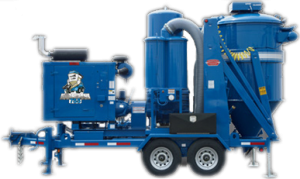 Safe TO Work is a certification program for contractors' HSE management systems that was started by the Energy Chamber in Trinidad after the group heard complaints from members in the energy service sector who were experiencing challenges in meeting the range of health, safety and environmental requirements among the major oil and gas operating companies. This made it difficult to prequalify for work and fully explore business opportunities in Trinidad and Tobago's leading industry.
"CIACS is recognized by its clients for its excellence on many levels," Jody Ali said.
"The quality of its services, the compliance and safety of its operations, the professionalism of its personnel and the efficiency of its management."
In order to stay compliant with those lofty objectives, Jody Ali said the entire organization is guided by a dedication to continuous process improvement and satisfying customer needs and priorities through teamwork, open communication and the use of progressive management techniques.
He also cited CIACS' ongoing investment in human resources through training, support and the provision of appropriate resources and the constant monitoring of performance against industry best practices, as well as regulatory, industry and quality management standards.
Recent corporate accolades have included CIACS being named "Most Outstanding Service Provider Team" by Atlantic LNG after the train 4 shutdown in March 2012, a significant contribution toward a stretch of 1 million safe work hours at PCS Nitrogen Trinidad Ltd. in September 2012 and exemplary safety performance at Atlantic LNG, which helped that company reach 20 million man-hours without a lost time injury in 2013.
Some of the company's most high-profile clients include PCS Nitrogen, Trinidad & Tobago Methanol Company, Atlantic LNG, Nu-Iron, Arcelor Mittal, Yara Trinidad, Petrotrin, Point Lisas Nitrogen, Phoenix Park Gas Processors, Industrial Plant Services, Caribbean Nitrogen Company, Atlas Methanol Company, Air Liquid, Damus, Weldfab, Paramount Transport & Trading, Trinidad Cement, Proman Ag, Jo Khan General Contractors, Junior Sammy Contractors, Asco Trinidad, Tosl Engineering and NMAP Services.
"CIACS is committed to focusing its activities and resources on the understanding and meeting of our customers' needs and expectations," Jody Ali said, "the application of technology, research and innovation to continuously improve its processes and services, safe, cost effective and environmentally responsible operations and having a highly trained and motivated work force."
______________________________________
AT A GLANCE
WHO: Caribbean Industrial and Agricultural Chemical Services Limited
WHAT: Provider of comprehensive catalyst management services for hydrogen plants, steam reformers, ammonia converters, sulphur recovery units, vacuum gas oil, hydrotreaters, hydrocrackers, desulphurization unit, ethylene reactors, FCC, CCR, MED and many other reactors
WHERE: Claxton Bay, Trinidad
WEBSITE: www.CIACStt.com
AT A GLANCE
WHO: The Medical Pavilion Bahamas
WHAT: A medical centre for private and public patients
WHERE: Nassau, The Bahamas
WEBSITE: www.tmp-bahamas.com
Roof Mechanics & Co. Ltd. (Barrackpore, TT)