The Grenada Airports Authority
Destined for success
Business View Caribbean interviews Wendy Francette-Williams, CEO of the Maurice Bishop Airport, as part of our focus on transportation in the Caribbean.
The Grenada Airports Authority (GAA) is a statutory, government corporation which oversees aeronautical travel for the Island of Grenada. The Authority is responsible for the management, control, and supervision of the operation of three airports: the Maurice Bishop International Airport, Lauriston Airport, and Pearls Airport which is currently non-operational. Grenada Airports Authority's mission is "to provide safe, secure, efficient, and profitable, world-class airport facilities and services, consistent with international standards, through a highly-skilled and committed workforce in support of the economic development of Grenada."
Grenada Airports Authority's head office is located at the Maurice Bishop International Airport (MBIA), at Point Salines. All administrative and maintenance support to its facilities are directed from this location. MBIA is Grenada's principal gateway to the world; hence one of the Grenada Airports Authority's main functions is to keep the airport in optimum operating condition for the provision of efficient services to passengers, tourists, and the general public. It provides a wide range of services and facilities, which are divided into three distinct groups: essential operational services, traffic-handling, and commercial activities. This is done under the auspices of Wendy Francette-Williams, who became the CEO of the Maurice Bishop Airport in 2013.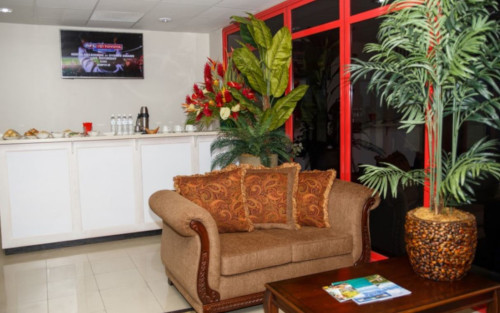 Before coming to Grenada, Francette-Williams was encouraged by a mentor in Trinidad's Public Transport Service to apply for associate membership in the UK's Chartered Institute of Transport (CIT), and  she became the first Caribbean woman to win a CIT place through examination in 1983. While working for the Airport Authority of Trinidad and Tobago (AATT), she persuaded her new employer to fund her part-time study at the CIT for a degree in international transport management. Within two years she graduated, the only woman to do so. It is no wonder, then, that today, Francette-Williams has been tapped to be a lecturer and consultant for the program from which she once graduated.
Francette-Williams continued to rise through the ranks and to seek further education. In 2008, she obtained a Master of Science degree in Airport Management from the University of the West Indies, and in 2010, she was appointed as the Aviation Training Officer for Trinidad and Tobago. She would continue in that role until moving to Grenada.
"To understand what I have done in Grenada, you have to understand why I chose to live in the country," Francette-Williams muses. "I've been in the aviation industry for over 34 years now; 30 of those years were spent in Trinidad and Tobago in the areas of operations, customer service, looking at the statistical overview of airports, and the like. For me, the aviation industry has always been key to who I am. I have dedicated my life to aviation in the Caribbean."
Grenada is a tourist destination. It is also a spice Island, exporting nutmeg and cinnamon, among other agricultural products. And yet, before Francette-Williams' tenure, the airport was not profitable. By turning it around, she helped change the island's economy. "When I came to Grenada," she explains, "the airport was losing money. I had my own business plan and when I discussed it, the government supported me. Because of that support, it has been a successful venture, so far. The first year I came, we were able to be profitable. The second year, we doubled the profits we made the year before, and the third year, we tapered off at about seven million dollars, and we have been profitable since. We are the second largest generator of revenue towards the GDP," she adds. "We are second only to the medical school, St. George's University. While St. George's has 8,000 students, and Grenada, itself, has 110,000 people, our airport moved four times that many people last year. It has been a great achievement for the Island."
Maurice Bishop International Airport, formerly Point Salines International Airport, is located on a peninsula in the extreme southwestern section of the island, seven miles from the capital, St. George's. Grenada is located directly north of Trinidad and is the most southern of the Windward Island chain of the Caribbean. Several airlines provide service to Grenada, including Liat, Jetblue, British Airways, Virgin Atlantic, Caribbean Airlines, Delta Airlines, American Airlines, and Air Canada.
"The Grenada Airport is a unique airport – an airport with a history founded in Revolution," says Francette- Williams. "It was the Cuban Government that drew up the plans and designed the airport. But after the revolution, and the invasion of Grenada by the US in 1983, those original plans and designs fell through, and it was the Americans and Canadians who completed the airport following that. It is a medium sized airport. Not too small and not too large, but it is perfectly positioned between the Piarco International Airport in Trinidad and Tobago and the Grantley Adams International Airport in Barbados. That makes us an alternative hub for these two busy airports and a safe place when a hurricane is threatening."
"The other thing that is very unique about us is that the way we are positioned on the seaway and the runway systems using the sea itself, means that we have a lot of land space left for future development," she continues, and it's something Francette-Williams focuses on to full advantage within magazine coverage and public speaking engagements. She believes strongly that the next direction for the airport will come through partnerships with private corporations in order to enhance the services available. "What we really need to do is to increase the non-aeronautical revenues," she explains. "Ninety percent of our revenues come from the aeronautical and airline fees, but we want to increase our concessions, get an airport hotel, and partner in other ways with the private sector to ensure that this is the best experience a customer could have."
Earlier this year, the government of Grenada signed a loan agreement with the Peoples Republic of China for $US67 million to put towards the redevelopment and rehabilitation of Maurice Bishop International Airport.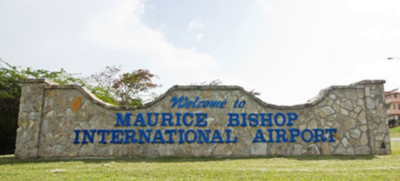 "A Chinese company has been hired and will do work that will include the rehabilitation of the runway system, changing the runway system to a solar powered lighting system, a new expansion of the Aeronautical Ground Lighting system, new equipment in the air traffic control tower, an expansion of our current apron, the building of a second apron for cargo facilitation, two taxiway bridges, a parallel taxiway, and an expansion of the terminal," Francette-Williams states.
"Looking forward, I have always had the plan of bringing an aviation academy to Grenada," she adds. Along with MBIA and Lauriston Airport on the nearby island of Carriacou, the Grenada Airports Authority also manages Pearls Airport. "Pearls Airport has a 5,151-foot runway, which currently sees use for car racing. But if they rework it and locate a 'one-stop shopping' aviation academy there, this would change." This proposed academy would offer training in airport and airline management, along with training for fixed-wing aircraft and helicopter pilots, dispatchers, maintenance mechanics, meteorologists, and aircraft designers.
The runway is basically in good shape and the airport has been maintained in order to have a backup in case of emergency. It seems like it would be an easy transition and the plans are already drawn up. Francette-Williams has already signed Vaughn College and Ireland's Dublin College of Technology as partners, but is always looking for more investors with the same kind of passion she has for development and education.
That passion was very evident at a recent "Caribbean Aviation Meetup" conference on Dominica, where Francette-Williams held dozens of seasoned aviation, airport, and tourism professionals spellbound for nearly two hours, as she laid out her vision for aviation in the Caribbean. And thanks that passion, as well as her history of careful planning coupled with innovative ideas, the future of the Grenada Airports Authority, as well as the entire aviation industry on the island of Grenada appears destined to be filled with much more success in the years ahead.
Check out this handpicked feature on Argyle International Airport – St Vincent and the Grenadines.
AT A GLANCE
WHO: The Grenada Airports Authority
WHAT: A government corporation which oversees aeronautical travel for the Island of Grenada
WHERE: Headquarters at the Maurice Bishop International Airport, St. George, Grenada
WEBSITE: www.mbiagrenada.com