Arawak Cement Company, Ltd.
Barbados' sole cement company
Business View Caribbean interviews Yago Castro, General Manager of Arawak Cement Company, Ltd., as part of our focus on companies in Barbados.
Arawak Cement Company, Ltd. is a St. Lucy, Barbados-based manufacturer and distributor of Portland Limestone Cement, which it produces for the local and export markets. The product is sold in paper sacks, jumbo bags, and in bulk. It is the Caribbean nation's sole cement company, says its general manager, Yago Castro.
Arawak Cement Company was founded in 1984, originally as a joint venture between the governments of Barbados and its neighbor, Trinidad and Tobago. The State of Barbados owned 51 percent and the government of Trinidad, 49 percent. In March 1994, the company was sold to Trinidad-based TCL Group and in 2014, TCL entered a managerial contract with Cemex. Cemex is a Mexican multinational building materials firm that manufactures and distributes cement, ready-mix concrete, and aggregates in more than 50 countries.
"Cemex initially owned 20 percent of the company and in 2017, Cemex bought out some shareholders and now owns 70 percent of the company," explains Castro, who's been on the job for three months. "Actually, I'm a Cemex employee."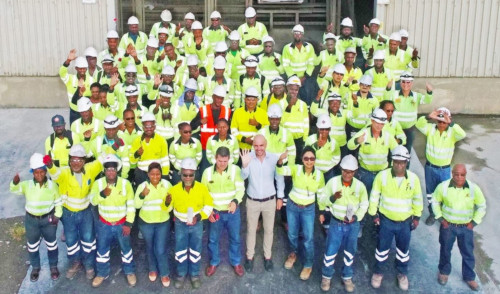 Arawak has one location and about 190 employees, while TCL has locations in Trinidad, Barbados, Jamaica, and Guyana. About 20 percent of Arawak's business is generated by the domestic market, with the remaining 80 percent dedicated to the export market. "We export within the Caribbean market," says Castro. "The main export market that we have is Guyana. We have a cement terminal in Guyana, and about 70 percent goes there, but we export to another four countries: St. Lucia, St. Vincent, St. Kitts and Nevis, and Anguilla."
Castro describes Arawak Cement Company's customer base as being three-pronged, split between retailers, industrial customers who transform cement into products for the construction industry, and builders who purchase the cement to be used at construction sites.
Regarding competition, Castro explains that it's difficult for companies to differentiate themselves in the cement business. But nonetheless, Arawak has a strategy for trying to accomplish that goal. "The only way for a big company, a multi-national company like ours, to differentiate itself is through the level of service and the amount of value that we're able to bring to our customers," he states. "Mainly, we're passionate about how our customers make money and then helping them to make more money. How do we do that? We have different kinds of value offers.
"For example, we can offer them a wide range of products," he continues. "That's the main thing. Also, there are services and chemical systems when they're needed. We can also try to help our customers establish business in other countries. For example, we have a very nice builder who's a customer here in Barbados. We're helping and supporting him in order for him to enter the Guyana market. We can also take our customers to foreign countries where we have Cemex operations to see our construction schemes, construction alternatives, and different ways of doing business. The secret is in understanding the needs of our customers and trying to design tailor-made value offers. That is the main thing, I think, that differentiates us from the others."
Castro says that over the last two years, Cemex has invested more than $15 million in much-needed upgrades to the plant's main departments. "We are upgrading very important components of the production process," he reports. "The last one that we did, which was very important milestone from my standpoint, was installing a new 'back filter.' We used to emit a lot of dust and since we are close to the sea, those emissions would go into the sea. They were affecting the landscape and Barbados is a very touristy place. So, we invested $2.5 million in a new "back filter' and now we don't have any emissions at all. Our neighbors, most of our customers, and people all around are very happy right now. It's creating a very good impact for our industry thanks to that big investment."
Arawak Cement Company, Ltd. has become a key industry for the island nation that is one of the Caribbean's tourism hot spots. Cemex has invested heavily in its operation there and is also proud of the role it plays in boosting Barbados' economy, says Castro.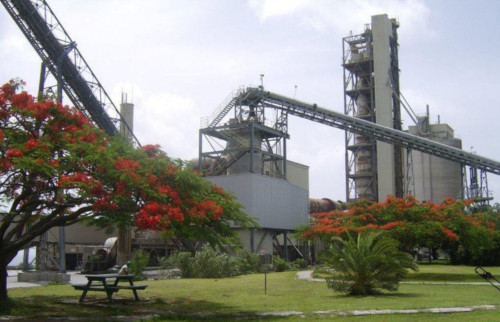 "We are creating a lot of good paying jobs and contributing to the macro-economy of the country," he explains. "We are, of course, bringing a lot of revenues to the state of Barbados, which we think is key, given the current (economic) situation. We are also are helping to offset the current deficit that the country's having because we're bringing in a lot of hard currency due to our exports. We're giving nice salaries to a lot of people and reducing unemployment. I think it's a key industry to definitely keep in the country. In a touristy country like Barbados, a lot of people might say this does not fit in with the business model. But I think it's important to keep some hard industry in the country."
He adds that giving back and looking out for the welfare of employees and the citizenry is also a concern. In fact, taking care of others is a pillar of the company's corporate strategy. "Our first priority is the health and safety of our people and not only our people, but the contractors that come through the plant," he avers. "The environment is also very important. I've mentioned how much we invested in a new back filter to combat our dust emissions. Also, we have several programs where we collaborate with the neighborhood and the communities all around us, the schools, the university, and of course, we do small donations, mainly in the form of cement, for building at schools and churches."
Going forward, Castro says that increasing the plant's production efficiency is a chief concern. Reducing staff isn't in the plans, but producing cement at a lower cost is. "We still have a long way to go, regarding variable costs," he says. "So, we're focusing on producing more and producing at a cheaper price to be able to get to more of the export market. So, we will be making our production facility more productive and trying to find additional export markets."
Check out this handpicked feature on Ready-Mix Limited, Barbados – Delivering the best concrete solution.
AT A GLANCE
WHO: Arawak Cement Company, Ltd.
WHAT: A manufacturer of Portland Limestone Cement
WHERE: St. Lucy, Barbados
WEBSITE: www.arawakcement.com.bb