Fred M. Jones Estates Ltd.
Coconuts, cassava, and crocodiles!
Business View Caribbean interviews Nicholas Jones, Managing Director of Fred M. Jones Estates, Ltd., for our focus on the Best of Jamaica.
In the early 1900s, Fred M. Jones and his brother were busy growing coconuts and bananas on a tract of land in the parish of Portland, Jamaica. Blessed with the entrepreneurial spirit, in the years that ensued, Jones cultivated his agricultural prowess into a family legacy under the name Fred M. Jones Estates, Ltd. (FMJ) that today is a going concern – actively engaged in the production of lawn grass, beef cattle, coconuts, cassava, and yes, crocodiles!; with a particularly exciting land development operation rounding out the diverse portfolio.
Nicholas Jones is Managing Director of Fred M. Jones Estates Ltd., and a proud 3rd generation member of the Jones clan. The story he tells of the evolution of the family biz is at once fascinating and bold. As Nicholas recounts, "This business was started by my Grandfather, Fred M. Jones. The company was officially registered in 1949 and originally involved bananas. When the international banana growing companies at that time – Standard Fruit, Atlantic Fruit – decided to move their Jamaican operations to Central America, there was quite a bit of land available. So, he seized the opportunity and secured the purchase of those lands, and that was the beginning of Fred M. Jones Estates."
At the time, Fred could not get a mortgage or a loan from his bankers because they didn't consider him a bankable person – possibly because of his color. So, he had to travel to the far western end of the island to get a mortgage through a building society. That was the reality of the situation then. But perseverance won out and today the business is thriving. Nicholas started with the company right out of university in 1979. He relates, "I was working alongside my two uncles, and after three years, I decided to go off on my own and work for Jamaica Producers – a local conglomerate with many international connections. They were involved in the growing and shipping of bananas to the U.K. and I was with them for 18 ½ years. In 2007, I rejoined our family company, after working with a few other people in the meantime, and also earning my post-graduate degree in Agriculture."
Nicholas was welcomed back with open arms, bringing with him, two projects he had written, which were fully funded. One was a renovation of the dairy and the second was a completely new business – to grow and sell turf (sod). "It wasn't just that I was part of the family," says Nicholas. "I brought something to the table that they hadn't thought about. Our dairy had been established in 1961 and really had not undergone much transformation since then. But with a fully funded project, I was able to create something that was up to date and innovative. The land for growing the turf was previously used for banana, which we had come out of completely, and they were just idle lands about to be put into sugar cane. I said, "No, let's try something different." And within a few years that project brought a lot of business to the company, and to this day is still doing reasonably well."
Fred M. Jones Estates, Ltd. comprises land holdings on separate titled areas totaling approximately 5,000 acres. Some of those areas are not ideally suited to high-production agriculture, so several years ago, the company applied for a change of use to sell them as lots. About 50 percent of those lots have been sold, so far. And FMJ still retains a fair amount of land that has white sand beach on the Caribbean Sea. According to Nicholas, "We set up our development company (we're registered with the real estate board as a developer) and we'll seek to further this push in the years to come. We put that company under our subsidiary – Williamsfield Estates, Ltd. – the company that FMJ evolved from. In fact, Williamsfield Estates was established on the original tract of land which my grandfather and his brother developed in the early 1900s with coconuts and bananas. It is now responsible for our land development portfolio; Fred M. Jones Estates covers the more substantial agriculture areas."
The FMJ legacy is built on determination and a willingness to take risks and adapt to changing times. Nicholas explains, "Grandfather amassed these properties and transformed them into good productive ventures with the help of his son and his nephew. However, I do recall somewhere in the annals of history that his wife used to question why he was buying so much land. But he was a bit of a visionary; he saw where agriculture was going and encouraged his family to follow the path. His first-born son and his nephew were trained agriculturalists. There were five sons and two daughters and the youngest son did a veterinary degree. He came back as an animal doctor to help develop the beef and the dairy. Currently, my two sisters – one is a lawyer, one is a marketing specialist – handle all the legal transactions and marketing for our land development work. Fred's nephew has a son who sits on our Board of Directors, as does the son of one of Fred's daughters, so it's still very much a family business."
FMJ is headquartered in Golden Grove, St. Thomas and employees 220 workers. The building is located where four roads meet and all the farm operations are centered around that. A portion of their sugar cane operations have been carried out on lands sub-leased from Eastern Banana Estates Ltd., but the factory that purchases the sugar cane closed in July, so FMJ is once again changing product lines. The new venture involves growing cassava on a substantial acreage of their land to supply the local beer company, Red Stripe, that uses cassava as a substitute starch element in its products. The remaining sugar cane lands are being put into pasture to upgrade the beef cattle operation. In addition, they are sub-leasing some of the leased lands to other farmers and potential farmers in 50-acre blocks, with the hope of creating new commercial agriculture businesses in the parish of St. Thomas.
"We have to change," says Nicholas. "You can't sit still and let things die around you. The other big decision we took recently was to close the dairy because it just wasn't pulling its weight. So, we've gone more into land development, and cassava, and we're also busily planting coconuts because it seems to be a sought-after product in the cosmetic industry. Back in my Grandfather's day, the company was producing about nine million coconuts a year. Then the lethal yellowing disease came in and wiped us out in the 1960s. We replanted and took our coconut production back up to about five million and then the second wave of the disease came through. So, now, I decided to replant again. There have been new developments in managing coconut cultivation and we'll be taking those on and, hopefully, having another part of our family legacy manifesting itself in coconut production."
It takes 3 ½ years for coconuts to be harvest-ready, so FMJ is planting in the same area as the cassava, so it can produce while waiting for the coconuts – getting two different crops from one piece of land. "We're trying everything," says Nicholas. "Jamaica's production of coconuts is way down from what it used to be. But everybody wants coconut oil and coconut water, and with the value added to both those products, even if there is competition, it will be bear the market for quite a while. With cassava, I can only assume that the beer companies will continue to utilize locally grown starch-based products rather than having to import. So, there will be other growers, but it all comes down to being productive, keeping your costs down, and making the best possible margin."
Looking to the future, Nicholas anticipates a strong focus on land development. He notes, "We will have quite a few real estate offerings because spots with white sand beaches on the Caribbean Sea are becoming rare – gobbled up by the big hotels. With the advent of the new southeastern highway, which will go right through our lands, opportunities for land developments will increase. I think that will take precedence over most everything. The direct agricultural production will see some change in the land ownership, with people taking up these 50-acre blocks which I'm able to sub-lease. So, we'll see quite a bit of commercial agriculture activity taking place. The mainstays of our company will be coconuts, beef cattle, and cassava. I believe we'll be doing some value added with coconut oil and coconut water, whether undertaking it ourselves or with joint venture partnerships."
One other particularly honorable undertaking by FMJ is the establishment of a crocodile sanctuary on their land – hoping to produce over 200 crocodile hatchlings a year, in order to re-establish the crocodile population in and around Jamaica. Speaking passionately for the cause, Nicholas states, "The crocodiles have been dying off, mostly from poaching and ill treatment. But they are very important for keeping our swamps clean. We have developed a sanctuary, with our own herpetologist onsite, and we're working along with the authorities. Put it this way: the crocodile is on our Jamaican coat of arms, so we need to keep this fellah alive."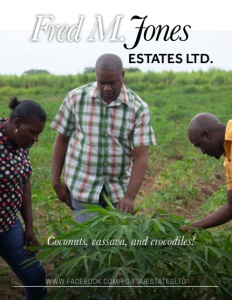 AT A GLANCE
Who: Fred M. Jones Estates, Ltd.
What: Family-owned agriculture and land development company
Where: Golden Grove, St. Thomas, Jamaica
Website: www.facebook.com/pg/fmjestatesltd
Newport-Fersan (Jamaica) Ltd – www.newportfersanja.com
The best measure of a partnership is weighed by a Jamaican terminology called 'stick-to-it-ness'. Newport Fersan (Jamaica) Ltd has been Fred M. Jones Estate choice of fertilizer under the brand FERSAN since 2004. The late Dr. Richard Jones legacy has been carried on by his nephew Nicholas Jones, affectionately called 'Nicky.' 
Nicky and his team has seen the decline of the sugar cane industry but remain resolute in agriculture, through diversification they are now charting a new era. An era that will inspire others. We want to salute you Nicky and the FMJ team. Thank you for the support and stick-to-it-ness that you have had with our brand FERSAN. We are looking forward to this new journey with you as we remain your committed partner.